Louis Vuitton: a 125-Year History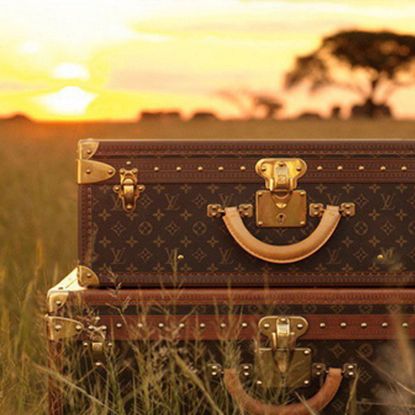 What makes a luxury brand? Cost, craftsmanship and desirability all play their part - as do fashions and fads. But one such brand has given the slip to both of those and seems to have a life of its own: Louis Vuitton; LV to the aficionados, and Vuitton to those of us who always ask why use two names when the one will do.
In its 159 years, Vuitton has been remarkably staid in its adherence to both styles and shades. Not surprising, when you realise the firm had its inception in a simple white box.
Back in the mists of time, Monsieur Louis Vuitton was in the employ of Napoleon III's wife, Empress Eugénie, as a layetier (trunk-maker), learning from the customs and habits of the court he worked for.
Until then, cases and trunks had rounded tops so water could run off them, but it meant they couldn't be stacked. Vuitton's idea was to make them flat, light and waterproof, which is where coated canvas came in. He began to make trunks and packing cases for the gentry, who flocked to his little Parisian store, which opened in 1854.
And from small beginnings, a vast worldwide luxury goods company has sprung. From Monsieur Vuitton's canvas came one of the most iconic bags of all time, the Speedy. Made in the 1960s in brown treated canvas with the distinctive LV monogram, this jolly little round bag with leather handles and trim, which carried everything a girl might need and never lost its shape, got scuffed or stained, became the first of the true "it" bags. It looked modern, yet was based on a traditional travel bag; it was cuddly, with no hard edges, and could be squashed into a small space; and its colours went with everything. The Speedy now comes in a number of fabrics, from the original monogram through to the stylish single colour Epi leather. But compared to many expensive designer bags, it costs just £430. You can even pick up a mini version for just over £260.
That said, Vuitton didn't come to prominence because of handbags - it's the luggage and travelling cases that have given the house its fame. Look at any photograph of Joan Collins at an airport and a porter will be close by, with a trolley full of specially initialled LV cases. The world's great and good often order custom-made trunks and cases - Congo explorer Pierre Savorgnan de Brazza even commissioned a bed trunk into which the bed, mattress and linen were folded.
And while the company has reinvented itself constantly over the last 150 years, it has never lost sight of the importance of its heritage. It has a steely view of what it is, what it is about and what it sells. Just look at its advertising campaigns -Vuitton is not just about the face of the moment; it also showcases such style icons as Mikhail Gorbachev, Catherine Deneuve, Keith Richards and Pelé.
Part of the company's reinvention is the new areas it has introduced - jewellery, sunglasses and prêt-à-porter in collaboration with Marc Jacobs. The Marc Jacobs-inspired bags and accessories are some of the best sellers, as is the Stephen Sprouse Leo scarf. A limited-edition in four exclusive colourways was designed especially for the London Maison ("shop" is not a Vuitton word), and were sold out within two days of the opening - at £620 each.