Lauren Bacall's Stunning Jewellery And Art Collection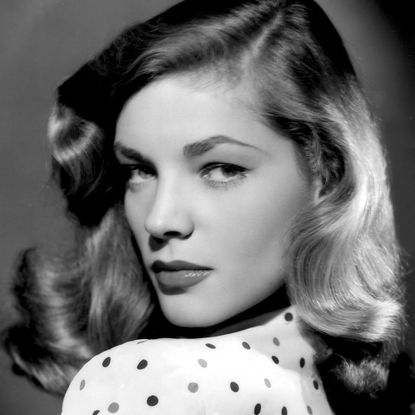 (Image credit: Rex)
The iconic late actress's remarkable estate goes to auction
Fancy a peek into Lauren Bacall's jewellery box? That's exactly what Bonhams are promising, with a must-see display at their London HQ (101 New Bond Street) until Thursday 19 February. It's a preview of a major auction of Bacall's estate, which will take place in New York at the end of March - head down this week and you can see not only her jewels but her remarkable art collection, including pieces by Henry Moore and David Hockney. Click through to see some of the auction's highlights.
Enamel and 18ct gold bracelet by Jean Schlumberger
Bacall owned several pieces by French jewellery designer Jean Schlumberger, including this enamel and gold bracelet (estimated at £13,000 to £20,000) and a pair of 18ct gold ropework bracelets.
Amethyst, turquoise and diamond ring by Jean Schlumberger
The epitome of bling, Bacall's amethyst, turquoise and diamond ring is estimated at £5,200 to £7,900. She also worked repeatedly with the jewellery designer Elizabeth Gage, who told the Sunday Times that Bacall "knew what she wanted ... You knew where you were with her, and if she liked something, she liked it, and if she didn't, she'd say so. I enjoyed working with her enormously; she was funny and fun."
Portrait of Lauren Bacall by Aaron Shikler
Bacall also had an extensive art collection, including this portrait by American artist Aaron Shikler. She bought pieces at galleries and auctions all over the world, and particularly loved African art - the auction includes pieces from the Democratic Republic of the Congo and the Ivory Coast.
Standing Man and Woman by Henry Moore
At the centre of the auction are six pieces by sculptor Henry Moore, including Standing Man and Woman (estimated at $40,000 to $60,000). Bacall met Moore in 1975 and later described receiving a phone call from him: "The operator said Henry Moore was on the phone. I could not believe it. I said, 'Is that really Henry Moore?' and he said, 'Is that really Lauren Bacall?'" She later visited him at his studio, and said "It was and will be ever a high point of my life ... [it was the] realisation of a dream."
Elisa by Robert Graham
Bacall was also fascinated by the work of American artist Robert Graham, who was married to her friend Anjelica Huston. Several of his sculptures are being auctioned off, including Elisa, pictured (estimated at $20,000 to $30,000) - Bacall had three of these female forms by Graham, and called them her "girls". The Lauren Bacall collection (opens in new tab) is on display at Bonhams, London, until Thursday 19 February. More from art and fashion... Glittering Jewellery Gifts The World's Most Iconic Kisses (opens in new tab) Discover The Real Stately Homes Of The BBC's Wolf Hall (opens in new tab)