Best hypoallergenic dog breeds to help keep sneezing to a minimum
These hypoallergenic dog breeds make brilliant family pets.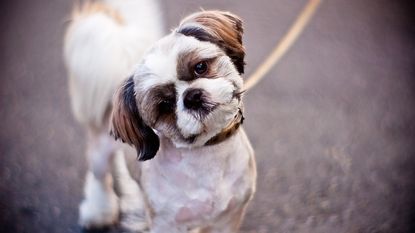 (Image credit: Getty)
woman&home newsletter
Sign up to our free daily email for the latest royal and entertainment news, interesting opinion, expert advice on styling and beauty trends, and no-nonsense guides to the health and wellness questions you want answered.
Thank you for signing up to . You will receive a verification email shortly.
There was a problem. Please refresh the page and try again.
Love the idea of getting a dog but put off by the prospect of an allergy flare up? A runny nose, itchy eyes and a cough are all tell-tale signs of an allergy to dogs.
In which case, these hypoallergenic dog breeds might just hold the answer. In the same way the temperament, size, and appearance of a dog can all vary by breed, so can the potential to set off your sneezing.
'No dog is entirely hypoallergenic," says Bill Lambert, Head of Health and Welfare at The Kennel Club. "But there are some breeds that shed their coat less and can be better for owners who suffer from allergies."
"Certain dogs, like Poodles, Schnauzers and Portuguese Water Dogs, have a predictable non-shedding coat which produces less dander – the flakes of the dog's skin – which is often the main cause of pet allergies."
"The dander that attaches itself to pet hair, as well as certain proteins in a dog's urine or saliva, can cause an allergic reaction. These allergens can cling to walls, furniture, clothing and other surfaces."
What can help reduce dog allergies?
The good news is that slight shifts in behaviour can make a big difference to the extent of your allergies.
"Regular grooming, washing pet bedding regularly and not letting your dog sleep on your bed or even in your bedroom, could all help reduce allergic reactions," says Amy Luker, Veterinary Surgeon for Dogs Trust, the UK's largest dog welfare charity.
"Dog owners could also look into vacuum cleaners that are specifically designed for picking up pet hair."
"In some cases, dog allergies can be managed with medication" adds RSPCA Dog Welfare Expert, Dr Samantha Gaines.
"As allergies vary so much, ideally a potential owner or family member that had concerns about being allergic to a dog, should spend as much time as possible with the breed they are hoping to welcome into their family." That way, you'll have a clear idea of whether you can cope with your allergies day-to-day, before bringing a new dog into your home.
Best hypoallergenic dog breeds
According to The Kennel Club, the below breeds are known to be minimally shedding. But remember, if you are allergic to pet hair or dander, it's important to consult with a medical professional before getting a dog.
Bichon Frise
They might be best known for their white fuzzy coats, but one of the brilliant things about the Bichon Frise breed is that they don't shed. They're small, friendly dogs that get on well with all members of the family - including children.
Maltese
Part of the 'toy dog' breeds, Maltese dogs make cuddly companions. They can be shy of strangers, so should be socialised at young age.
Coton De Tulear
Loyal and loving, Coton de Tulears thrive on contact with humans. They're very bright too, making training easy.
Havanese
Little bundles of energy, Havenese dogs love to play - both with humans and other dogs. Their coat does need daily grooming to keep tangles at bay.
Italian Greyhound
A miniature version of a classic Greyhound, Italian Greyhounds are better suited to smaller homes than their larger counterparts. They're bright, alert and friendly dogs.
Shih Tzu
Shih Tzu's love to be involved in everything their owners do, so they're likely to become your shadow around the house. They're confident despite their small size too.
Lakeland Terrier
Best suited to an active, adventurous family, Lakeland Terriers being out and about - exploring the world around them.
Tibetan Terrier
Friendly and affectionate with an occasional stubborn streak, training a Tibetan Terrier can require extra patience (and treats!).
Jess Beech is an experienced fashion and beauty editor, with more than eight years experience in the publishing industry. She has written for woman&home, GoodtoKnow, Now, Woman, Woman's Weekly, Woman's Own and Chat, and is a former Deputy Fashion & Beauty Editor at Future PLC. A beauty obsessive, Jess has tried everything from cryotherapy to chemical peels (minus the Samantha in Sex and The City-worthy redness) and interviewed experts including Jo Malone and Trinny Woodall.