This is the most searched interior trend of the year so far
Does this surprise you?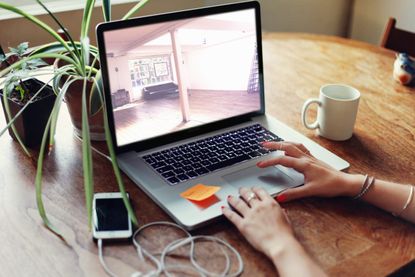 (Image credit: Getty)
Interior lovers, listen up.
For the people of the world who are obsessed with homeware and gorgeous houses, spending lots of time on the internet keeping up with the latest interior trends is a must-do activity.
Whether it's prowling through Pinterest for ideas to spruce up indoor spaces or scrolling through Instagram for decoration inspiration, most indoor décor fans will be familiar.
Of course, we can't forget everyone's trusty online pal Google for keeping us up to date on all things the internet world has to offer when it comes to interiors.
But which home trends have been the most popular this year?
Well, SellHouseFast.uk have used Google search data to give us a pretty good idea.
READ MORE:Aldi's new art décor-inspired home range includes a gorgeous scalloped chair that costs hundreds less than one from Oliver Bonas
Using SEMrush, the average monthly Google search stats for over 60 styles in Britain have been collated to reveal the most searched for interior design style of 2020 (so far).
You may not be surprised to find out which has made the number one spot.
They say classic things never go out of style and in this case that theory has been proved very true.
The most Googled interior design style of the first few months of this year has been "vintage".
The trend has racked up a hefty 48,560 searches a month in the UK. Impressive.
Coming in at second place is "industrial" with 38,710 searches a month, followed by contemporary with 37, 650.
Following that is "Scandinavian", "rustic" and "coastal" with all three amassing over 29,000 searches a month each.
It seems that the homeowners of Britian have style. Who could deny that they're all stunning ways to decorate a living space?
So, which other trends made the list? Here's the full line-up!
The 20 most popular interior design trends of 2020…
1.Vintage - 48,560
2. Industrial - 38,710
3. Contemporary - 37,650
4. Scandinavian - 33,660
5. Rustic - 31,900
6. Coastal - 29,170
7.Traditional - 26,760
8. Minimalist - 18,280
9. Victorian - 17,290
10. Japanese - 16,530
11. Farmhouse - 14,060
12. Retro - 11,730
13. Art Deco - 11,560
14. Bohemian - 9,390
15. Shabby Chic - 9,360
16. Bauhaus - 9,280
17. Tropical - 8,800
18. Moroccan - 8,200
19. Mexican - 8,140
20. Gothic - 7,420