Adele leads tributes to Grenfell Tower victims - here's how you can show support three years on from the tragedy
It's been three years since the tragic fire.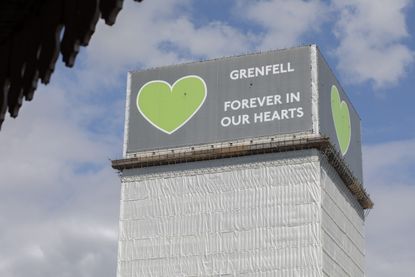 (Image credit: Getty Images)
Three years on from the tragic fire at Grenfell Tower in West London, celebrities and members of the public have paid tribute this weekend to those who lost their lives in the horrific incident, the survivors, and families of victims.
On 14th June 2017, a fire that began in a fourth floor kitchen ravaged through the high-rise tower block, leaving firefighters battling the blaze for almost 24 hours.
72 residents were killed that night, and a further 74 required hospital treatment for injuries.
Almost exactly three years since the fire, famous faces have paid tribute to those lives lost, and to the 'resilience' of survivors and families affected by the tragedy.
Adele shared an emotional video message over the weekend, sending love to those whose lives were impacted by the Grenfell Tower fire. She also praised survivors for their persistence in fighting for 'answers' for those who died.
She said, "I want to send my love to all of you today. Even though it's so important for us to remember that night, it's also important for us to reflect on where we are now and celebrate the lives that were lived.'
"I think that this year, more than ever, there has never been a more appropriate time for us to truly exercise camaraderie, compassion, open-mindedness and persistence. Persistence for answers. Persistence for action."
Musician Adele has often visited families impacted by Grenfell, and attended a National Memorial Service held a few months after the fire. She has also campaigned and fought alongside the community for justice for those who died, calling for the then-Prime Minister Theresa May to conduct a public inquiry into the fire.
Other tributes for the Grenfell Tower community
Rapper Stormzy also shared his support for the Grenfell community on the heartbreaking anniversary, praising them for their mental and emotional resilience, and for turning tragedy, 'into triumph'.
In a touching video message, he said, "To all the people of Grenfell, we're still mourning with you. Let's use today to stand in solidarity. When the powers that be have turned their back on you, remember we're here.
"Unless you had someone in the fire that you directly lost, our lives have moved on, but that is still a dark reality for these people. I'm so upset that this pandemic is the reason we can't be together, but what I've seen for myself is that I've watched the community take a dark tragedy and turn it into triumph.
MORE:Which statues are being removed across the UK and what will be done with them? (opens in new tab)
"You lot inspire me, as you've remained so resilient in the face of the most darkest tragedy that people should not experience. I don't know how we have the mental, emotional threshold for that. You're legendary. I'm always here, God bless."
Meghan Markle is another celebrity who shared a message of support for the Grenfell community (opens in new tab), recorded in an audio message from her home in LA.
She spoke directly to the Hubb Community Kitchen, a group of Grenfell Tower survivors who created a community kitchen. In the message, she explained how proud she is of them all.
The Duchess said, "I think back to when I met all of you and how you had all come together in the wake of what you experienced in your community. And now what you have done is such an inspiration, you continue to give back, you continue to to put love in action.
"I'm so proud of you, so is Harry, and we are sending so much love to you from across the pond and thinking of you today, as I'm sure it's a difficult day, but also one where you can look at how much you've accomplished in the past three years, and how you continue to give back and be an example for all of those around you."
How to support the Grenfell community today
There are still ways to support those affected by the horrific fire, and to help make permanent change for people who live in unsafe tower blocks across the UK.
The Grenfell Foundation was set up in the wake of the tragedy at the request of some survivors and bereaved families, and you can still donate money now. Visit the website and donate here (opens in new tab).
They have said, "The Grenfell Foundation helps to channel that spirit and the funds raised to local projects that will provide assistance to generations affected by the Grenfell Tower tragedy for years to come."
You can also lend your support to Grenfell United, an organisation set up to support the wider community and campaign for change and justice.
Sign up to their mailing list here (opens in new tab), and you'll be emailed about ways you can add your voice to the cause, and how you can take action for justice.
The survivors and bereaved families of Grenfell have also set up a campaign at support.grenfellunited (opens in new tab), where you can sign up and will receive instructions on how to write to your MP to demand change for safety in tower blocks across the UK.
Over the weekend, homes across the UK also lit up green to show support for Grenfell.
Various landmarks across the UK were also illuminated green, including Wembley stadium.
Amy Hunt is an experienced digital journalist specialising in homes, interiors and hobbies. She began her career working as the features assistant at woman&home magazine, before moving over to the digital side of the brand where she eventually became the Lifestyle Editor up until January 2022. Amy won the Digital Journalist of the Year award at the AOP Awards in 2019 for her work on womanandhome.com.