Fiona Bruce on work disasters and how she made Lord Alan Sugar 'properly furious'
Fiona Bruce talks candidly to woman&home about her stellar career, including being shouted at by Lord Sugar...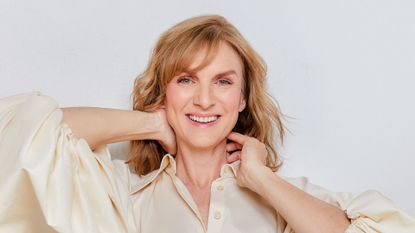 (Image credit: woman&home/Dan Kennedy)
There's no denying that Fiona Bruce, 58, has a career to be admired.
In her TV roles presenting News at Ten, chairing Question Time, and uncovering family treasures and stories on Antiques Roadshow, the BBC veteran is undoubtedly a household favorite and a woman who has made the record book. But it's not all been plain sailing…
In our exclusive interview, Fiona recalled one particularly tricky interview with none other than Lord Alan Sugar...
"My interview with Lord Alan Sugar was the toughest. I did an hour-long profile on him, filming over five days, and it was a fairly low-budget affair, so the producer was working the camera and doing the sound."
While Fiona was on Lord Alan's plane it wasn't long before "he said how he wouldn't employ a woman without asking if she was going to get pregnant. Obviously, that caused an outcry as well as being discriminative. If you're doing a program over five days, you save the stuff where the subject's going to dislike you thoroughly until the end, so I brought up the thing about pregnant women and he really lost his temper."
"He said something like, 'And now see what you've f***ing done! Are you f***ing happy now?!' I got the massive hairdryer treatment, but was thinking all the time, 'This is going to be brilliant television!'"
---
After landing and giving Lord Alan a few moments to calm down Fiona recalls thinking, "'Wow, that's Alan Sugar as I've never seen him before. Properly furious'. When we got off the plane, I said to my producer, 'Well, that's the opening titles right there,' but it turned out he had run out of film and was busy changing the tape, so got none of it!"
"It's at least 10 years ago and I've never got over it!"
But that's not the only disaster Fiona has encountered in her 30-odd year career. She's also had to contend with grumpy colleagues and wardrobe malfunctions too, "I thought my career was over when I was a researcher on Panorama was so annoyed by me that he actually stopped talking to me on the location shoot abroad" she reveals.
"I've also poured orange juice over myself when wearing a cream jacket, just before speaking on Breakfast News, and had the usual coughing fits and wardrobe malfunctions," admitting she once bought a fitted jacket that kept riding up to make it look like she had four breasts!
But Fiona doesn't seem fazed by any of it, perhaps a testament to her professionalism and the fact that she's very comfortable with change in her work life.
"I'm always looking for a new way to do things and Antiques Roadshow, for example, has evolved a lot since I started 15 years ago." she says.
"That program is a joy from start to finish! If you're professionally nosy and want to talk to people about the bits and bobs they've brought along, you've got carte blanche to do that."
The show has also made her antiques-obsessed as she admits to always looking on auction websites for bargains, "I buy paintings and sometimes put them back into auction at a profit. I once bought one for £80 and sold it for £600, so I was well chuffed!"
As she approaches her 60th birthday she believes that "life's for living, celebration, and dancing" and we can't wait to see what she does next.
---
The full interview with Fiona is featured in the August issue of woman&home, on sale Thursday July 30, 2022
---
Gemma is a freelance celebrity interviewer, journalist, and showbiz expert. She's sat down with everyone from Kim Kardashian and Nicki Minaj to Ed Sheeran and Ant and Dec plus thousands of famous faces in between.
Since launching her freelance journalism business in January 2015, she's written for publications including The Sunday Times Magazine, Fabulous, Event (Mail on Sunday), HELLO!, OK!, Grazia, NOW, Closer, LOOK, New, Reveal, Essentials, Cosmopolitan, The Sun, Daily Mirror, and Daily Mail.