Emilia Fox On Silent Witness And Her Real-Life Dramas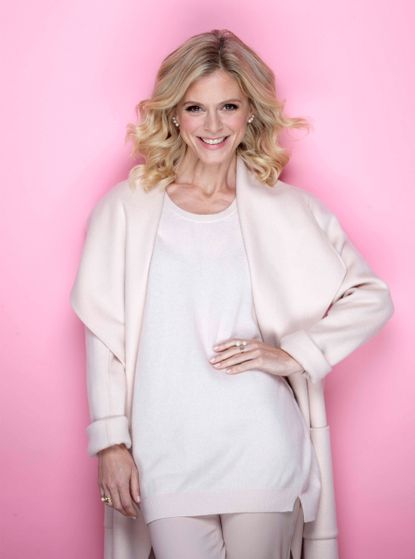 (Image credit: Trevor Leighton)
woman&home newsletter
Sign up to our free daily email for the latest royal and entertainment news, interesting opinion, expert advice on styling and beauty trends, and no-nonsense guides to the health and wellness questions you want answered.
Thank you for signing up to . You will receive a verification email shortly.
There was a problem. Please refresh the page and try again.
With her ability to convey fragility and strength, Emilia Fox, 42, has become one of the country's most popular and versatile actresses. At our shoot she is warm, witty, thoughtful, self-deprecating and politeness personified. Emilia was born into acting royalty - her parents are Joanna David, 69, and Edward Fox, 79. Her younger brother Freddie, 27, is also an actor, as is her cousin Laurence Fox and uncle James Fox. Since her first role as Mr Darcy's sister in the 1995 adaptation of Pride and Prejudice, she's appeared in a variety of stage, TV and screen productions. But it's for her enduring TV role as dogged forensic pathologist Dr Nikki Alexander in Silent Witness that she's best known, and this year Silent Witness celebrates its 20th anniversary, and Emilia's 13th year with the show. In the time she's been playing Nikki, Emilia has experienced some major real-life milestones. In 2005 she married actor Jared Harris, but she experienced the heartbreak of miscarriage before they eventually separated after three years. Emilia went on to have a girl, Rose, now six, with actor and campaigner Jeremy Gilley. The couple split while Rose was a baby. Emilia lives with Rose in London.
On Silent Witness...
I've come to care very much about Nikki, my character in Silent Witness. She's been a huge part of my life for over a decade. We've been through a lot together and in many ways she's been the steadfast in my life during that time. I'm like Nikki in that we've both got careers we're committed to and feel passionately about. But she is a workaholic and uses work as a distraction from an absence of any personal life. Happily, I go home to a daughter and family life.
I'd love to give Nikki a good talking to about her disastrous love life. She always chooses the wrong man! After 13 years, she really needs to put more effort in. I can't reveal whether things improve for her in this series, but she deserves to find love.
There have been some surreal moments during filming. We've had quite a few sleeping corpses! You'll be doing a post-mortem and then suddenly you realise the "body" is snoring on the slab. There are warm hot water bottles on the slab so the actors don't get cold. A lot of time is spent making sure the real-life actors playing dead are OK. One poor girl had to run through a wood virtually naked, then as a corpse she had maggots stuck in her fake blood and they were crawling through her hair.
Off screen I'm the school swot, the one who takes it all seriously. Liz Carr [forensic scientist Clarissa Mullery] is the joker of the regular cast, and the banter between her and David Caves [forensic scientist Jack Hodgson] is hilarious. Richard Lintern [Thomas Chamberlain, head of the forensic pathology centre] isthe one who is just so nice to everyone.
Some of the hardest scenes I have to do are those cases involving children. Very early on a pathologist told me that there are some pathologists who won't perform post-mortems on children. Nikki doesn't have children, so she does do them, but as I have a child I find it very difficult, even though I'm acting.
The last episode of the new series is set in Mexico, and is a big celebration of Silent Witness. It was incredibly ambitious and certainly the most challenging episode I've ever worked on. You see a new side to Nikki and I had to do a lot of stunts. I can't reveal too much, but there are heights and depths involved... On relationships, parenting and family...
The way I've made being a single parent work is exactly what I talk to Rose about, which is that all families are different and you make it work for them. You give your child as much stability and security as you can. And talk about it a lot. Fingers crossed she's a happy, settled little girl. I'd definitely like a significant other in my life. I've never been on a blind date and my friends would never set me up on one - I am very shy. When the time is right for someone else to be in my life it will happen, if it happens. My parents are mostly based in the West Country now, but we usually see them once a week. They're amazing, hands-on grandparents. My mum and Rose do silly stuff together and there are a lot of tea parties and making things. My brother Freddie is a massively hands-on uncle too.
One of the loveliest things to come out of Silent Witness is the friendship that's developed with Dee, my driver. He is part of our family life now and is like another grandfather to Rose. Very often you're sitting in the car trying to deal with your home life, so there are no secrets between us. We talk about everything, he gives me advice and I trust him completely. On body and soul...
I consider Botox every time I look in the mirror. Seriously I need to be putting it in now! If only it didn't involve the word "tox" and it going into my head. But, yes, I'd love it if I could smooth out my forehead and not have a massive frown line.
Not many people know this but I have a tattoo on the inside of the middle finger of my left hand, a tiny outline of a heart. I had it done a few years ago when I was in Los Angeles. I was with a friend who was getting a tattoo. I'm terrified of needles but my friend said "you have one" and I was so jet-lagged I agreed. She suggested the heart. When he started doing it I literally leapt out of my seat. I was like, "do not fill it in because I can't take the pain." I'm absolutely never having another.
I'm still having therapy. I'll see someone as regularly as I can, work permitting. I'm not saying that therapy is to be recommended for everyone, but we look after our health, we look after our bodies. I see it as looking after my mind and my head, exercising that.
On work...
I'm not naturally cut out for acting. I'd have been much better in an office job where I knew what was happening every day. I'd like the routine of it. The precariousness of the acting profession: I'll never know why I did it having seen it first hand with my parents. I didn't have rose-tinted spectacles - and yet I still went into it!
I wish I'd travelled more and done other things before going into acting, and yet I can't regret it because I've got here. At that point in my life I also needed to prove that I could do it. I'm darned lucky that I've been working for 20 years.
Eventually I see myself being on the other side of the camera. My dream is to turn a children's book called The Ordinary Princess into an animation. It's my favourite book, about a princess who is given the gift of ordinariness and I've just started reading it to Rose. On the new year...
I'm very excited to be back on stage this month for only the second time in ten years. It's a play called Sex with Strangers at the Hampstead Theatre and, yes, the title is very, very racy. I'm a bit worried that people will come with huge expectations about what I'm going to be doing onstage! It's not necessarily what you instantly think. I'd love to conquer Spanish this year. Well, start learning it anyway. Rose goes to Spanish club and I'm thinking I can tag along and learn as she learns. My thirst for knowledge gets greater and greater as I get older and realise there's less and less time. I'm also looking forward to seeing Rose start another year - all the new things she'll be discovering, and seeing if I can keep up with her. And then Silent Witness will be going into its next year, so that will be another celebration.
EMILIA'S ESSENTIALS
Chocolate or exercise? Oh, chocolate. Dream dinner party guests? Dawn French... Dawn French... Dawn French! We've just worked together on Delicious (Sky), as well as on another project. She's fantastic in every way. Favourite way to unwind? Reading. I always have a pile of books by the bed. Secret skill? I can make my right nostril droop! And I've got a great memory. I can remember details of things that happened years ago. Spender or saver? I'm a spender! Habit you'd most like to stop My coffee habit.
Habit you hate most in others? Bad manners. Would you do Strictly? I am obsessed with Strictly and I'd love to learn the dancing, but I'm way too shy to go on the show.
Silent Witness is airing throughout January on BBC One. Sex With Strangers runs at Hampstead Theatre from 27 January until 4 March.
Photographs: Trevor Leighton
Video