Chelsea Flower Show: The Gardens That Took Gold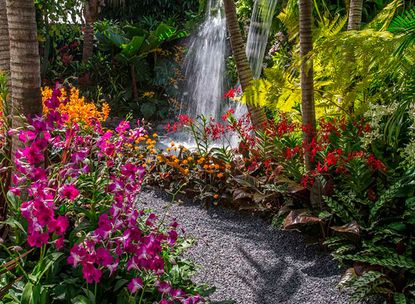 Discover our top 13 gardens to look out for at the RHS Chelsea Flower Show 2015!
After a visit from the Queen and various VIPs yesterday, the RHS Chelsea Flower Show has opened its doors to the public. But not before the judges decided who should take 'Gold'.
Our Homes Editor, Alison Davidson, was lucky enough to enjoy a preview yesterday.
'The stand-out garden for me was The Hidden Beauty of Kranji by Esmond Landscape and Uniseal', she says. 'Set in a tropical environment featuring plants found in Kranji – a suburb of Singapore with a preserved natural environment. The fabulous part is the multi-level waterfall, and rustic pavilion with creepers and green walls.'
And while, The Hidden Beauty of Kranji Garden didn't impress the judges enough to take 'Gold', it was awarded with the 'Silver Gilt' medal.
So, what were the main trends this year?
'There was a lot of English cottage garden planting with aquilegia, dicentra, lavender, peonies and irises everywhere, some irises almost black in colour and some rust coloured.
'The unusual rust colour was evident in other plants too. Yellow was also popular. Honey coloured decks were evident and slate was used for paving, walls and structures. Clipped mounds were used in some of the gardens too.'
Keep clicking to see all this year's gold-medal winning gardens...
A Perfumers Garden in Grasse by L'Occitane
Designer: James Basson Once upon a time, the perfume industry was French town, Grasse's lifeblood. Now many of the plantations have become overgrown. Beauty company, L'Occitane is trying to turn their plight around. This garden reflects Grasse's fragrant history and the resurgence that's beginning to take flight.
The Brewin Dolphin Garden
Designer: Darren Hawkes Garden designer, Darren Hawkes used more than 40,000 pieces of hand-cut slate to form suspended platforms which hover above woodland plants and an underground stream.
The Cloudy Bay Garden in Association with Vital Earth
Designers: Harry and David Rich Gardening and wine are two of our favourite things! Cloudy Bay's designers Harry and David Rich have created this space to reflect the tasting notes and characteristics of two of the company's most popular wines. Fresh, clean tones are juxtaposed with planting in red, plum and purple. The vineyard's heritage is shown in the moveable shack at the heart of the garden.
The Homebase Garden Urban Retreat
Designer: Adam Frost Modernist architect, Marcel Breuer inspired this colourful garden. It's intended to create an inner-city community space where people can come together. The planting is wildlife-friendly too.
The Morgan Stanley Healthy Cities Garden
Designer: Chris Beardshaw This garden is Morgan Stanley's first Chelsea foray - and a space that they hope will provide a longlasting legacy. Once the Flower Show closes its doors at the end of the week, Chris Beardshaw's garden - which centres around geometry and vibrant plants working together - will form the centrepiece of a new community project in London's East End.
The Laurent Perrier Chatsworth Garden
Designer: Dan Pearson Chatsworth and Laurent Perrier's debut at Chelsea has not only picked up 'Gold', but also been awarded the Best Show Garden accolade. The space represents a small - wild - area of Chatsworth with an ornamental trout stream and rockery, while planting reflects the lightness and freshness of Perrier's Champagne house.
The Telegraph Garden
Designer: Marcus Barnett A treat for the eyes! Inspired by the De Stilj Movement, coloured blocks provide strong rectilinear geometry in The Telegraph Garden, while trees and hedges bring vertical detailing. Texture and tonal balance are introduced by the choice of plants.
Beyond Our Borders By Animal Plant Health Agency (APHA)
Designer: Sarah Eberle Split in to three zones to mimic oceans with slinky toys moving between them, the Beyond Our Borders garden aims to educate about the risk to our native plants from new plant pests and diseases.
Breast Cancer Haven Garden
Designed by Sarah Eberle, supported by Tom HareTwo Chelsea 'Golds' for Sarah Eberle this year. Her second garden for breast cancer charity, The Haven aims to raise awareness about the one-to-one support they provide. The woven willow 'nest' aims to welcome, embarce, reassure and provide peace.
Dark Matter Garden For National Schools Observatory
Designer: Howard Miller Design Ltd Dark Matter brings the mysteries of the Universe to Chelsea through innovative structures and planting. Designed by a team of astronomers, horticulturalists and construction experts, it blends light and gravitational effects to mimic far away galaxies. Voted Best Fresh Garden at this year's show, this captivating space wins gold exactly 100 years after Einstein scientifically predicted the bending of light by gravity.
Edo No Niwa Edo Garden
Designed by Kazuyuki Ishihara Inspired by native Japanese landscapes, the textural elements of the Edo No Niwa Edo garden have been designed it such a way they can be enjoyed from any angle.
A Trugmakers Garden
Designed by Serena Fremantle & Tina Vallis This stunning garden celebrates the traditional craftsmanship of the Sussex Trugmaker's. Carved from willow and chestnut for 200 years, the art of trugmaking is native to this part of the country. After the show, many of the pretty blooms assembled alongside the Trugmaker's mock workshop will be replanted at a children's hospice in Sussex.
The Sculptors Picnic Garden
Designed by Graham Bodle Inspired by nature and woodland animals, this winning garden showcases oak branches reminiscent of stag antlers, reclaimed tree roots, rocks and water. The perfect habitat for wildlife and an invigorating space to sit back and relax.
Sign up to our free daily email for the latest royal and entertainment news, interesting opinion, expert advice on styling and beauty trends, and no-nonsense guides to the health and wellness questions you want answered.