Carrie Johnson admits 'the worry is constant'—as she prepares for birth of second baby
The Prime Minister's wife had a miscarriage earlier this year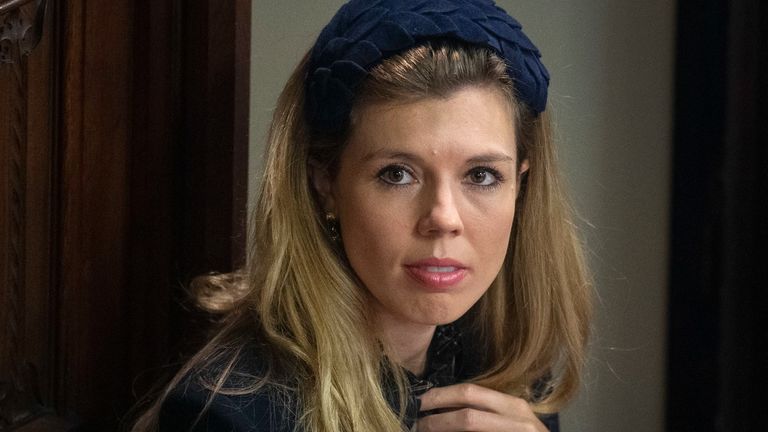 (Image credit: Victoria Jones - WPA Pool / Getty Images)
By Sarah Finley
Carrie Johnson, the wife of UK PM Boris Johnson, has revealed how 'the worry' has been constant during her second pregnancy after she miscarried earlier this year.
The mother of one, 33, took to Instagram for Baby Loss Awareness week, sharing how her 'heartbreaking' miscarriage has affected her.
Carrie and Boris announced, in August, that their second baby was due in December, just months after they got married in a small secret ceremony in London.
In her recent Instagram post, where she mentions Tommy's Baby charity, a baby loss awareness charity, she said, "I've found this pregnancy very different to my first. Pregnancy after loss is totally wonderful but the worry is constant. Tommy's has shown me that's completely normal."
Talking about other women who have shared their stories on the Tommy's Baby Charity website she said, "The stories of other people's experiences shared on their website provided me much comfort after our loss earlier this year.
"It's also a helpful resource if you have friends or family that have experienced baby loss and you're not sure what to say or how best to be supportive."
This will be the second child for Carrie, her first, Wilfred, now one, was born last year, but the seventh for Boris as he shares four children with his ex-wife Marina Wheeler and one with art consultant Helen Macintyre.
The best his and hers Christmas pajamas to kick off the 2021 festive season together
In August the PM's wife said she was hoping for a 'rainbow baby'—after being 'heartbroken' following a miscarriage.
She wrote, "Hoping for our rainbow baby this Christmas. At the beginning of the year, I had a miscarriage which left me heartbroken. I feel incredibly blessed to be pregnant again but I've also felt like a bag of nerves."
A rainbow baby is a baby born after a miscarriage, stillborn, or neonatal death. The term was created to signify the arrival of something beautiful after a storm.
She also said at the time, "Fertility issues can be really hard for many people, particularly when on platforms like Instagram it can look like everything is only ever going well."
She carried on with, "I found it a real comfort to hear from people who had also experienced loss so I hope that in some very small way sharing this might help others too."
Sarah is a freelance writer - writing across titles including Woman & Home, Fit & Well, Tech Radar and the BBC. Covering a variety of subjects, including the royals, celebrities and trends in beauty, fashion and wellness - her biggest passions are travel and fitness. She can normally be found trying out the latest fitness class or on a plane to an exotic destination (pandemic allowing) - or writing about either of them.