Brandon Lee's death tragically mirrored in Alec Baldwin's devastating prop gun incident
Brandon Lee died during filming for gothic superhero movie The Crow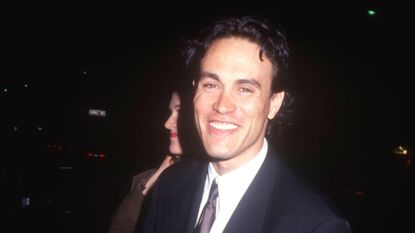 (Image credit: Barry King / Alamy Stock Photo)
Brandon Lee's death filming The Crow shocked the world and left his family, friends and fans devastated. Now his sister has broken her silence following Alec Baldwin's prop gun incident which has seen history tragically repeated.
Alec Baldwin has killed a woman after reportedly misfiring a prop gun with blanks whilst filming upcoming Western movie, Rust. Halyna Hutchins was the film's director of photography and director Joel Souza was also injured during the incident. It took place on the film's New Mexico film set and whilst Halyna was flown by helicopter to hospital, she tragically passed away from her injuries whilst Joel has reportedly been discharged from hospital.
As reported by the BBC (opens in new tab) in a statement to AFP news agency, a Santa Fe sheriff spokesman explained that Alec had spoken to detectives, declaring, "He came in voluntarily and he left the building after he finished his interviews."
Now Shannon Lee, the sister of the late Brandon Lee and daughter of martial artist and actor Bruce Lee has spoken out following this devastating incident, reflecting that "no one should ever be killed by a gun on a film set", as her brother and Halyna were.
Taking to Twitter on the official Brandon Lee Twitter account she manages, Shannon wrote, "Our hearts go out to the family of Halyna Hutchins and to Joel Souza and all involved in the incident on "Rust". No one should ever be killed by a gun on a film set. Period."
Our hearts go out to the family of Halyna Hutchins and to Joel Souza and all involved in the incident on "Rust". No one should ever be killed by a gun on a film set. Period. 💔October 22, 2021
See more
Shannon's remark comes 28 years after Brandon Lee's death during filming for The Crow and reflects on the heartbreaking way history has repeated itself.
When did Brandon Lee die?
Film star Brandon Lee died in March 1993 after being shot with a prop gun on the set of the gothic thriller, The Crow. The movie is based on James O'Barry's comic book focused on a rock musician who comes back from the dead to avenge his and his fiancée's murders and Brandon Lee was the lead star in the iconic film. During filming for The Crow, Brandon's fellow cast member Michael Massee fired the gun at Brandon, believing the prop to be loaded with blanks.
Instead, according to The Independent (opens in new tab), a fragment of a dummy shell had accidentally been left inside the prop gun's barrel. This reportedly meant that the blank fired at Brandon's abdomen with the force of a live round and dislodged the fragment.
Despite being taken to hospital and undergoing hours of surgery, Brandon sadly passed away aged 28 after doctor's were unable to save his life due to his extensive internal injuries. He is said to have died a couple of weeks before he was set to marry his fiancée Eliza Hutton.
What was Bruce Lee's son, Brandon Lee's cause of death?
Brandon Lee died of his injuries after the bullet entered his body and reportedly lodged near his spine. Hollowed out cartridges are understood to be used to film close-up shots of guns being loaded for specific movie scenes, though these are supposed to be removed and the gun replaced with blanks before the prop is fired. In this case, a fragment of one was mistakenly left in the barrel.
Following Brandon's death, speculation arose about intent and whether or not the late actor's cause of death was not accidental after all. However, as reported by Variety (opens in new tab) back in April 1993, a month after Brandon's shocking death, District Attorney Jerry Spivey announced that he passed away as a result of negligence rather than foul play.
"In my opinion, I don't think there was any doubt there was negligence on several occasions", Jerry declared at the time, adding, "I can tell you we are looking at the written investigative report for the purpose of deciding if there will be criminal charges and, if so, against whom."
The DA also confirmed that in his opinion and based on the evidence found during the high profile police investigation, "there is no indication anybody was trying to hurt Brandon".
The publication claimed back in 1993 that the day Brandon was shot, police characterized the incident as accidental. But as the investigation proceeded, police didn't confirm whether the shooting was an accident or intentional until Jerry Spivey's final remark.
What was said after Brandon Lee's death filming The Crow?
Despite the huge attention surrounding Brandon Lee's death and the eventual confirmation that negligence did indeed play a part in this tragedy, History.com (opens in new tab) reports that District Attorney Jerry Spivey ultimately decided against bringing charges against Crowvision, the production company behind The Crow. Though according to Looper (opens in new tab), Brandon's mother Linda settled out of court for damages after filing a lawsuit against the production company.
Brandon had been set to appear in the majority of the scenes that remained to be filmed for the movie, though the filmmakers eventually went ahead with the project, hiring another actor as a double and utilising digital technology. The Crow went on to become a huge box office success, reportedly making $50 million according to History.com, whilst it is also the last time Brandon Lee's fans got to see this iconic and talented star on screen.
However, in light of Brandon's death, some of The Crow cast were said to be initially nervous about returning to finish the film. As reported by EW (opens in new tab) in 1994, Sofia Shinas who played Brandon's on-screen fiancée Shelly reportedly said, "What happened on that stage truly gives new meaning to the word tragedy. I really didn't want to go back."
Brandon Lee, The Crow. Released 27 years ago. pic.twitter.com/lAtjGIuwvHMay 11, 2021
See more
Whilst Lance Anderson, who did Brandon's makeup for the film explained, "I was very close to Brandon, and I felt completing the film would be closing the loop. I have a son exactly his age, and I related to him like a father. So the time at home made me feel even stronger about going back to finish."
And this sense of responsibility towards Brandon's legacy is something that co-producer Ed Pressman supposedly shared, explaining, "There was a feeling after the accident that became heightened-a sense of purpose, a common feeling of shared grief, a responsibility."
After her fiancé's death, Eliza Hutton reportedly also petitioned for tighter gun regulations to be put in place on film sets to prevent a similar terrible incident from ever occurring again.
Tragically, history has now been seen to repeat itself with the heartbreaking death of Halyna Hutchins and injuring of Joel Souza in New Mexico.
Emma is a Senior Lifestyle Writer with six years of experience working in digital publishing. Her specialist areas including literature, the British Royal Family and knowing all there is to know about the latest TV shows on the BBC, ITV, Channel 4 and every streaming service out there. When she's not writing about the next unmissable show to add to your to-watch list or delving into royal protocol, you can find Emma cooking and watching yet more crime dramas.