Victoria Hislop on her latest novel: 'It's a book about compromise rather than war – even bitter enemies can learn to live with one another'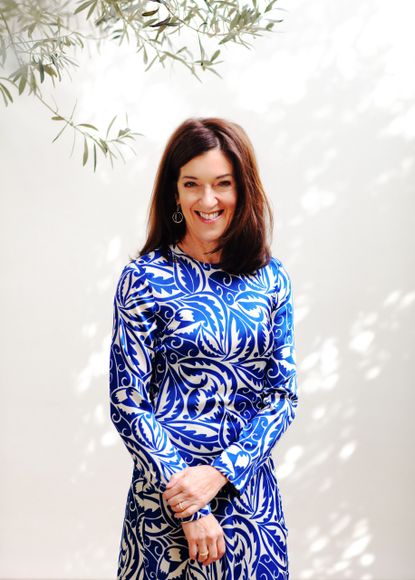 (Image credit: Provided by Victoria Hislop)
Bestselling author Victoria Hislop's latest novel, Those Who Are Loved, opens in Greece during the German occupation.
Fifteen-year-old Themis' family is divided by the political differences that are dominating her homeland. Yet, somehow, she must find her own way to negotiate these dark times. It's a good book (great book, actually!) destined to be on the TBR list of many this year and likely the book club book of choice. We chat to Victoria Hislop about the inspiration behind this and her other works.
Victoria Hislop Q&A
What inspired you to write Those Who Are Loved?
It's taken 10 years to work my way to this book and it covers a complex period of history through World War Two, the civil war and the military dictatorship. It came about when I was visiting the magnificent Temple of Poseidon. Driving along the coast road with a friend, I gazed out to sea expecting to see infinity. But instead there was this huge, rocky island called Makronisos.
My friend wouldn't tell me much about it, other than that it was uninhabited and communists had been imprisoned there during the civil war. Naturally, I was intrigued, but no boats visited. It wasn't until seven years later that I managed to find someone who would take me to the island on a small rib.
The remains of the prison are still there and it was every bit as electrifying as I'd led myself to believe – 20,000 people had been banished – and tortured – there, many of them women. I had to write about them, to share this unknown bit of history – it was like firing the starter gun for me.
What is the novel's message?
It's a book about compromise rather than war – even bitter enemies can learn to live with one another. Themis, the central character, loses her religion but she still lights a candle in the church for those she has lost and, by remembering them, she gives them immortality.
Themis is an incredibly strong woman – do you identify with her and which woman inspires you?
For Themis, I drew on the idea of a divided family living under a right-wing dictatorship – it's funny, really, because while I was writing it the Brexit arguments were in full swing here and perhaps that played a part.
As a child, Themis wants a quiet life; she avoids confrontation and wants people to get along. Then something happens that affects her personally and she realises she can't sit on the fence. She takes on a life as this strong, feisty woman who fights with the communists. Circumstances dictate the character she becomes.
I suppose Themis is an idealised version of the good, strong person I'd like to be, but the woman I admire most is my 28-year-old daughter Emily. She's a fiercely independent woman, and a feminist. I love how she thinks about the world. She has a confidence I never had and it inspires me – she has no fear.
Your novels are set in the Mediterranean, particularly Greece – why has it captured your imagination?
My first trip abroad was to Greece – I was 17 and hadn't travelled much. We went to Bognor Regis most years, though we did once take an exotic trip to Devon. When I was a teenager, my parents separated, so my mother started working and she made holidays a priority.
Arriving in Athens, it was love at first sight – it was magical and so utterly different to the UK. I'd never seen the sea that colour before… the food was glorious and it was the first time I'd tasted watermelon and feta. I still love it now…
What's the starting point for your novels – history, place or people?
It's place – it has to be somewhere real that brings history alive and makes my hair stand on end. I'll usually spend 18 months to two years solidly researching the history and politics.
How do you create your characters?
I create my characters visually and never use true individual's stories. Themis looks a little like someone I know in Athens – the way people look, the characteristics of face, whether someone is skinny or plump, helps form their personality.
The nicest male character in Those Who Were Loved has a speech impediment. I didn't plan it that way, he evolved and it explains why he's slightly less confident than his peers.
The serialisation of The Island on Greek TV has been hugely popular – what was it like seeing your book come to life?
It was amazing – filming took place in Elounda, on the northern coast of Crete and on Spinalonga, the nearby island that used to be a leper colony, so it didn't feel like there was any distinction between fiction and reality.
The old ladies dressed in black on the doorsteps were real extras so it had exactly the atmosphere I'd tried to create in the book. A lot of Greek islands are very similar to how they were 100 years ago, and incredibly timeless.
Who's your favourite author?
Ian McEwan because he's totally original and every book he writes is completely different. He's literary but never pretentious and writes so economically. His latest, Nutshell is written from the point of view of the unborn Hamlet and it's funny, sad, emotional and a work of genius.
Set the scene so we can imagine you at work…
I'm a bit of a nomad and I can't imagine my life without a laptop. I use lots of photos, hundreds and thousands – technology makes that very easy. I usually write a chapter a week, then get all mathematical and set goals as the deadline looms.
Who is your best critic?
My daughter Emily is always the first reader ¬ she's a very good editor/writer and she makes fantastic comments. She's supportive, but frank, and I can take criticism from her whereas with my husband it's a catastrophe if he doesn't love every word!
How do you celebrate finishing a book?
When it's published, I love a cold glass of champagne with lots of bubbles. It still feels like a very special way to celebrate.
w&h's review of Those Who Are Loved by Victoria Hislop
Spanning Greece throughout and beyond the German occupation of 1941, Victoria Hislop's latest novel is the perfect blend of history, sympathetic and multi-layered characters and stunning setting. On the cusp of womanhood, Themis' world is shattered as her family is divided by politics. She joins the Communist army, only to be imprisoned and forced to examine how many of her principles she would sacrifice for freedom. Themis stands out as a complex and believable heroine whose journey encapsulates the complexities of Greece's history as well as her courage to fight for the life she wants to lead.
Those Who Were Loved by Victoria Hislop is out now in hardback, priced £20, published by Headline Review. Available in eBook and audiobook formats, the paperback is released on 20th August.
SHOP NOW: Those Who Are Loved by Victoria Hislop, Amazon
Happy reading!
Emma is a Senior Lifestyle Writer with six years of experience working in digital publishing. Her specialist areas including literature, the British Royal Family and knowing all there is to know about the latest TV shows on the BBC, ITV, Channel 4 and every streaming service out there. When she's not writing about the next unmissable show to add to your to-watch list or delving into royal protocol, you can find Emma cooking and watching yet more crime dramas.