Sheryl Sandberg's Career Confidence Tips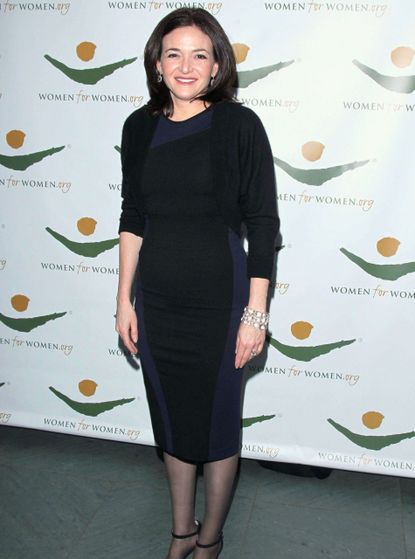 Sheryl Sandberg's CV is impressive. Not only has she worked as an economist for the World Bank, served as Chief of Staff for the US Treasury Department under Bill Clinton and overseen global sales and operations as Vice President at Google, but she's currently Facebook's Chief Operating Officer (COO). Now, she's adding author to the list with the publication of a new book for women in business, Lean In: Women, Work and the Will to Lead (opens in new tab) (£16.99, Ebury Publishing).
'I wrote Lean In so women can increase their chances of making it to the top of any field or pursue any goal with gusto', Sheryl Sandberg says. 'Women do not have to lower our expectations of what we can achieve in the workplace. In so many situations, instead of pulling back, we should be leaning in.'
Here Sheryl Sandberg shares some of her career confidence tips with woman&home...
1. Fake it
'When I don't feel confident, one tactic I've learned is that it sometimes helps to fake it. I discovered this when I was an aerobics instructor in the 1980s. Influenced by the gospel of Jane Fonda, aerobics also meant smiling solidly for a full hour. Some days, the smile came naturally. Other days, I was in a lousy mood and had to fake it. Yet after an hour of forced smiling, I often felt cheerful...Research backs up this 'fake it till you feel it strategy'.'
2. Learn to negotiate in a different way
'The goal of a successful negotiation is to achieve our objectives and continue to have people like us...Women can increase their chances of achieving a desired outcome by doing two things in combination. First, women must come across as being nice, concerned about others, and 'appropriately' female. When women take a more instrumental approach ('this is what I want and deserve'), people react far more negatively. As silly as it sounds, pronouns matter. Wherever possible, women should substitute 'we' for 'I'.
'The second thing a woman must do is provide a legitimised explanation for the negotiation. One way of doing this is by suggesting that someone more senior encouraged the negotiation, or to cite industry standards. Still every negotiation is unique, so women must adjust their approach accordingly.'
3. 'Undistort the distortion'
'In addition to facing institutional obstacles, women face a battle from within...For women feeling like a fraud is a symptom of a greater problem. We consistently underestimate ourselves. Multiple studies in multiple industries show that women often judge their own performance as worse than it actually is, while men judge theirs as better than it actually is.
'I learned over time that while it's hard to shake those feelings of self-doubt, I could understand that there was a distortion. When I felt like I was not capable of doing something, I'd remind myself that I did not fail my exams in college. I learned to undistort the distortion.'
4. Don't let self-doubt win
'I still face situations that I fear are beyond my capabilities. I still have days when I feel like a fraud. And I still sometimes find myself spoken over and discounted while men sitting next to me are not. But now I know how to take a deep breath and keep my hand up. I have learned to sit at the table.'
5. Push yourself
'One reason women avoid new challenges is that they worry too much about whether they currently have the skills they need for a new role. This can be a self-fulfilling prophecy, since so many abilities are acquired on the job. An internal report at Hewlett-Packard revealed that women only apply for open jobs if they think they meet 100 percent of the criteria listed. Men apply if they meet 60 percent...Women need to shift from thinking 'I'm not ready to do that' to thinking 'I want to do that - and I'll learn by doing it'.'
6. Feel the fear and do it anyway
'In my personal life, I am not someone who embraces uncertainty. I like things to be in order...but in my professional life, I have learned to accept uncertainty and even embrace it. Risk - and a great deal of luck landed me at Google. That worked out so well that I decided to embrace risk again, which led me to Facebook. At the time, other companies were willing to hire me as CEO, but I joined Facebook as COO. At first, people questioned why I took a 'lower-level' job working for a twenty-three-year-old. No one asks me that anymore..The cost of stability often means diminished opportunities for growth.'
Taken from Sheryl Sandberg's book, Lean In: Women, Work and the Will to Lead (opens in new tab) (£16.99, Ebury Publishing)