Best selling author, Sarah Vaughan's new novel, Little Disasters, draws on her own challenging experiences as a mother
Sarah Vaughan's breakthrough novel, Anatomy of a Scandal, was the book on everyone's lips in 2019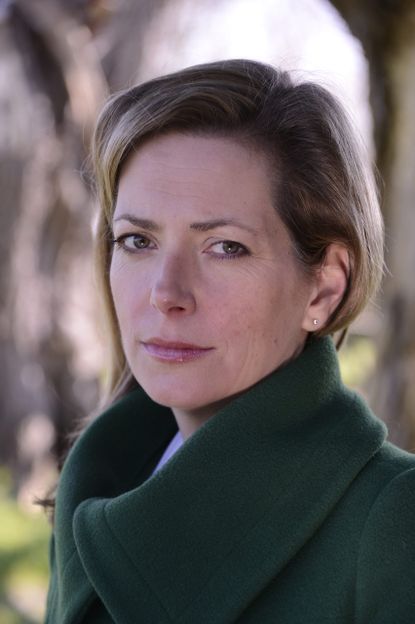 woman&home newsletter
Sign up to our free daily email for the latest royal and entertainment news, interesting opinion, expert advice on styling and beauty trends, and no-nonsense guides to the health and wellness questions you want answered.
Thank you for signing up to . You will receive a verification email shortly.
There was a problem. Please refresh the page and try again.
Writer Sarah Vaughan reveals to Woman&Home how she used her former role as a news reporter covering real-life crimes, as inspiration for her new book, Little Disasters.
Sarah Vaughan's breakthrough novel, Anatomy of a Scandal, was a bestseller and the book everyone was talking about in 2019. She returns this year with Little Disasters – another thought-provoking psychological drama. It's about two women whose friendship is tested when Jess brings her baby into hospital with a story that doesn't add up, and Liz is the doctor on call. Sarah lives near Cambridge with her husband, two children, a cat and a dog.
We chat to Sarah Vaughan about her new book…
Sarah Vaughan Q&A
Did the idea for Little Disasters come from your own experience as a mother?
This is the third novel I've written about motherhood, but I would say this isthe one that sums up my experience most acutely. I struggled with postnatal anxiety after the birth of my second child. It was a perfect storm of circumstances. WhenI was 19 weeks pregnant, I was diagnosed with pelvic girdle syndrome, which meant I was in chronic pain, and ultimately took voluntary redundancy as a news reporter. I was pretty much bedridden, and my husband had just started a new job, working long hours. I had no support network as we'd moved to Cambridge, away from everyone we knew. Without my career, I felt I'd lost my identity. That time in my life inspired Little Disasters.
In both books you've written about very timely subjects. Do you think your previous role as a news reporter has something to do with that?
My time as a news reporter definitely helped. I'd previously worked on several stories including the Soham murders – in fact I came into contact with an Huntley twice before his arrest. As the caretaker, he was in charge of letting us in and out of the school. I asked him if we could stay at the school to write up our copy. He refused. You could tell he liked having control over us, and I had a very uneasy feeling about him.
When we moved outside Cambridge, I found myself thinking back to the terrible crimes I'd covered before becoming a parent. My imagination started to get the better of me and I began to picture worst-case situations in my head. My sense of risk has definitely been heightened since becoming a mother.
Early motherhood is tough – but when does normal anxiety tip over into something more sinister?
We all have irrational thoughts, but in Little Disasters, Jess's behaviour tips beyond this. I wanted to talk about that – an affluent woman who seemingly has it all – the perfect house, exquisite looks and a third child on the way. She feels like she should know what she's doing.
The fact is that everything changes when you have a child. Motherhood is tough. The book's opening scene came from my own experience of my daughter having colic for six weeks, so I know that feeling of desperation when nothing you try seems to help. Then you realise that parenthood is a leveller – it doesn't matter how in control you were before. Little Disasters explores just how close to the edge motherhood can push you.
How did you go about researching for your book?
I carry out my research meticulously. As well as speaking to a paediatrician,an obstetrician, social workers and a perinatal psychiatrist, I also talked to a paediatric registrar and a surgeon who made sure I had everything right. A retired policeman, Graham Bartlett, also briefed me on police procedures. Then there was my own experience as a parent and having been on an A&E ward with my own children.
When it came to writing about safeguarding children, I spoke to my husband. He is a surgeon, but knows about the actions taken to keep children from harm. While making the decision to safeguard the child is relatively easy, it's the realisation of the impact it will have on the family that's difficult – the effect on that person's life, and the baby's.
SHOP NOW: £11.99, Little Disasters, Amazon (opens in new tab)
Did you turn to other books for inspiration?
I definitely read a lot on the subjects covered in my book. Bryony Gordon's Mad Girl is great – a book you can read in one sitting. And The Man Who Couldn't Stop by David Adam offers a fascinating insight into mental health.
Jess and Liz's friendship is tested a lot throughout Little Disasters. Do you think this is common theme when women become mothers?
Jess and Liz's friendship is tested in Little Disasters through very special circumstances, but I think all friendships are challenged around motherhood. Even with lifelong friends, you are going to have an opinion about how they bring up their children, just as others will judge you. Then, of course, there's the whole working mum vs stay-at-home mum debate. In the book, Liz works full-time, whereas Jess hasn't gone back to work. They probably have their opinions about each other on that. Judging someone else's decisions validates our own parenting, in a way.
Do you see Little Disasters as a thriller or a psychological drama?
My books are about issues pertinent to women, written in a suspenseful way. I think of Little Disasters more as a psychological drama than a thriller. I like good pacing and the right amount of suspense. In Anatomy of a Scandal, I wrote about a professional woman whose decisions affected people's lives. I hadn't read many books with women in positions of responsibility, and I was interested in exploring that again.
Did you ever imagine Anatomy of a Scandal would be as successful as was?
I was so surprised by its success! It was the third book I'd written and different to anything I'd done before. You have to believe your story is one worth telling, and I had that with this one.
Why do you think it did so well?
The books release coincided with the Harvey Weinstein case and the #MeToo movement. People thought I had written it on the back of what was going on in the news, but I'd penned it a year before. I was receiving messages from people who had been in similar situations, who said they felt like Kate/Holly's experience reflected their own. I'm proud that I created something convincing. Barristers were asking where I was in the Bar Directory, as it was so realistic!
What's your greatest achievement?
Despite finding early motherhood difficult, I always tell my children they are my greatest creation. They look surprised at this and ask if it's not my books. But of course, ultimately, my children are the most important thing to me.
Helena is the Travel Editor for Woman & Home, Woman's Weekly, Woman, Woman's Own and Chat. As a journalist with 8 years' experience, she has also worked for titles including Stylist, The Evening Standard and Heat.

She is a keen traveller who loves nothing more than exploring a new country. Her dream trip is a safari. A fierce animal lover, she dreams of seeing some of the big five out in the wild. Her wish-list also includes India – to explore her husband's heritage more – as well as exploring more of America's stunning national parks.