Anita Dobson: "I Feel So Blessed To Enjoy Step-Grandchildren"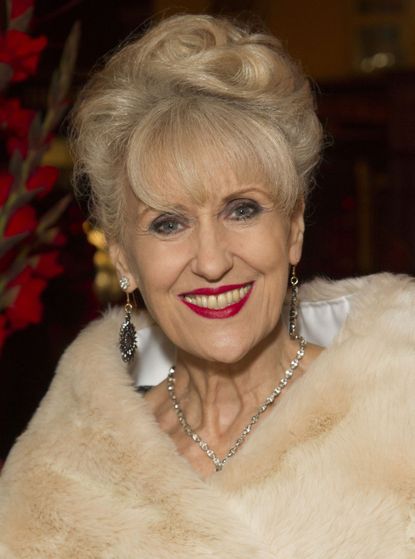 (Image credit: Rex Features (Shutterstock))
She played the fiesty and fearless Angie in Eastenders - now, Anita Dobson talks marriage (to her famous musician husband), growing confidence as she gets older, and her new West End Role....
Anita Dobson, 67, is married to musician Brian May, and lives in London. She has three grown-up stepchildren with Brian.
It's important to me to keep testing myself in life, so that I don't get pigeonholed. When I walked away from my role as Angie in Eastenders all those years ago, it was a huge risk, but I always had this great desire to do so many things. Somebody asked, "Don't you think you're in danger of stepping in and out of too many boxes?" But that's how you grow, isn't it?
I was always slightly afraid of marriage because I didn't like the idea of being tied down. Even when I met Brian when I was in my mid-thirties, I didn't actually see it on the cards for us. He was a huge rock star and our lives were very different. But later I reached a point where I thought, you've gone through all the hard stuff with this man and you're still here, what does that tell you, Anita Dobson? So one day, I said to him, "I'm ready." Two weeks later we were married. And doing it at 51? It was the best decision I've made.
Whoever came up with the idea of "date nights" - well, I owe you! I used to be all into romatic gestures (the kind you see in movies!), but the most important thing in mine and Brian's relationship now is carving out that time. If we stay at home, I'll find a million other things to do, so often it's Brian who says, "Let's go out for dinner this evening," and we'll just sit at the table and talk about how we're feeling about work, maybe the fact that we haven't had a holiday and that's not a good thing, or maybe that we've lost contact with each other a little bit. That's how we keep the romance alive these days.
I didn't have children, so I feel incredibly lucky to have three wonderful stepchildren - and now I've been blessed with four step-grandchildren! The youngest is two and the eldest is 11 and they've brought so much joy to my life. I do my best to fill their lives with fun and happiness, but I also want to instil a sense of right and wrong in them because they're our future - and all we've got to make the world a better place.
I've recently rediscovered my passion for reading- it's actually thanks to my stepson's girlfriend. We were on holiday this year when she told me about this book she was reading called Secrets of the Sewing Bee by Katie Thompson. It's all about the East End where I grew up during the Blitz and the rag trade, and I was so intrigued by it that I borrowed it. I suddenly realised what I'd been missing. She's now lent me the second one called Secrets of the Singer Girls - it feels as though I'm catching up on lost time now!
These days, everything is about technology, technology, technology - what happened to good old-fashioned talking? Maybe I'm biased becaused I'm a total technophobe, but I can't think of anything nicer than inviting my best friend, Annie, over for some Italian food and a good natter. We talk to each other about anything and everything - and you just can't do that through a text message or an email. Don't get me wrong, I want to keep up with the future (I do have an iPhone!), but I think we should be striving for a balance - or we'll all be robots before long!
I don't love the fact that gravity is winning as I get older, but there's also a calmness that comes with it, which I'm secretly enjoying. Of course it's a bit scary watching yourself not look as potent as you did when you were younger, but I'm confident in who I am now, and I feel like I've got a voice and I'm not afraid to use it like I once was. Wrinkles suddenly become so much less important when you're able to do that.
I'm determined to keep rocking for as long as my legs will keep going. I'm playing the evil headmistress Madame Morrible in Wicked at the moment - and what a thrill it is! The funny thing is, though, that the fear messing up only seems to get greater the older I get. There's this expectation that you've been around such a long time that by now it should be like falling off a log - trust me, it isn't!
Anita stars as Madame Morrible in Wicked at the Apollo Victoria Theatre, London, from 5 September 2016 until 28 January 2017; Book your tickets: womanandhome.entstix.com (opens in new tab)
Natalie Whittle is a British journalist specialising in celebrity content in the women's lifestyle sector. She previously held the role of Celebrity Director at Woman & Home and has also worked at Prima, Red & Good Housekeeping.