30 Useful Apps For Your Phone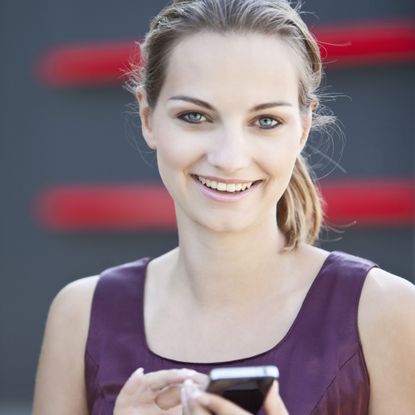 Make life a little easier with these helpful free apps for your phone
App is short for application. It's the term for a tool which runs on your mobile phone or tablet, providing a service such as entertainment, shopping, information or help with a certain task usually through a wireless internet connection.
Interested in the iPhone 9? We have everything you need to know here
For the latest w&h news and exclusive offers follow us on Twitter or 'like' us on Facebook
How To Download An App
Different phone models use different technology to run apps. Not all apps are available on every operating system, but each has an online store built-in for browsing, buying and downloading the available applications for your phone. Once the app is fully downloaded you can then access it on-demand. Some apps are free (including the following fifteen) while others cost a few pounds. These are the ones that we can't be without...
Find My iPhone
How much? Free Best for: Forgetful iPhone users If your iPhone is lost or stolen, you (or the police - some now take iPads on the beat!) can see its location on a map, using a computer or another iPhone or iPad. Display a contact number on the screen of your lost phone, so good samaritans can get in touch if they find it - or lock and wipe your phone, to stop thieves getting their hands on your information.
5:2 Meal Planner app
How much? £1.99 Best for: 5:2 diet meal ideas The 5:2 diet can help you lose up to 1.5lbs a week, but it can be difficult to decide what to cook on fasting days. Woman magazine's fabulous 5:2 Meal planner app is packed with 80 delicious recipes for your 500 calorie diet days plus top tips and snacks to help you lose weight and feel great.
TripAdvisor
How much? Free Best for: Tourist information Over 75 million reviews and opinions from fellow tourists, to help you find the best hotels, restaurants and bars wherever you find yourself. Search by city or business, or use the Near Me Now function for options near you.
Around Me
How much? Free Best for: Local knowledge Around Me uses your location to help you find everything you need in a new area, such as your nearest bank, petrol station, taxi or Italian restaurant.
Home Finders
How much? Free Best for: Finding your dream home This new app from Halifax and Right Move helps you find out if that beautiful house two streets down is for sale yet. There's a handy mortgage affordability calculator too.
Google Docs
How much? Free Best for: Working on the go Create, edit and share important documents before you've even sat down at your desk. An easy way to make your daily commute more productive.
Dinner Spinner
How much? Free Best for: Mid-week meal ideas Stuck for a tasty super-quick dinner dish? Simply search Dinner Spinner for instant recipes based on the ingredients in your fridge.
Journey Pro
How much? Free Best for: Planning your travels Download this app for your next business trip or weekend away. It covers all UK journeys by public transport including the London tube and bus network, National Rail and domestic flights.
Instagram
How much? Free Best For: Taking beautiful photos and sharing them with friends Consider yourself a bit of a photography pro? Then you need this fun, easy to use app. Snap a picture, transform its look with a little digital magic and then share with the world.
Snapette
How much? Free Best for: Tracking down those sold-out shoes Forget waiting patiently for a shop assistant to ring around with gritted teeth, Snapette uses your location to see what bags and shoes are available in the stores nearest to you.
Ocado On The Go
How much? Free Best for: Hassle-free food shopping Most major supermarkets now have an app that you can use to order your weekly shop. Ocado's goes one-step further. Keep shopping even if you lose signal thanks to the 22,000 item catalogue saved to your phone. There's also an instant shop function based on your most-bought products, plus the option to sync your shopping list with your computer once you get home.
Kobo
How much? Free Best for: Finding a fantastic read Get lost in a good book wherever you are. Kobo is a digital bookshop, allowing you to browse more than 2.5million eBooks (including 1 million free titles) to read on your phone. You can also read reviews, write your own recommendations and even meet other keen bookworms virtually through the Kobo Book Club.
Google Maps
How much? Free Best for: Finding your way, wherever you are! An essential app for Android users. The Google Map app provides clear and detailed information which is updated far more regularly than the standard built-in version so you can find your destination without any flap.
QR Code Reader
How much? Free Best for: Making the most of Woman and Home You might have noticed the square barcode boxes popping up in your copy of Woman and Home.They're called QR codes. Smartphone users can download the free QR reader to scan the code for even more helpful hints, videos and pictures from your favourite magazine!
Fitness Free HD
How much? Free Best for: Toning up ready for summer The easiest to follow exercise guide around. Fitness Free HD has more than 300 how-to pictures and videos to make working out that bit easier.
Met Office Weather
How much? Free Best For: Being prepared for any eventuality The weather always baffles us. One minute the sun is shining, the next we're drenched. This handy app from the Met Office should help.
BBC News
How much? Free Best for: Keeping up to date The latest national, local and international headlines at your fingertips. The Channel 4 News app is brilliant for in-depth analysis too.
Web MD
How much? Free Best for: Peace of mind A trusted source of 24/7 medical advice and information, Web MD boasts an accurate symptom checker, the latest health news and local healthcare listings. There's also an extremely helpful first aid guide which, crucially, needs no phone signal to access.
Gardening Toolkit
How much? £1.49 Best for: Keen gardeners As well as being a glossary and comprehensive gardening encyclopedia, this app reminds you when to tend or harvest, plus has a to-do list for jotting down easily neglected gardening tasks.
Can I Eat It?
How much? £1.99 Best for: Speedy shopping If you don't have time to scrutinise food labels, this app might help. Scan a product barcode with your phone's camera when you're shopping and, based on your settings (eg avoiding sugar, wheat or dairy), it will show a thumbs up or a thumbs down.
Herbs+
How much? £1.99 Best for: Being self-sufficient This app lists 60 herbs and spices in an easy-to-follow format, and explains how to cultivate, grow and cook with them, plus medicinal uses.
NHS Quit Smoking
How much? Free Best for: Smokers who want to give up This provides you with instant tips and advice on how to quit smoking, as well as a timer that tells you how long you've been smoke free. It even shoes you how much money you've saved.
Landshare by River Cottage
How much? Free Best for: Growing your own This Hugh Fearnley-Whittingstall app aims to encourage growing you own by connecting people who have spare land with those who want to use it.
Remember The Milk
How much? Free Best for: Keeping on top of things Split your daily, weekly or monthly tasks into different folders and prioritise by low, medium or high to ensure your to do list never gets out of hand.
Yoga Stretch
How much? 69p Best for: At home yoga It has pre-set routines and audio instructions that talk you through the poses. Plus, you can select your own music.
Gymgoal
How much? £1.99 Best for: Keeping on top of your workout This app contains more than 200 illustrated weight-training exercises, ready-to-use workouts and a food library. It also tracks your body measurements. For the latest w&h news and exclusive offers follow us on Twitter or 'like' us on Facebook
Landscaper's Companion
How much? £3.99 Best for: Gardening know-how Offers essential information on more than 8,500 plants, accompanied by 9,000 images. A tap on your chosen plant shows how to cultivate it, plus troubleshooting tips.
Redlaser Food App
How much? Free Best for: Grocery shopping price comparison Scan a barcode and it searches for low online and local prices. Also acts as a QR code reader. It's compatible with iPhone, iPad, iPod touch and Android.
Nike+ iPhone App
How much? £1.49 Best for: If you enjoy running, or plan to start The app will track your route using GPS, plotting it on a map to show your fastest and slowest sections. It will also store data so you can see how well you are progressing.
Sign up to our free daily email for the latest royal and entertainment news, interesting opinion, expert advice on styling and beauty trends, and no-nonsense guides to the health and wellness questions you want answered.