Kenwood FDM312SS MultiPro Compact food processor review
How does the Kenwood FDM312SS MultiPro Compact measure up against the best food processors available today?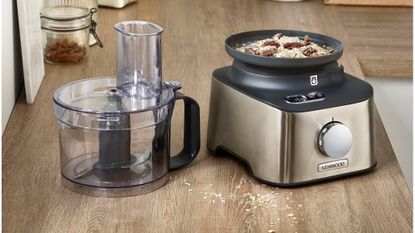 (Image credit: Kenwood)
Integral scales make the Kenwood FDM312SS MultiPro Compact+ food processor even more useful for bakers and keen cooks
Reasons to buy
+

Built-in scales

+

To-go smoothie bottles

+

Compact design
Why you can trust Woman & Home Our expert reviewers spend hours testing and comparing products and services so you can choose the best for you. Find out more about how we test.
Whether you're making coleslaw or a crumble, a pair of reliable weighing scales is a must. So why not have them integrated into the machine you're using to slice, shred and mix? That's the thinking behind Kenwood's MultiPro Compact+ food processor, a 5-in-1 machine that weighs, blends, processes, mills and makes smoothies to go. Talk about one of the best food processors (opens in new tab) going. While there's a dizzying array of kit included, the bowl and base themselves are relatively compact, meaning that it can live permanently on the worktop without taking up too much space.
You can buy the FDM312SS MultiPro Compact+ food processor from Kenwood direct for just under £160, but you'll also find it at other retailers, such as Argos, Amazon and AO.com. The price can vary between these options, so do shop around.
The design of the Kenwood FDM312SS MultiPro Compact+ food processor
Given that it's been designed to be a permanent worktop resident, the MultiPro Compact+ food processor's sleek, metal exterior and minimal fascia come as no surprise. What's handy is that the food processor controls have been kept quite separate from those for the scales, so there's no potential to mix them up. While the 2.1l bowl and lid twist into place, they can be a bit stiff when locked – this should ease over time as you use the machine more. Another slightly troublesome design detail is that the spindle fits onto the base, and the bowl sits over the top (rather than the spindle fitting into a sealed bowl). This means that there's a chance of food finding its way underneath the tool and making a mess.
Functionality of the Kenwood FDM312SS MultiPro Compact+ food processor
Accessories can vary for this model but the one we tested came with plenty – three slicing/ grating discs, a main blade, dough blade, whisk attachment, spatula, a 1.2l blender jug, glass multi mill, two lidded on-the-go bottles and a weighing tray. All of which should cover most grinding, whipping, blitzing and chopping tasks when combined with its 800W motor. This does mean that – much like some of the other best food processors we tested – there's a fair amount to store. The control dial is simple – there are just two speeds and a pulse on it. On top of the food processor, there are two buttons for the scales: one to switch between metric and imperial and the other to return the display to zero.
Kenwood FDM312SS MultiPro Compact+ food processor performance
For most of the food processing jobs it was recommended to use the faster speed two, so this is what we did for both chopping and slicing – first cooked chicken, then carrots. The chicken mincing was very quick but the carrot slicing using a disc was trickier; the slices started out as an even width but once the carrots started to fall over, slices became longer and there were several scrap bits left over. Making bread dough in the Kenwood FDM312SS MultiPro Compact+ food processor was convenient however, as we were able to weigh ingredients straight into the bowl. That said, we opted for speed one to combine and knead, as on speed two the machine made an ear-splitting whining noise once the mixture had combined.
Weighing up the Kenwood FDM312SS MultiPro Compact+
The addition of scales means that the base unit of the Kenwood MultiPro Compact+ is heavier than some. At 4.5kg in total, this means it's best to find a spot for it and leave it there. As most of the weight is concentrated in the base though, the bowl is light to lift and scrape out, plus there's no need for suckers underneath to keep the machine stable.
Cleaning the Kenwood FDM312SS MultiPro Compact+ food processor
Some of the blade units for the Kenwood FDM312SS MultiPro Compact+ food processor aren't dishwasher-safe so, depending on what you're using the machine for, there may be a small amount of washing-up involved. Otherwise, it's relatively easy to keep clean and maintain.
Kenwood FDM312SS MultiPro Compact+ food processor warranty
There's only a single year's guarantee on the Kenwood FDM312SS MultiPro Compact+ food processor – for a machine at this price point you'd really expect longer.
Summing up...the Kenwood FDM312SS MultiPro Compact+ food processor
As a single-function appliance, food processors can end up gathering dust in a corner, which is why all the extra kit of the Kenwood FDM312SS MultiPro Compact+ comes in handy. The ability to switch between weighing and food prep should prove a real kitchen asset if you like to cook, too. However, while this model has enough power to get through most jobs, it's prone to being noisy. It may also not deliver the same blender performance you'd achieve from one of our lineup of best blenders or a hand whisk, for example, so don't expect identical results from the additional accessories.
Rachel Ogden is a UK-based freelance journalist with more than 20 years' experience of writing, editing and sub-editing. For the last 13 years, she has worked exclusively in interiors, writing about everything from extending your home to kitchen worktops, flooring, storage and more.
She has worked for a huge swathe of brands, including Woman & Home, Ideal Home, Elle Decoration, Real Homes, Grand Designs, Living Etc25 Beautiful Homes, The Evening Standard, The Independent and many many more. She was also shortlisted for Lifestyle & Interiors Journalist of the Year in the 2018 Property Press Awards.