Brook + Wilde Marlowe Goose Down Pillow review
When it comes to the best pillows, try one that offers total (and ethical) luxury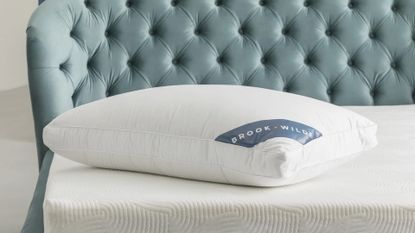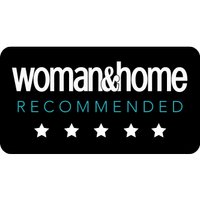 (Image credit: Brook + Wilde )
After a five-star hotel style night? This down-packed, sumptuous pillow is a star player
Reasons to buy
+

High-quality materials and finish

+

Washable at 60 degrees

+

Available in two levels of comfort

+

Super soft but still supportive

+

British brand
Why you can trust Woman & Home Our expert reviewers spend hours testing and comparing products and services so you can choose the best for you. Find out more about how we test.
Nothing says indulgent luxury quite like staying in a great hotel and flicking through a pillow menu, showcasing the range of options. For those that want to feel they've picked the best pillows (opens in new tab) on the list – and taken them home with them – a gloriously soft down-and-feather pillow is often the go-to choice. Of course, we'll acknowledge that this kind of high-end option is never going to be cheap, but if you really want to achieve that five-star boutique-hotel quality at home, then a pillow filled to capacity with super-soft, ethically sourced duck or goose down goes a long way to replicating that experience.
We'll grant you, the £229 price tag – the most expensive option Brook + Wilde's website – means this pillow isn't for everyone. If you're after something slightly better value, you could opt for its Cavendish duck down pillow at £109. It's also only available on the Brook + Wilde site.
VIEW Brook + Wilde Marlowe Goose Down Pillow, £229, brookandwilde.com (opens in new tab)
Want more expert pillow reviews? Read our in-depth reviews of the Panda Memory Foam Pillow (opens in new tab) and the Simba Hybrid Pillow (opens in new tab) now.
First impressions
This pillow smacks of quality design, material and finish – something that, frankly, we'd expect from a product that's this pricey. The beautifully overstitched outer cover is made from super-soft 380 thread-count Egyptian cotton, while the three inside chambers feature both new white Mazurian goose down and new white European goose feathers. The high down content is what makes it so cloud-like to the touch, while the feathers in the inner chamber allow for a tad more structure, which is what lends the pillow its firmness. It feels quite large, so we opted for a bigger Oxford-style pillowcase so we didn't have to squash and compact it into a smaller one.
What is it like to sleep on?
Honestly, this pillow makes it feel like you've accidentally traded your bed for a night in a five-star hotel, complete with a pillow menu from which you've hand-picked the best one ever. From the super-soft outer to the beautifully plumped, light as a feather… well, feathers, this pillow oozes luxury from every pore. It's filled well, with the soft down inside yielding to cradle the head but at the same time magically providing enough support for good spinal alignment. This resulted in a marked absence of neck strain or upper back pain come morning. The 100% down-proof outer cover and inner chamber construction also prevented any rogue feathers poking through to scratch heads or faces in the night.
Will it suit my sleep position?
There are two sleep options for this pillow – medium and firm. We opted for medium, mostly because our restless sleeper often ends up on their tummy at some point in the night, so we felt it was the better all-round-option. In fact, our testers were adamant that this pillow was an excellent choice for the multi-position sleeper, simply because they didn't wake as often in the night; clearly, however they laid, it was comfortable. The back sleeper also found they had a good, well-supported and undisturbed night, although as they were generally a sound sleeper anyway, that's nothing new.
What's it made from?
The outside is made from 380 thread-count Egyptian cotton. The outer chamber has a filling of 90% new white Mazurian goose down, while the inner chamber (which provides the pillow's firmness), is 100% new white European goose feathers.
How easy is it to care for?
As with all feather-filled pillows, these need a little vigorous shaking and plumping from time to time. You won't have to do it often though – after two weeks of testing, ours was still surprisingly puffy. Keeping it clean couldn't be easier either, as this pillow can be washed at 60 degrees and tumbled-dried, too.
Any special features?
It's definitely a good buy for those people wanting a luxury product with ethical values, as the pillows are made in accordance with strict animal welfare controls. More specifically, this means that all the feathers and down are sourced responsibly to ensure and certify that these pillows do not include any materials from the foie gras industry, live plucking or any kind of living animals. Each pillow even has its own certified DOWNPASS2017 unique number.
Any free trials or guarantees?
There are no trial periods, or guarantees with this pillow. Trust us though, we really don't think you'll need them.
Summing up… the Marlowe goose down pillow, Brooke + Wilde
If you want to rank your pillows based on the quality of the hotel that would house them, this design is The Ritz/ Four Seasons/ Claridges of all pillows. We know it's pricey but, if you can afford it, it will leave you feeling well-rested and ache-free in the morning. The levels of comfort our testers felt it offered were, frankly, off the charts; it's the well-deserved recipient of our top score. The quality of materials – from the beautifully stitched, silky smooth Egyptian cotton feather-proof outer to the high down-content and ethical certification – make this a pillow that's hard to fault. If we were to quibble (and this is a push) the only 'problem' we could come up with is that it'll need plumping and fluffing once in a while to keep it at its best. On balance that's a very small price to pay, we think.
SPECIFICATIONS
Size: 50 x 75cm
Filling: 80% goose down, 20% goose feathers
Sleep position: Front and back
Comfort: Medium and firm
Trial period: No
Guarantee: No
RRP: Marlowe goose down pillow, from £229, Brook + Wilde
Ysanne Brooks comes from a family of wordsmiths, artists and jobbing journalists. Among other things, her somewhat lengthy career includes 10 years working on specialist magazine 25 Beautiful Kitchens, nine of those as editor.
For more years than she cares to reveal in public, she's opined on planning, designing and buying for all areas of the home. She's too long in the tooth to be a tech geek but she knows what's what when it comes to beautiful, useable products that make modern living just that little bit more comfortable.