Pfaff vs Bernina sewing machines: which will give your sewing a professional finish?
Bernina 435 vs PFAFF Creative 1.5: both among the best sewing machines going, but which gives your sewing a professional finish?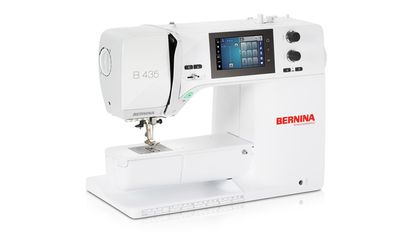 (Image credit: The Sewing Studio)
woman&home newsletter
Sign up to our free daily email for the latest royal and entertainment news, interesting opinion, expert advice on styling and beauty trends, and no-nonsense guides to the health and wellness questions you want answered.
Thank you for signing up to . You will receive a verification email shortly.
There was a problem. Please refresh the page and try again.
Thinking about taking your stitching to the next level with a new model? You're probably deliberating between two of our own favourites from our best sewing machine (opens in new tab) review – the Bernina 435 (opens in new tab) and the Pfaff Creative 1.5 (opens in new tab). If you want something high-tech with a wealth of additional features to make your stitching speedier and simpler, there's no denying that they are both top options.
That said, both of these sewing machines come with a pretty hefty price tag; if you don't want to spend more than £1,000, these two models aren't going to tick the price-comparison boxes, and we suggest you take a look at more purse-friendly models, such as the PFAFF Passport 2.0 or the Bernina 325. If, however, you're looking to boost your skills to a professional level, these would be our go-to options for computerised sewing machines. The question is, which one should you opt for?
We put the Bernina 435 head to head with the Pfaff Creative 1.5, to assess the pluses and minuses for both choices, with the ultimate aim of helping you get to the bottom of what can be a tricky decision.
Quick comparison
Price
Bernina 435: £1,295
Pfaff Creative 1.5: £1,399
Stitches
Bernina 435: 650 stitch patterns
Pfaff Creative 1.5: 150 built-in stitches
Stitches per minute
Bernina 435: 900
Pfaff Creative 1.5: 800
Warranty
Bernina 435: Seven years
Pfaff Creative 1.5: Five years
What's special about the Bernina 435?
There's a big reason why the Bernina 435 trumps most other sewing machines, and it's not just the large colour touch-screen that intuitively suggests stitch sizes, presser foot types, needle positions and tension settings before you even begin to stitch. Nor is it the huge array of stitches available, including three different alphabets and 150 built-in decorative stitches.
In fact, the main reason this sewing machine ticks so many boxes is because of its attention to detail. It's the little things about this machine that add up to it's superb performance – its jumbo bobbin, for example, that once wound with 70% more thread than a regular-sized bobbin, won't need re-threading until your project is complete. It's ingenious. We don't actually know how other brands haven't cottoned-on to this clever feature.
For keen quilters, there are plenty of additional features that make this the perfect sewing machine. Significantly, the size of this Bernina 435 is larger than most, with a 177mm arm space and an attachable slide-on table to increase the sewing space dramatically.
Read our full review here (opens in new tab)
What's special about the PFAFF Creative 1.5?
For a model that's as stylish as it is practical, look no further than the Pfaff Creative 1.5. Its chic red colour helps this machine stand out from the sea of white-washed models that flood the market.
But, looks aside, this sewing machine's main USP is its integrated embroidery software. Use the Embroidery Intro PC or MAC software to adjust, personalise and combine your embroidery designs on your computer before transferring to the machine to be stitched onto your projects with speed and precision. The additional Master Hoop means that embroideries can be stitched up to a size of 150x240mm.
Another special feature that puts the Pfaff Creative 1.5 neck and neck with the Bernina 435 is the ample sewing space; the Pfaff Creative 1.5 has an impressive 200mm arm space, which makes it an ideal machine for quilters as well as embroidery enthusiasts.
Read full review here (opens in new tab)
What are the main differences?
The Bernina 435 and the Pfaff Creative 1.5 are both impressive sewing machines, meaning whatever your sewing skill level, you won't be disappointed with either. However, they do have their differences.
The first of these is that the Pfaff Creative 1.5 is designed specifically as an embroidery machine. As such, it's able to produce unique embroidery patterns on top of the 101 ready-to-stitch designs already installed; tech-savvy stitchers will really benefit from the computer software integration that allows sewers to personalise their embroideries.
What the Bernina 435 lacks in embroidery features, it more than makes up for with its numerous stitch patterns. In terms of practicality, though, the brand's innovative in-built systems make for a model that surpasses expectations. The Bernina Hook enables increased stitch width for longer periods of stitching (this is the technology behind that big bobbin) and the Bernina Stitch Regulator ensures consistent stitches at varying speeds, even when the feed dogs are lowered for free-motion stitching.
Admittedly, the Pfaff Creative 1.5 also has its own Original IDT System for precision stitching. An integrated dual-feed system, it feeds fabric through the machine from the top and bottom, ensuring perfect seams on any fabric and thickness.
The computerised screens on the machines are an obvious point of difference too. The Pfaff Creative 1.5 has a simple interface that's controlled by a multitude of buttons surrounding the screen. It's easy to programme and offers handy suggestions when selecting stitches. In comparison, the Bernina 435 has a colour touch-screen, with only a few sliders and buttons on the body of the sewing machine.
The Bernina is more complex to operate, but it does come with the added bonus of an optional on-screen Sewing Consultant to guide you through each process, as well as how-to videos if the sewer needs extra help.
Should I buy the Bernina 435 or the PFAFF Creative 1.5?
This is a tough one to call, especially as both machines are more than capable of keeping up with top-level sewing skills and creative projects.
Ultimately, it comes down to whether you want an embroidery machine or a quilting one. If you like to sew your projects and then finish with some embellishment, then the Pfaff Creative 1.5 is definitely the model for you. Equally, if you're a computer whizz who wants to get your own designs on fabric, there's no need to look any further.
Quilters, however, really can't go wrong with the Bernina 435. Its large build with additional attachments makes it perfect for big projects, while the adjustable presser foot pressure is ideal for working with high-loft batting.
In the end, having computer-confidence is key when using these machines. Unless you have the patience to learn how to programme them and utilise the memory functions and stitching capabilities they have, it might be worth looking at cheaper models. If your budget can stretch to a Bernina or a Pfaff sewing machine, and you want to take the time to reap the benefits of their features, it's worth it to see your sewing go from amateur to professional.
Our in-house craft expert, Esme Clemo, has been working within the craft magazine industry for eight years, having turned a sewing hobby into her career. She's adept in a number of crafts, including sewing, papercraft, calligraphy, embroidery and printing and has also completed an interior design course with the University of Arts London,
There's nothing she doesn't know about DIY and interiors. Everything in her home and wardrobe has a DIY twist and she knows all the tools needed for getting the job done - meaning she has a very hands-on approach when it comes to testing out products for our reviews.