The Withings Move ECG fitness tracker review
The Withings Move ECG tracker is a game changer if you're worried about your heart health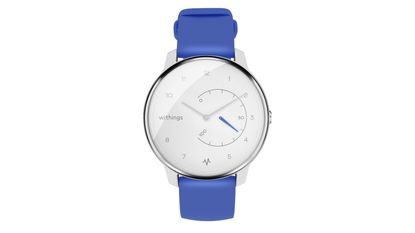 (Image credit: Withings)
The Withings Move ECG is ideal for beginners, but you might want to upgrade if you're planning on making big improvements to your fitness levels and ability.
Reasons to buy
+

Easy to use

+

Great for heart health

+

Large watch face

+

Battery lasts up to one year
Reasons to avoid
-

Slightly limited

-

Not rechargeable

-

Only has connected GPS
Why you can trust Woman & Home Our expert reviewers spend hours testing and comparing products and services so you can choose the best for you. Find out more about how we test.
woman&home newsletter
Sign up to our free daily email for the latest royal and entertainment news, interesting opinion, expert advice on styling and beauty trends, and no-nonsense guides to the health and wellness questions you want answered.
Thank you for signing up to . You will receive a verification email shortly.
There was a problem. Please refresh the page and try again.
Looking for a fitness tracker to help boost your health and wellbeing? The Withings Move ECG – which has an in-built atrial fibrillation device to detect heartbeat irregularity – could be for you. How to be sure? We've put it through its paces from the moment it was unboxed, so you can see if you think it's worth the investment.
I tested a wide selection of the best fitness trackers and considered how user-friendly they were, and whether the results they give are useful to boost your health and wellbeing. All fitness trackers tested were worn for at least three different workouts for varying lengths of time, and overnight. Each fitness tracker was also reconnected and charged several times afterwards to check reliability.
Keep scrolling for the full review to see if this fitness tracker is the one for you.
Withings Move ECG specifications
Heart rate sensor: No, atrial fibrillation detection
Watch face dimensions: 38mm circumference
Charge time: Battery not rechargeable
Battery lasts: 12 months
GPS: Only connected GPS
Waterproof: Yes, up to 50m
Storage: Yes, pouch
Extra strap: No
Warranty: Two years
Compatible with: IOS 10+, Android 6.0+
Who does the Withings Move ECG suit?
The Withings Move ECG fitness tracker suits those who like their fitness tracker to be discreet.
What is the Withings Move ECG like to use?
The Withings Move ECG is really simple to set up, especially as you don't have to wait for it to charge for hours before you can begin using it.
To start using the Withings Move ECG, you need to download the free Health Mate app and set up an account. Compared with some other fitness trackers, this is really simple to do. After setting the correct time, how much info you add to the Health Mate app is really up to you – it could be as simple as your height and weight, or you could go into detail and log your daily intake of food.
If you also have other Withings devices, such as the Smart Scales or blood pressure monitors, then you can link them to your Health Mate app. This makes life much easier as you can also track things like your BMI, body fat, body water, bone mass and muscle mass. If not, you have to input any of the health details you do know about yourself, such as weight, manually.
The more you move, the more "badges" you will achieve on the Health Mate app. This equates to how far you have travelled; for example, once I'd hit 100K, that was the equivalent of doing a tour on foot of Loch Ness. While some might find this way to motivate a bit uninspiring, anyone who wants to get healthier without someone screaming at you to do so would probably enjoy this type of motivation.
The Withings Move ECG design
Compared with the Withings Steel HR, the Withings Move ECG tracker is a lot sportier looking and not so sleek. It's available in two colourways – white and blue or black. The one I trialled was white and blue, and while the white watch face is very clear to read, it did look slightly less expensive than the versions I have tried before, which have steel around the outside rim. The black version, though, looks more sleek and could be worn day to night.
Another main difference between the Withings Move ECG and many other fitness trackers is that the watch face is analogue. This makes the Withings Move ECG a good option for people who don't want it to look like they are wearing a fitness tracker. Measuring 38mm in circumference this a large watch face, though clear and easy to read.
There is an inner ring with a moving marker on the watch face to show how many steps you have done out of your daily target. You can change this on the app to make your target anything you like, although it's marked in increments of 10, so may get confusing to follow if it's not the daily standard of 10,000.
How the Withings Move ECG can help your fitness
For beginners, the Withings Move ECG is a great way to start tracking your steps, even if you simply do so by watching the counter on the watch face move as you go about your day or do a workout. The dial always returns to zero at midnight, no matter if you have succeeded in your goal or not. Despite this being such a simple tracking system, it can motivate you to get up and move more to reach your goal – even if it is at 11.45pm at night! However, if it's just a pedometer you want, you could use an app on your smartphone or pedometer and save a lot of money.
You can also track the number of floors you have climbed. If you want to do more intense workouts, you need to add which activity you completed (from an extensive list), the intensity at which you did the activity and the duration. However, owing to the analogue watch face, you can't see any of these stats until you check the Health Mate app.
Another downside is that the Withings Move ECG doesn't have GPS; there is only connected GPS via your smartphone. While it's easy to use (you simply press and hold the button on the Withings Move ECG before and after your workout), this means that you have to take your smartphone on a run or walk with you in order to access the data.
How the Withings Move ECG can help your health and wellbeing
One of the main reasons why you might be interested in purchasing the Withings Move ECG is due to the medical-grade atrial fibrillation detection function. This means any heartbeat irregularity (apart from if you are about to have a heart attack) can be detected in just 30 seconds.
To find out your ECG score, you simply hold down the function button on the side of the watch, then press your thumb and forefinger against the sides. You need to do this with the Health Mate app open, so you can see the countdown timer. More importantly, you will see your heart rate dart up and down along the screen, exactly how it does in a hospital.
I'll admit, I loved the cardiogram function on the Withings Move ECG. I found it slightly addictive and wanted everyone in my household to also be tested. Thankfully, we all found that our heart rhythm was fine, which then meant I lost a bit of interest in the function – although, seeing as one in four people will develop an irregularity, you can keep repeating the test over time to see if anything has changed. What's more, if you do notice any irregularities, you can share the information with your GP.
However, for a fitness tracker that's so focused on heart health, annoyingly the Withings Move ECG does not have continuous heart rate monitoring, which would be a nice addition.
The Withings Move ECG is also beneficial for tracking your sleep. Simply wear your device overnight and the next morning the Health Mate app will have recorded you a Sleep Score based on the amount you moved around in the night. I really liked the Smart Wake-Up feature. It uses the data it collects to know when to wake you up naturally before your alarm clock in the morning. It picks when you are in a lighter sleep phase, meaning you won't feel as groggy as when you are disturbed during the REM stage.
Is the Withings Move ECG designed for women?
The sleek design of the Withings Move ECG is appealing, although it comes with just one 18mm wristband. However, there are 14 holes to choose from, so you're more than likely to find one to fit your wrist, however large or small. I have quite small wrists, yet there were still three holes left if I needed it to be even tighter.
The main issue for some women with the Withings Move ECG is possibly the size of the watch face. It's 38mm in circumference, so feels quite chunky to wear, although it is light – at just 32g – and the strap is very comfortable and malleable.
Some people will love the large design, which is on-trend and easy to read, and while it's certainly one of the most delicate, classic and feminine on the market, others may find it simply too big to wear all the time.
Battery use and charging the Withings Move ECG
The Withings Move ECG is unlike many other fitness trackers on the market as it does not have a rechargeable battery. The good news is that you do not have to worry about charging it for at least one year. The bad news is that once it needs recharging, you need to replace the CR2430 coin cell battery yourself.
You can take it to a watch specialist to do this or there are many YouTube videos showing you how to do this yourself. One word of warning, though: I have previously done this with a Withings Steel HR and my watch was no longer waterproof after the battery was changed.
Withings Move ECG reviews: How does it rate online?
Despite the Withings Move ECG being slightly limited in what it can do, online reviewers are very passionate about the fitness tracker. Users love the brand and seem to remain loyal to it.
Many users say that while they haven't discovered they have a problem with their atrial fibrillation, they praise the accuracy of the other readings when it comes to their workouts, so have faith in the medical-grade technology.
Is the Withings Move ECG worth buying?
While the Withings Move ECG will be very appealing to someone with a heart condition who would like to keep track of their health, if you currently have no problems in that area, then you may become bored with this fitness tracker.
It makes a great watch and is so easy if you want to track steps. It's definitely worth buying if you want to invest in a range of Withings products, which can work together to form a more rounded view of your health and lifestyle.
Faye M Smith is an award-winning journalist with over 15 years experience in the magazine industry. Her continued work in the area of natural health won her the coveted title of the Health Food Manufacturers' Association (HFMA) Journalist of the Year Award 2021. Currently Health Editor across several brands including woman&home, Woman and Woman's Own, Faye specialises in writing about mental health, the menopause, and sex and relationships.