The Myzone MZ-3 fitness tracker review
The Myzone MZ-3 could be the tracker you need to help push your fitness level to the limits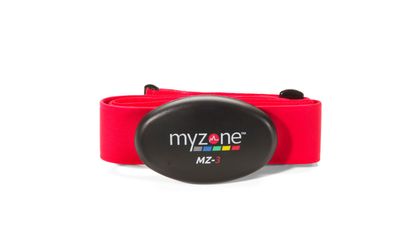 (Image credit: Myzone)
The Myzone MZ-3 is a must-have for gym-goers who like to get competitive with themselves and everyone around them.
Reasons to buy
+

Good for competitive workouts, such as HiiT

+

Links to like-minded community

+

Easy set-up

+

Good for group fitness
Reasons to avoid
-

Limited use

-

Connection issues

-

Not recommended for swimming

-

Uncomfortable to wear
Why you can trust Woman & Home Our expert reviewers spend hours testing and comparing products and services so you can choose the best for you. Find out more about how we test.
woman&home newsletter
Sign up to our free daily email for the latest royal and entertainment news, interesting opinion, expert advice on styling and beauty trends, and no-nonsense guides to the health and wellness questions you want answered.
Thank you for signing up to . You will receive a verification email shortly.
There was a problem. Please refresh the page and try again.
Looking for a fitness tracker to help boost your health and wellbeing? The Myzone MZ-3 – which tracks your heart rate to show how much effort you are putting into your workout – could be for you. How to be sure? We've put it through its paces from the moment it was unboxed so you can decide if it's worth the investment.
I tested a wide selection of the best fitness trackers (opens in new tab) and considered how user-friendly they were, and whether the results they give are useful to boost your health and wellbeing. All fitness trackers tested were worn for at least three different workouts for varying lengths of time, and overnight. Each fitness tracker was also reconnected several times afterwards to check reliability.
Keep scrolling for the full review to see if this fitness tracker is the one for you.
Myzone MZ-3 specifications
Heart rate sensor: Yes
Watch face dimensions: No watch face, oval module 70mm x 43mm
Charge time: Up to 2 hours
Battery lasts: 7 months
GPS: No
Waterproof: Water-resistant only, up to 10m
Storage: No
Extra strap: No
Warranty: Strap 90 days, module 12 months
Compatible with: Android 5.1 or higher, iOS 5 or higher
Who does the Myzone MZ-3 suit?
The Myzone MZ-3 is best suited to anyone who likes their workouts to be competitive.
What is the Myzone MZ-3 like to use?
The jury's out when it comes to how simple and easy the Myzone MZ-3 is to use. On one hand, there is little to set up on the module itself, as it doesn't have any buttons. Yet, this also poses problems as if you can't get the device to work; there is little you can do apart from become frustrated with it – not great if you are about to start a gym class and it won't connect.
Once opened, the Myzone MZ-3 doesn't need charging. Instead, you have to download the Myzone app and register the device. At this stage, you also have to input your details, including name, email and personalised belt ID.
You also need to add your height, age and weight – as this is what your effort level is later based on. It's worth noting that this device is then fully registered to you, so if you no longer want to use it and gift it to a friend, you both have to contact Myzone to make that change, which feels a bit long-winded.
Once registered, and with the strap fitting securely around your chest (about where your bra strap would fit under your bust), you can connect the device via Bluetooth to your smartphone. For me, this took a long time. For some reason, my Myzone MZ-3 would not connect for around 30 minutes before it finally sprung into life. Adding water to the sensors on the strap is recommended and this definitely helped on some occasions.
Fully connected, the Myzone MZ-3 will beep once to let you know it's started tracking, and three times at the end of the workout. You can change the volume and number of beeps, but I found that a vibration would be better, especially at the end of a workout when you're exhausted and the room may be noisy.
Your workout score is then based on the effort you put into it. How hard you are working will affect which zone your heart rate reaches (there are five different zones calculated as a percentage of your maximum heart rate). The amount of time spent in each of these zones then equates to your score of Myzone Effort Points (known as MEPs). As this is based on your own stats and body, it means two people with different fitness levels and body types can be scored equally against each other based on effort rather than fitness.
If you have the Myzone app open, you can see your bpm and heart rate percentage changing as you progress.
If you've not got your phone on you, it's harder to tell how well you are doing (you can set for beeps to sound when you hit different zones, though). However, 16 hours of data can be stored on the module, so you have time to sync with your phone.
Personally, I want to see my score as I'm using it, which meant the Myzone MZ-3 wasn't great for running but worked well with my exercise bike, as I could sit and watch my activity level changing.
The Myzone MZ-3 design
The Myzone MZ-3 consists of a bright red band worn around your chest, with a plastic module attached to the front with two press studs to hold it in place. Mine held firmly in place apart from during one workout, when I tried to adjust the strap midway through and accidentally knocked one press stud off.
You can see the Myzone MZ-3 under clothing and, despite the fact that you can adjust the strap to fit snuggly, I always felt that mine was slowly getting lower while I was running. I actually started subconsciously tucking it under my bra strap in order to hold it in place during my workouts.
The trouble is, when you have a problem mid-workout, it's harder to fiddle with the module as it's attached to your chest, and you need to check the Myzone app to see if your workout is still being recorded. If you're wearing headphones while working out, you simply can't hear the beeps to signify the tracking has stopped, which can be frustrating.
How the Myzone MZ-3 can help your fitness
If you are motivated by scores and competing against other people, then the Myzone MZ-3 is definitely for you.
Ideally, to get the most out of the Myzone MZ-3, users should sign up to classes at David Lloyd and Third Space, where everyone in the group workout can have their MEP scores displayed on a large, live screen at the same time. However, due to Covid-19 restrictions, these classes were not running at the time of my trial. Most other online reviews say it's really motivating to see your scores on the big screen and is a reason why many find Myzone so addictive.
At the time of trialling the Myzone MZ-3, virtual classes were in the process of launching via MZ-Remote, which you can book via the Myzone app. These use Zoom, so the trainer can see you and correct your technique, as well as you watching the workout and seeing your scores along with everyone else joining the virtual class.
There were no virtual classes listed when I trialled the Myzone MZ-3, so I was working out alone. However, thanks to the online community, you can link up with other Myzone MZ-3 users via the app. It's a bit like Facebook for fitness enthusiasts – and there are lots of people who want to share their workout experiences. You can even send messages to each other in the chat function. The downside is, while this is great in theory, just as you'd never usually make friends with anyone on Facebook you don't know, it can be difficult to make connections with complete strangers.
When Myzone searched my contacts to see if I knew any other users, it came back with just one person, who unfortunately no longer uses their Myzone device. So, unless you go to a gym class specifically with everyone using a Myzone tracker, it can be difficult to link up with other people.
But if you like to challenge yourself, the Myzone MZ-3 can still really spur you on. Even if you don't have any other Myzone contacts, there are lots of goals and challenges to compete on the app, and you can still be competitive with yourself and your past workouts.
How the Myzone MZ-3 can help your health and wellbeing
As the Myzone MZ-3 is mainly a heart rate monitor, there are no other functions that help boost your general health and mental wellbeing.
Is the Myzone MZ-3 designed for women?
Bright red and black, the Myzone MZ-3 has a very unisex design. However, I found that although the belt was small enough to fit tightly enough around my chest, the module is quite large and pressed on the lower part of my sternum.
This, combined with wearing an underwired, heavy-duty sports bra, meant that I had quite a lot of things around my chest. So, while the strap for the Myzone MZ-3 is sweatproof, with all this extra material surrounding and on top of it, I felt quite sweaty. To be honest, I didn't really like the feel of this during the workout compared with a fitness tracker worn around your wrist, but maybe after a while you get used to it.
Battery use and charging the Myzone MZ-3
The Myzone MZ-3 battery is like a hybrid when it comes to other fitness trackers. Yes, it needs charging, but only every six to seven months. This means it's great to keep in your gym bag, so you always have it ready.
To charge the device, you need to remove the module from the chest strap and use the USB charger (included) to charge via a laptop. It attaches firmly using one of the stud poppers, so won't slip off if it's not in the exact position required like some devices do.
However, despite the module being able to last for months without attention, you will have to wash the strap separately. As it sits around your chest, it gets very sweaty – fast! You can use it in the washing machine, but I found handwashing was just as effective.
Myzone MZ-3 reviews: How does it rate online?
Online reviews for the Myzone MZ-3 are mixed. Many users say the heart rate reading is very accurate, while other reviews talk about connectivity issues and reliability of the device.
While I definitely agree with the connectivity issues – I lost connection during two of my workouts – it seems to be that those with other technical issues purchased their Myzone MZ-3 from online auction or marketplace sites and, therefore, they may not be getting access to the customer service and technical support needed.
Is the Myzone MZ-3 worth buying?
If you have a David Lloyd or Third Space gym near you and they run Myzone workouts, then it's definitely worth investing in one, especially if you find being competitive with others the only way to stay motivated and improve your fitness levels. Some people thrive on this and will love the Myzone MZ-3.
However, if you are only going to workout alone, or with people not using the same system, you may get bored by the limitations of this device and prefer a fitness tracker that has more features.
Faye M Smith is an award-winning journalist with over 15 years experience in the magazine industry. Her continued work in the area of natural health won her the coveted title of the Health Food Manufacturers' Association (HFMA) Journalist of the Year Award 2021. Currently Health Editor across several brands including woman&home, Woman and Woman's Own, Faye specialises in writing about mental health, the menopause, and sex and relationships.