'Running is my therapy'—Katie Piper on mental health, half marathons and her rallying cry to non-running women everywhere
In an exclusive interview with woman&home, Katie Piper shares her inspiring journey from reluctant runner to half marathon finisher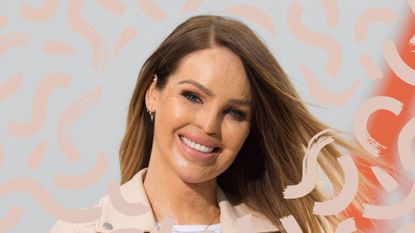 (Image credit: Future)
Katie Piper has long been a beacon of inspiration to the British people. She survived a vicious acid attack in 2008 and since then has made it her life's work to help others who have endured similar ordeals. She established the Katie Piper Foundation to support fellow victims of burns and disfigurement injuries, has written six bestselling books, and participated in multiple TV and radio productions to raise awareness on the issue. If that wasn't impressive enough, she's also racked up a litany of hosting roles—with regular Loose Women panelist the latest addition to her already stellar resumé.
However, despite leaping from one intense project to the next, there has always been one activity that's daunted this mother-of-two—running.
Katie Piper never thought she'd be a runner.
Having skipped out on sports at school and routinely dreaded PE class, the English TV presenter and philanthropist simply thought she just wasn't "that kind of person." Running—with its intense cardio and grueling pounding—belonged to an elite subset of the population, an exclusive upper-tier of hardcore athletes. It wasn't for her, and she didn't think it ever would be.
As is the case for many people, the 'R' word carried a lifetime of connotations for the successful media personality—and none of them were pleasant.
Fast forward a couple of decades, and Katie has completed two half marathons, several 10k races, and countless 5k jogs. She has spoken on multiple platforms about her passion for running, teaming up with ASICS to help others find their workout motivation and enjoy exercise. She has even developed her own plan, Zero to 7k, a slightly more ambitious alternative to Couch to 5k, on how to start running from scratch.
A pastime she once observed from the sidelines has become a staple in her daily routine, giving her a much-needed outlet from her hectic schedule as a broadcaster and mother of two.
Katie has well and truly caught the bug—and she's now on a mission to spread it.
Starting out—from 'walk-runs' to half marathons
Like most people, Katie didn't become a half marathon finisher overnight. Her introduction to running, ironically, began with its slower (and often less breathless) cousin—walking. Wearing athletic clothes and a pair of trainers, she started to squeeze some early morning exercise in by making the journey to work on foot.
"I'd walk-run, walk-run, then run a bit and get the bus the rest of the way down," she explains.
---
This seesaw method might not have looked the sleekest—but it worked. A few seconds morphed into several minutes, and before she knew it, Katie was running the entire distance to and from her London office without any difficulty. Invigorated by the burst of energy, she often kept going beyond her destination, passing through neighborhoods until she was miles from home.
"It was a bit Forrest Gump-esque where I was running all the way to Hammersmith, Shepherd's Bush but with nowhere to go," she laughs.
At the time, Katie had moved into a flat of her own and was suffering from severe loneliness and low confidence. The simple act of stepping outside and pounding the pavements was enough to lift her spirits during this challenging period, helping her to gradually regain her self-belief and confront her social anxiety, one step at a time. Running allowed Katie to interact with others without the pressure of stopping to talk, offering her a happy medium between full-blown conversation and total isolation.
"It was a way to see people and not be lonely, but see them quickly by passing them, and not having to engage one-to-one," she explains.
For Katie, lacing up her trainers was also far more attractive than booking into a class or buying a gym membership. With no cancellation fees or social obligations, running quickly became her trusty no-strings-attached workout—waiting on call, whenever she felt like it. It didn't take long for the regular dose of endorphins to upgrade her entire wellbeing, elevating her self-esteem from basement level to skyscraper heights.
"As I broke through distance and length I became really confident, and that confidence went into other areas of my life," Katie says.
How running helps Katie's mental health
While logging PBs and racking up medals has understandably been kind to the ego, it's not always the large-scale races that feel like the biggest accomplishment. For the bestselling author, running pride is rooted in overcoming the obstacles of the mind—those niggly self-doubts and negative backtalk that plague us all, regardless of our athletic ability.
"Sometimes it's the everyday moments when I run, where my mind and body are like, we can't go anymore, and I tell myself to go a little further—even a 1k or 2k more, just 6 more minutes," she says. "It's a personal victory; there's no one there to see it, but it reminds me that we are resilient."
Katie speaks with the passion that every convert can spot a mile away, a borderline evangelical urge to share a straightforward, yet often life-changing, message. Rather than promoting 'health' via detox subscriptions and pricey vitamins, she wants the public to invest in something that can't be purchased or refunded—themselves.
"We always look in life for answers when we're unhappy, and sometimes those answers are within us and they're free," she says. "It's not about buying a new outfit, losing weight, not being single. Something as simple as going for a 5k run can be so powerful. You can just put your foot out the door and you've had your therapy."
Katie's rookie runner mistakes
While it might be hard to tell now, Katie's early running days had their fair share of blunders—especially when it came to her wardrobe.
"I'd run around in this heavy rose gold Michael Kors watch," she admits. "I also had these horrific fashion trainers. I'd hold my phone in my hand as well. Sometimes I wasn't even wearing socks!"
These rookie mistakes quickly caught up on her, causing her pain while she was running. She knew she had to make some simple clothing changes if she wanted to avoid injury—and that started with the correct footwear.
After receiving a gait assessment in a specialist store, she experienced the Cinderella moment all runners dream of—finding the perfect pair of trainers. She now swears by the Gel Kayano 27 by ASICS, a model designed for overpronators covering high mileage.
"I was like, 'this is how it's supposed to feel!" says Katie. "Socks and trainers are so important. Go to the actual shop and get properly fitted!" (If you need some guidance before you hit the high street, check out our lineup of the best running shoes for women.)
Aside from her beloved ASICS, Katie isn't too fussy when it comes to her running gear. Feeling cool, rather than looking it, is her number one priority due to her extensive burn injuries. Her skin grafts have restricted her body's ability to regulate her temperature, which means lighter clothing is an absolute must.
"I'm very minimal. I don't wear loads of gadgets because it makes you too hot," she explains. "I wear a supportive ASICS sports bra, shorts no matter what time a year it is, and good running socks."
She's also swapped that cumbersome Michael Kors watch for a nifty Fitbit, which she uses to track her distance and times. The popular brand has a reputation for producing some of the best fitness trackers on the market, helping regular folks achieve their exercise goals with motivational boosts and user-friendly features. They're also great for runners like Katie, who enjoy monitoring their progress with visible results.
"I like apps if they're telling me how far I've run, how quickly I'm doing it. I don't like blind running," she says.
How Katie tracks her mental progress
As well as her mileage and speed, Katie also likes to keep tabs on something a little less tangible—her mental wellbeing.
By using ASICS' recently launched Mind Uplifter (opens in new tab), she's now also able to measure the psychological benefits of her runs. The free tool aims to highlight the powerful effects of movement on our mental health by asking people to complete a simple four-step process.
First, the user scans their face on technology which will detect their emotional state. Next, they answer a series of questions, before exercising for 20 minutes. After they're finished, they scan their face one more and answer the same set of questions. The results, which often show improved concentration and lower anxiety levels, are then entered into a global research study.
"For me, it really goes with my whole ethos," says Katie. "If exercise is only about weight loss, if exercise is about getting faster than others, you can sometimes make it into a laborious task and you can lose the mental health benefits."
Katie believes the Mind UpLifter is especially helpful for girls and women, who are often conditioned by the media to view exercise as a chore.
"As women, we're always marketed to about burning calories. It's always like, 'Do you run so you can eat chocolate?' and it's like, 'No, how about I run because I have a stressful job. Or how about I run so I can feel strong in this life.'"
ASICS has invited the public to experience the Mind UpLifter tool for themselves, with the hope of demonstrating the importance of exercise for strong mental health. "ASICS is on a mission to show how movement can lift our mood and has created a world-first study into the positive relationship between sport and the mind," it says in a press statement. "To see the impact of movement on your mind and participate in the study, check out the Mind UplifterTM at minduplifter.asics.com".
For those who still need a little nudge to find that motivation and lace-up, Katie has some simple—but powerful—words of advice.
"These streets are yours," she says. "You don't have to look a certain way. Shed all those labels of 'Oh, I wasn't good at PE or I'm not a runner.' Everyone's a runner—you just have to put one foot in front of the other."
---
Katie Piper teamed up with ASICS to promote the app Mind Uplifter (opens in new tab), which is available to download now.
Emma is a Lifestyle News Writer for woman&home. Hailing from the lovely city of Dublin, she mainly covers the Royal Family and the entertainment world, as well as the occasional health and wellness feature. Always up for a good conversation, she has a passion for interviewing everyone from A-list celebrities to the local GP - or just about anyone who will chat to her, really.
Emma holds an MA in International Journalism from City, University of London and a BA in English Literature from Trinity College Dublin.