Are you ready to take on the Alzheimer's Research UK 50km challenge?
Boost fitness, raise money and feel great this April with Running Down Dementia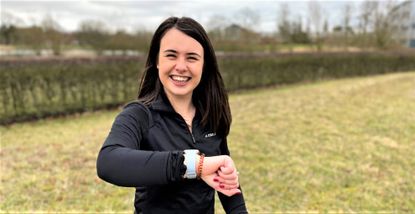 (Image credit: ARUK)
woman&home newsletter
Sign up to our free daily email for the latest royal and entertainment news, interesting opinion, expert advice on styling and beauty trends, and no-nonsense guides to the health and wellness questions you want answered.
Thank you for signing up to . You will receive a verification email shortly.
There was a problem. Please refresh the page and try again.
With normal life returning and busy routines kicking back into gear, it's important to still ensure you're making time for yourself, to ensure a healthy body and mind.
You might enjoy getting outside for a walk, jog or run, as a means of helping boost your physical fitness as well as taking yourself away from life and giving your mind a little break.
If so, how do you fancy taking on an exciting April challenge? Alzheimer's Research UK is encouraging you to walk, jog or run 50km throughout the month, from April 1 - 30, whilst raising money for vital dementia research.
Sadly, more than half of UK adults know someone who has been diagnosed with dementia. The April challenge; Running Down Dementia, is all about challenging yourself to get moving, and to help make a difference for those living with dementia. Not convinced? We've rounded up three of the big reasons you need to lace up this April…
Give yourself headspace
By walking or running regularly and staying active, you can help to keep your brain healthy too. Looking after your mental health is important and is one of the biggest elements in our overall health.
Exercising regularly has a number of benefits for your mind; it acts as a powerful antidepressant, it helps with stress management and improves sleep.
Physical activity can also help prevent a number of brain-related health conditions, and it's key to keeping your brain working properly too; in fact, several research projects have also linked more exercise in midlife with a lower risk of dementia.
Being physically active doesn't mean you have to slog it out at the gym or run a marathon – it's about a little, every now and then, in moderation. Why not take the Running Down Dementia challenge this April and pledge to run, walk or jog 50km through April? That's about one and a half miles every day, or five miles twice a week! Yes, you can do it!
Expand your pool of hobbies
You may have started going back to working in the office, or maybe your calendar is starting to fill out with more social plans. Either way, life is likely to be starting to feel very busy again. Making time for yourself to slow down and indulge in your hobbies is essential now.
Walking and/or running are versatile and relatively inexpensive hobbies – all you need are a pair of good fitting shoes and you're ready to go! Not only do walks and runs allow you to see more of your local area and explore other areas, but you can meet new people in the process or catch up with family and friends as you get active. Joining a local running club is a good way to rack up some distance and help complete the Running Down Dementia 50km challenge.
Boost your fitness, fast
Keeping active is incredibly important at any age, and you don't need to be a very athletic person to hit your daily recommended amount of exercise. In fact, walking briskly can help you to build stamina and to make your heart and lungs healthier. A brisk 10-minute daily walk can provide a myriad of health benefits and can count towards the 150 minutes of weekly exercise recommended by the UK's NHS. Walking can also help you to become more active, and you'll find that you can increase your distance and walk faster the more you do it. In fact, before you know it, you can go from a walk, to a gentle jog, and then into a run.
Running Down Dementia gives you the opportunity to increase your stamina by walking, jogging, or running throughout the month.
Ready to take on the challenge? Find out more about Running Down Dementia and sign up today: https://run.thetreblechallenge.org/
Lucy Gornall is the former Health & Fitness editor at Future and a personal trainer specializing in pre and post-natal exercise.