13 comforting loss of parents quotes to help with grief
Understand loss and love a little better with these comforting loss of parents quotes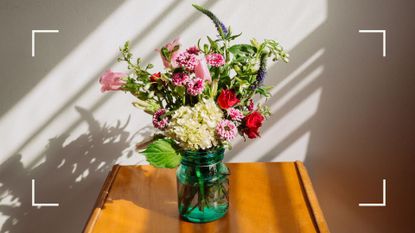 (Image credit: Getty Images)
woman&home newsletter
Sign up to our free daily email for the latest royal and entertainment news, interesting opinion, expert advice on styling and beauty trends, and no-nonsense guides to the health and wellness questions you want answered.
Thank you for signing up to . You will receive a verification email shortly.
There was a problem. Please refresh the page and try again.
Let these loss of parents quotes be a comfort for those who are experiencing grief. The passing of a parent can be stressful, difficult, and incredibly isolating, even when you're surrounded by family. Traditional celebrations and special days such as Christmas and other seasonal holidays can be tricky ones to get through, especially if your parent died recently.
It's a loss that's difficult to cope with at any age and it can prompt strong emotions, including anxiety and depression, as well as conditions like sleep anxiety and insomnia. "Losing a parent has an unparalleled effect on one's sense of identity and mortality. The passing of a caregiver figure generally can cause people to feel like they don't quite know who they are anymore," explains psychotherapist and grief expert, Comfort Shields (opens in new tab).
"Throughout life, we commonly carry a sense of our parent's expectations and want to please them. When we're coping with the loss of a parent, it can leave us feeling confused about our role in the family or more widely in our own lives," she says. "However, the sense of responsibility that goes along with this newfound generational shift can also be positive and empowering if you take the time to work through the grieving process."
Support following the loss of a parent
Grief can often feel debilitating when you're in the midst of it. Seeking support isn't always easy, but it's also necessary to lean on others when you're struggling. "Grief does not work to any time limits," says Shields, who is registered with Doctify (opens in new tab). "Giving yourself time and space to grieve is important. During this period, you begin to rediscover who you are without your parent to lean on. It also makes you reexamine your priorities."
Sometimes, the most comforting thing you can do for yourself during the grieving process is to create rituals that remind you of your loved one. "You can honor the life lessons and memories of a parent by sharing stories with others or doing an activity in a parent's honor such as planting a tree or cooking a favorite meal of theirs," suggests Shields. "This is a meaningful way to make sense of one's loss and to pay tribute to a parent. Visiting childhood places, looking over photographs, and writing or painting are a few other methods that might be helpful for processing grief." Self-help options, such as the best self-help books, podcasts, and online tools and communities can also help the healing process.
Dealing with grief at Christmas time, on Mother's or Father's Day, and on birthdays or anniversaries can be particularly hard. But some people find comfort in knowing that grief is often a shared experience. Here are 13 comforting loss of parent quotes to get through the harder moments.
13 comforting loss of parents quotes
Grief and love are conjoined, you don't get one without the other. All I can do is love her, and love the world, emulate her by living with daring and spirit and joy - Jandy Nelson
American author Jandy Nelson is well known for her unique writing style and colorful characters. This quote originates from her novel The Sky Is Everywhere, which follows the story of 17-year-old Lennie Walker as she deals with the loss of her older sister.
Grief can be the garden of compassion. If you keep your heart open through everything, your pain can become your greatest ally in your life's search for love and wisdom - Rumi
Unable are the loved to die, for love is immortality - Emily Dickinson
Considered one of the literary greats, American poet Emily Dickinson wrote often of death and grief. Her poem Unable are the Loved to Die is a homage to how a loved one's death does not have to mean the end of their existence.
Tears shed for another person are not a sign of weakness. They are a sign of a pure heart - Jose N. Harris
What we have once enjoyed we can never lose. All that we love deeply becomes part of us - Helen Keller
Helen Keller was an American author who wrote over 14 books, along with hundreds of essays and speeches on a range of subjects. She also campaigned for those with disabilities, as well as women's suffrage.
The sun can break through the darkest cloud; love can brighten the gloomiest day - William Arthur Ward
American motivational writer William Ward is a great person to turn to if you're struggling to process your grief. With more than 100 articles, poems, and meditations published in places such as Readers Digest, his quotes are famed for their inspirational qualities.
Death ends a life, not a relationship - Morrie Schwartz
The loss of a parent can often feel like you lost a friend, caregiver, and advisor all in one. American professor Morrie Schwartz's approach to death was that it was not something to be feared, but something to be accepted and that loved ones will always live on in the memories of others.
Don't cry because it's over, smile because it happened - Dr. Seuss
If I had a flower for every time I thought of you...I could walk in my own garden forever - Alfred Tennyson
English poet Alfred Tennyson often contemplated death and the impact it had on others. The quote above is thought to be a romantic sentiment, but it also strikes a chord for people who have lost a loved one and are in the process of dealing with their own grief.
We never lose our loved ones. They accompany us; they don't disappear from our lives. We are merely in different rooms - Paulo Coelho
And when great souls die, after a period peace blooms, slowly and always irregularly - Maya Angelou
Taken from When The Great Trees Fall, Maya Angelou's poem about loss and love, this quotation describes the clarity we gain after the death of a family member. It also reminds us that death is a shared experience and that time is key for healing.
How lucky I am to have something that makes saying goodbye so hard - Winnie the Pooh
What is there to do when people die, people so dear and rare, but bring them back by remembering - May Sarton
Author May Sarton often examined themes such as loss, love, friendship and relationships in her work. Here she describes the power of memories and how helpful it can be to find ways to honor a loved one's passing.
With five years of experience working across print and digital publications, Stacey is a journalist who specializes in writing about the latest developments in health and wellbeing. She has also previously written for Women's Health, Get The Gloss, Fit & Well, Stylist, and Natural Health magazine, covering current health trends and interviewing leading figures in the wellness space.
When she's not talking to health experts, you can probably find her hiking somewhere in the Welsh countryside or near the coast. Her favorite two ways to switch off are a Pilates class and a glass of wine with a home-cooked meal.