Grief at Christmas: expert advice on how to handle grief during the festive season
Grief at Christmas can feel unbearable, but there are ways to help make the pain and heartache feel a little easier, says our experts...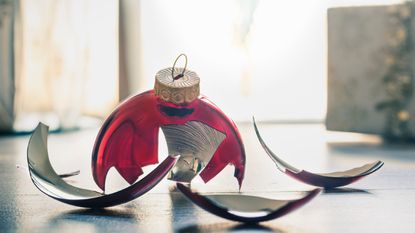 (Image credit: Getty Images / Dan Brownsword)
woman&home newsletter
Sign up to our free daily email for the latest royal and entertainment news, interesting opinion, expert advice on styling and beauty trends, and no-nonsense guides to the health and wellness questions you want answered.
Thank you for signing up to . You will receive a verification email shortly.
There was a problem. Please refresh the page and try again.
Experiencing grief at Christmas? You're not alone. While it's meant to be the season to be jolly, many people have experienced loss this year. And that can leave you feeling very low. In fact, a survey by Sue Ryder (opens in new tab) found that 47% of bereaved people experience poor mental health – such as feelings of depression or anxiety – following the death of a loved one. And with new lockdown rules making it harder to see supportive friends and family, that's expected to rise.
"Christmas, for many bereaved people, will always be the most difficult time of year, and, sadly, often becomes something to be endured rather than enjoyed," says Dr Andrew Iles, a consultant psychiatrist at the Priory's Wellbeing Centre in Oxford (opens in new tab). "Although birthdays and anniversaries may be an agonising reminder of the loss of a loved one, the pain of missing a loved one at Christmas can be overwhelming."
The expectation to be happy at this time of year can make everything seems worse. "The unavoidable pressure at Christmas to be 'merry' means that there is often no 'escape' for grief," says Andrew. "It can lead to feelings of intense loneliness and isolation. For some people, bereavement leaves someone completely alone, but even for those who still have the support and love of friends and family, loneliness and isolation may endure."
Sound familiar to you? Here's what you can do to try to ease the pain of grief at Christmas this year...
Grief at Christmas - why this time of year makes it even worse
"Coping with bereavement around Christmas – especially this Christmas – is especially tough," says Dr Natasha Bijlani, consultant psychiatrist at the Priory Hospital in Roehampton (opens in new tab). "It's very different from grieving a private anniversary or birthday at another time of year as we are surrounded by festive lights and decorations everywhere, with cheery advertisements in the media, and Christmas songs blasting on the radio."
And that's not all. "To compound this, there seems to be no escape for those who might prefer to spend time in sombre reflection of their loved one," says Dr Bijlani. "For those who are lonely, the feelings of not being around loved ones, and the sound of silence, can be overwhelming."
Grief at Christmas - why you should never feel guilty about accepting help
"All of us experience bereavement in different ways and need to find what helps us best," says Dr Bijlani. "For those bereaved who still have caring responsibilities, the idea of having a choice in how to handle Christmas can sometimes seem self-indulgent or unfeasible."
Have children? "The notion of 'cancelling Christmas' – however much you may want to – is often not an option if you have children," says Dr Bijlani. "Many parents will instinctively feel obliged to celebrate Christmas as usual, but it can be very distressing trying to suppress your sadness. Likewise, if you are on your own, you may feel excluded, lost and unable to look ahead with any sense of purpose or optimism."
Being offered help? Then try to accept it. "Kind and thoughtful people are likely to offer help, even if it is remotely this year, and you should not feel guilty at all about accepting whatever they offer," says Dr Bijlani. "If you are a parent, have age-appropriate conversations with your children about bereavement and enable them to cope with their individual loss as best you can, while dealing with your own feelings."
How to handle grief at Christmas
Dr Bijlani shares her tips on how to cope...
Decorate, even if it's just something small
"Think about putting a Christmas tree up in honour and celebration of your loved one and in recognition of how you have taken steps to cope – even if they are small ones. Make it a tree full of memories to celebrate the role your loved one played in your life, and their presence in it."
Keep a journal
"It will help you to process and express emotions."
Reach out and help others if you feel up to it
"Helping others has the added benefit of making you feel better, as well as offering a powerful distraction, and sometimes some perspective. If you feel lonely, planning structure to your days by volunteering can help you to cope over the Christmas period. Try to include other activities, such as exercise and just taking walks, if you don't feel up to anything else. Getting outside is key for your mental health."
Don't feel ashamed to ask for bereavement counselling
"You can access bereavement counselling via your GP, or privately via online therapy or at Priory's high street clinics or its hospitals. Bereavement counselling is advised if you are struggling to come to terms with your loss, especially if you believe the mental and emotional effects of a person's death is affecting your ability to function during the day."
Talk to your employer
"If you are working, you may want to talk to your boss about how you are feeling and access any support that might be available through your company by way of Employee Assistance Programmes, so you can retreat for a brief period if you are feeling overwhelmed. Your medical insurance may offer you access to a therapist who can help you navigate your way through."
Don't dwell on a painful past
"None of us can predict the future, but distract yourself as much as possible. Grief does not have a timetable so try not to make major financial or other decisions until you feel settled in yourself."
How to handle grief during the year ahead
Sadly, when January comes around, feelings of grief won't magically disappear. "Grieving for a loved one can be one of the most difficult processes we experience in life," says Cheryl Lythgoe, matron at Benenden Health (opens in new tab). "There's no quick fix, and nothing can make it disappear immediately."
"Whilst there is no simple solution to ease the pain of grieving, there are some small steps that might help you through such a difficult time," says Cheryl. She recommends:
Don't keep your feelings bottled up
"Every emotion from anger to relief is normal and it is found that expressing your emotions can help reduce the intensity of your feelings. You could talk to someone - or if you don't feel comfortable doing this - write down your thoughts and emotions in a journal."
Find a support group you can join
"Meeting people who are going through a similar experience can help and offer comfort. You might feel less like you're going through it alone when you have others to share your feelings with. Celebrating someone's life through voice or words can provide positivity in a negative situation."
Explore a new hobby or interest
"Spending time on a new hobby could be a distraction as well as giving you something to look forward to. Creative pastimes can provide a sense of achievement, while sport and physical activities are a great way to release endorphins in your brain – the chemicals that can make you feel more positive."
Contact your friends
"When you are grieving, you may well feel like you want to be on your own. That is fine, but it can also isolate you. Try to maintain connections with family and friends and take part in occasional social events where possible within COVID-19 guidelines – engaging with others familiar, friendly faces can be very comforting."
Take care of yourself
"Eating regularly, and sleeping when you can, is really important. If you neglect your own physical health, your grief will be harder to deal with. Limit any alcohol intake to within recommended guidelines, ensure you have a healthy diet and taking some gentle exercise will all help the body support the mind through this difficult time."
Consideration must also be taken for the long-term impact of grief
"The anniversary of the death of your loved one, their birthday or a family event for example can be particularly difficult to manage. It may help for you to book that day off work to grieve alone or plan something special to commemorate your loved one with others."





Grief at Christmas - where to find help
How to help a loved one through grief
Ken Blanton, specialist counsellor at Sue Ryder, shares his advice…
Take your lead from them
"Check in with the person grieving often and let them lead you as to how you can help. And be ready to listen – it's the number one action most likely to help someone. A simple 'How are you feeling?' can be enough to start the conversation."
Watch out for symptoms of depression or anxiety
"These could include struggling to focus, a lack of energy, isolating themselves, losing interest in things they used to love, and finding unhealthy ways to cope, such as heavy drinking. If you feel concerned, encourage them to speak to their GP."
It's not just about now.
"Remember there is no timeframe attached to grieving and checking in with them a year or two after a death can be just as important as in the first few weeks. Visit sueryder.org/copingwithgrief (opens in new tab) to find further advice and resources to help you to provide the best support."
The empty chair at the table
Carrie Taylor shares her experience of coping with grief at Christmas...
"When I was 10 my Dad died. He was just 39. Horrid enough, of course, but it was the 23rd of November and his funeral a bare three weeks before Christmas. Mum, suddenly widowed, suddenly bereft of a darling husband she loved so deeply, had to dig deep and "do Christmas" for the sake of four children ranging from five to 15.
"I still can't fathom how she made it through... how amazingly difficult it must have been to decorate the house, trim the tree, to play Santa, replacing my Dad creeping into our rooms to place stockings at the end of each bed, carving the turkey when it had always been his job.
"Looking back I think that, shellshocked, all of us clung on to the ritual and tradition like a life belt, keeping us from drowning in our sorrow. Of course it was flat, of course we weren't "celebrating" but in a strange way it became the measure of our strength: if we could still make Christmas happen, then we were making it through. And so, in the years following, yes we made the trip to the crematorium on the anniversary of Dad's death, we laid the flowers and wiped clean his plaque, we cried... but we didn't allow our sadness to haunt the feasting, the gift-opening, the charades, the laughter. We missed him, we never lost our love of him, but we never lost our love of Christmas.
"Fast forward and, though no Christmas could be quite as sad as that first without my dad, I've been through many more that "were never going to be the same" because of other empty chairs – good friends, my mum, my mother-in-law, and, most recently my brother-in-law, Jamie (again, sudden, again too, too young). He always came to us... how could it be fun without his amazing grin, his too-loud laugh – and who was going to make the gravy?! (Stuff Jamie; Dan did make the most marvellous gravy.)."
How I deal with grief at Christmas
"Everyone deals with grief in their own way," says Carrie. These are the things that have helped her and continue to help her get through the festive season:
Don't feel guilty for moments of happiness in the midst of grief
It is OK to smile and laugh even when bereavement is new.
Never feel you can't speak their name out loud
"Right about now Mum would have been nodding off in that chair, paper hat and all."
Don't be afraid to show your feelings
If you need a little cry or a hug, then just do it or ask for it. Need time alone? Take it.
Talking in your head or even out loud to the person you've lost can help
You'll remember that connection and love you felt.
Use Happy Christmas as a time to remember the happy times
My mum loved an inspirational quote, and had a really schmaltzy plate which I've now inherited. And though (sorry Mum!) it's rather naff – a natty foursome of genteel ladies and gents, Regency period, racing through the snow in a coach and four – it comes out every year. That's because the little motto around the base actually does give me strange comfort: "Across the miles of memories sweet, at Christmas time, old friends still meet.
Faye M Smith is an award-winning journalist with over 15 years experience in the magazine industry. Her continued work in the area of natural health won her the coveted title of the Health Food Manufacturers' Association (HFMA) Journalist of the Year Award 2021. Currently Health Editor across several brands including woman&home, Woman and Woman's Own, Faye specialises in writing about mental health, the menopause, and sex and relationships.