This is the reason everyone was so reassured by the Queen's coronavirus message
She issued a statement on the current crisis.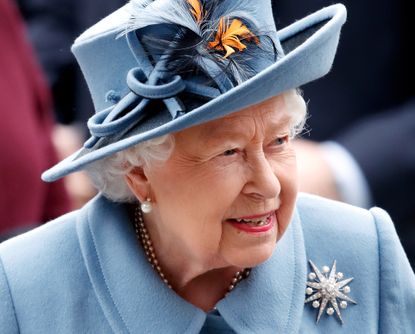 (Image credit: Getty Images)
Last week, the Queen shared a message to the people of the UK amid the coronavirus epidemic.
The statement - which you can read here - acknowledged how the world was going through a period of worry and uncertainty.
The monarch then wrote about how we are all having to change our normal routines, before thanking communities and all other essential public services for helping the nation to battle through the outbreak.
But what was striking is that many people, commenting on the statement on Instagram, explained how reassuring they found her words, and her contribution to the conversation.
MORE:Buckingham Palace confirms sad news for the Queen in official statement
One wrote, 'In times of such uncertainty and stress, the presence of the Queen is so reassuring and comforting as she is a sign of consistency and resilience. ❤️'.
While another agreed, 'Thank you for the comforting words, Queen Elizabeth II. All of you stay safe and healthy too!'.
Her words certainly have the ability to calm and comfort. After all, it's not the first time she's addressed the nation during times of strife - she did a public broadcast during World War II, with similar words to the above statement.
But why do we find the Queen and her message of solidarity so reassuring during stressful times?
Karen Kwong, a psychologist (renoc.co.uk), said, "The Queen's message was extremely well received and it really resonated with us for lots of reasons - for me it's about excellent leadership."
She explained that as humans, we have a predisposition to seek comfort - it's not natural to seek discomfort - and so the Queen, having been in all of our lives for as long as we can remember, is the perfect person to do this. After all, she's been on the throne for over 67 years now.
"It's only natural for all humans (and all animals) to seek comfort - this is something that is part of us right from when we are born," Karen said. "We seek this from those who have a special place in our hearts, whatever the reason. At times of adversity, this need for reassurance and comfort is even greater. Her Majesty is that person for us Brits, whether or not you believe in the monarchy.
MORE:Duchess of York speaks out in sweet tribute to support NHS workers
"She represents a beacon of light, like a lighthouse in choppy waters, or grounding us as we worry about flailing."
Karen went on to explain that the thoughtful, considered statement, coming from someone everyone in England - in fact, the world - knows, may well have turned around the national conversation about the coronavirus.
She told w&h, "Currently this turmoil is throwing a lot at us and this will unbalance us. There are huge moments of stress, anxiety and there does not seem to be an end in sight. The Queen's message is extremely well written and thoughtful, appealing to her people which in turn offering feelings of comfort and safety. It is emotionally intelligent and that shows excellent stewardship."
For example, Karen points to the empathy, purpose, guidance and fortitude demonstrated in the statement - some of the key things the Queen represents.
"She acknowledges the situation we are all in, leaving no one out - British and others. We are in it together - as individuals and families. She also does not hide behind empty promises and platitudes - that would be patronising," she said.
"And, she subtly reminds us of all the things we've been advised to do, not patronising us, and assuming that we've done and will continue to do our part for our communities. Her words are broad enough to not be directive or patronising but equally focused enough that we know what to do. She reminds us that we have a purpose greater than ourselves and that we can be and do better, as individuals and as a community. She also reminds us of what is important at times like these.
"Finally, she emphasises that we as individuals and as a nation are strong, that we have it in us to continue. That we are resilient, because and in spite of what is happening."
Amy Hunt is an experienced digital journalist specialising in homes, interiors and hobbies. She began her career working as the features assistant at woman&home magazine, before moving over to the digital side of the brand where she eventually became the Lifestyle Editor up until January 2022. Amy won the Digital Journalist of the Year award at the AOP Awards in 2019 for her work on womanandhome.com.