Over 50s women are at risk of THIS vitamin deficiency, scientists reveal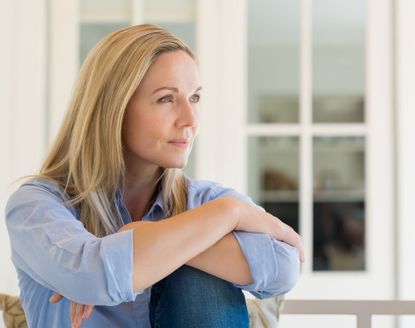 With our modern lifestyles and work patterns meaning that we are spending an increasing amount of time indoors, many people are no longer getting the sun exposure they need to top up their vitamin D levels.
In fact, The Department of Health (opens in new tab) recommends that between October and March everyone should consider taking a daily supplement containing 10 µg of vitamin D to ensure that their levels of this vitamin are at an optimum.
And for those that fall into the categories below, it recommends taking this level of vitamin D supplement year round. Those who:
aren't often outdoors – for example, if you're frail or housebound
are in an institution like a care home
usually wear clothes that cover up most of your skin when outdoors
Now new scientific research has identified over 50s as one particular group that are at risk of a deficiency.
The research carried out by at Trinity College Dublin found that more than (57 per cent) of adults over the age of 50 had inadequate levels of serum vitamin D, of which just over a quarter (26 per cent) were classed as vitamin D deficient.
Published in the international, peer-reviewed journal Nutrients, the study was based on 6,004 midlife and older adults, living at Northern latitudes (England, 50-55oN) derived from the English Longitudinal Study of Ageing (ELSA).
It identified a number of factors associated with vitamin D deficiency. This included being aged 80+ years, being obese and having a sedentary lifestyle.
MORE:The best vitamins for women
Commenting Co-Author and Trinity Research Fellow Dr Eamon Laird, said, "The high rates of deficiency are similar to rates seen in other high latitude countries such as Ireland. However, other more northern countries such as Finland have implemented a successful vitamin D fortification policy which has all but eliminated deficiency in the population. Such a policy could easily be implemented in the UK and Ireland ."
Echoing these sentiments and arguing that we need to look beyond vitamin D supplements, First Author Dr Niamh Aspell, added, "Those who used a vitamin D supplement, were less likely to be vitamin D deficient as may be expected, but supplement use was low (4.4 per cent) and, therefore, food fortification and other strategies need to be considered at policy level for older populations."
Vitamin D plays an essential role in helping to regulate 'the amount of calcium and phosphate in the body', according to the NHS, with these nutrients helping to keep bones, teeth and muscles healthy.
Miriam worked for woman&home for over five years and previously worked on the women's lifestyle magazines Woman and Woman's Own.