Kick start healthy eating with this two day diet detox
Here is the perfect two day detox that will have you looking and feeling your best in no time... and best of all, you won't go hungry!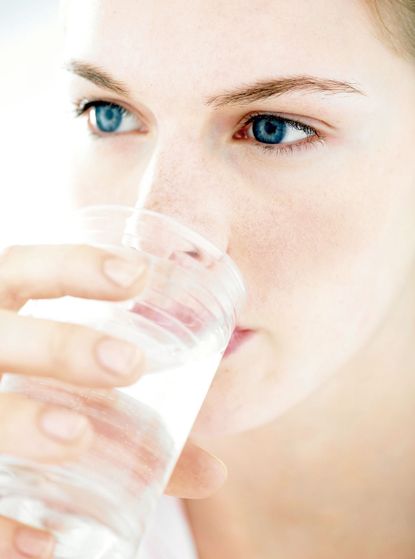 (Image credit: Alamy Stock Photo)
woman&home newsletter
Sign up to our free daily email for the latest royal and entertainment news, interesting opinion, expert advice on styling and beauty trends, and no-nonsense guides to the health and wellness questions you want answered.
Thank you for signing up to . You will receive a verification email shortly.
There was a problem. Please refresh the page and try again.
Our 48-hour eat little-and-often detox by top nutritionist Fiona Hunter will help you feel slimmer, boost your immune system and give you heaps more energy - without going hungry! Kick start a healthy eating regime with this two day detox to lose weight fast...
Do you frequently feel tired, sluggish and bloated? Does your hair look dull and lifeless, your skin lack sparkle and is the waistband on your jeans a little too tight for comfort? If you answered yes to one or more of these questions, it could be a sign that your system is in desperate need of a spring-clean.
Late nights, stress, processed food and too much alcohol can overload the liver, kidneys and digestive tract, which are responsible for removing toxins, leaving them in need of a well-earned rest.
Most health professionals now believe that overly strict detox diets are no longer necessary or indeed healthy because they actually rob the body of essential nutrients, slow your metabolism and leave you feeling worse than before you started. But most agree that a gentle detox can be a good way to give your system a rest and kick-start a new healthy eating regime to lose weight fast.
Our 48-hour detox plan is not about denial - it doesn't involve any fasting, purging or complicated food-combining regimens - it's based around fresh, nutritious, cleansing and restorative foods that are easy to digest.
It's designed to boost your intake of antioxidants and beneficial gut bacteria, which help combat the damaging effects of toxins and strengthen the immune system. It will leave you feeling cleansed, energised and ready to face life with renewed enthusiasm.
Making it work:
Before you start, get organised. Stock up on the foods you'll need (buy organic where possible) so there's no need to go shopping while you're on the diet. Prepare the muesli, fruit compote and the soup the day before.
Try to drink at least 1.8 litres of water (between eight to 10 glasses) each day to help flush out the kidneys. Ayurvedic physicians recommend drinking warm water, as it speeds up the elimination of toxins. If you find it boring, try adding the following to give it some flavour: slices of cucumber with fresh mint; slices of apple with a few thin slices of fresh ginger; or slices of strawberry and a couple of fresh basil leaves.
Fresh juice may help boost vitamins and anitoxidants, but contains lots of sugar. So, if you want a juice, limit yourself to one a day and go for a homemade fruit combo. Avoid tea and coffee. Instead, replace them with green, herbal or fruit tea.
The plan includes one pot of live yogurt each day to help recolonise the gut bacteria. If you're allergic to yogurt or don't like dairy products, take a supplement containing acidophilus or bifidus bacteria which are available from health-food shops.
Your two day diet detox plan:
Day one
On waking:Mug of hot water with 1 slice of fresh lemon and 2 slices of fresh ginger
Breakfast: Muesli. Place 3tbsp sugar-free muesli in a bowl, add 200ml oat or almond milk, cover and chill overnight. Add a coarsley grated apple, handful of blueberries and 2tbsp Greek yoghurt.
Mid-morning: 1 apricot and almond bite. Make by placing 100g almonds in a food processor and blitz to break up. Add 90g roughly chopped ready-to-eat apricots, 50g dates, 2tsp porridge oats and 3tbsp almond or peanut butter; process until the mixture starts to clump together. Roll into small balls and coat with 35g dessicated coconut. Chill for at least 1 hour to firm up.
Lunch: Carrot and peanut salad. Make by peeling and coarsely grating 1 large carrot. Whisk together 2tbsp orange juice, 1/2tsp balsamic vinegar, 1 crushed small clove garlic and 1tbsp sesame oil. Roughly chop 25g salted peanuts and mix with the carrot and 2tbsp chopped fresh chives. Pour over the dressing, toss and serve. Follow with a pomegranate and kiwi fruit salad (peel and slice 1 large kiwi fruit and mix with seeds from 1 pomegranate) and a small pot of live yoghurt.
Mid-afternoon: 1tbsp red pepper houmous on 1 rice cake.
Evening meal: Avocado and prawn tabbouleh. Place 40g bulgar wheat in a large bowl and cover with boiling water. Leave to stand for 15 minutes. Drain and stir in 90g cooked peeled prawns, 4 halved cherry tomatoes, 2 chopped spring onions, 1 small diced avocado, 1 crushed clove garlic, 2tbsp each chopped fresh mint and parsley, 1tbsp olive oil and juice 1/2 lemon. Season with pepper.
Day two
On waking: Mug of hot water with 1 slice of fresh lemon and 2 slices of fresh ginger.
Breakfast: Spiced fruit compote with a small pot of live yogurt. To make 2 servings place 125g mixed dried fruits of your choice (eg apples, apricots, prunes) and 1/2 tsp ground cinnamon in a bowl. Pour over 150ml orange juice and 150ml boiling water. Allow to cool, cover and leave overnight in the fridge. Mix 1tsp cornflour with enough cold water to make a smooth paste. Drain the fruit and place the liquid in a saucepan, stir in the cornflour, bring to the boil and cook until thickened. Stir back into the fruit.
Mid-morning: Berry smoothie. For this simply place 100g frozen summer berries and 200ml oat milk in a blender and whizz until smooth.
Lunch: Watercress soup. To make your own just heat 1tbsp vegetable oil in a saucepan, add 1sliced leek and cook for 5 minutes, stirring occasionally. Then add 1 peeledand diced potato and cook for a further 5 minutes, stirringoccasionally. Add 100g watercress and 400ml vegetable or chicken stock.Bring to the boil, reduce the heat, cover and simmer for 15 minutes, oruntil the potatoes are soft. Allow to cool, then transfer to a blenderand whizz until smooth. Follow with melon, kiwi fruit and passion fruit salad - slice 1/2 small Gala melon into cubes and mix with 1 peeled and sliced kiwi fruit and the flesh and seeds of 1 passion fruit.
Mid-afternoon: 1 apricot and almond bite
Evening meal: Scrambled eggs (made with 2 free-range medium eggs) with flaked poached salmon (1 small fillet), followed by Greek yogurt with a handful of fresh raspberries.
Bedtime: 2 Medjool dates.