The internet goes wild for this unusual cure for migraines
Genius!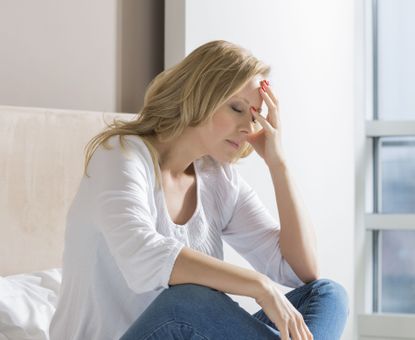 A woman has shared a post on social media describing how she used a 'chip clip' to relieve an intense migraine she had had for 12 hours.
According to the NHS, around one in every five women are affected by migraines.
People have different ways of dealing with migraines, whether it be painkillers or lying in a darkened room, but this method shared by a woman on social media is perhaps lesser-known.
Elizabeth Hayes explained that she had tried her go-to methods and decided to search online to see if she could find another method of pain relief.
Elizabeth used a clip, an item you would use to conceal a bag of crisps perhaps, to help with her unbearable pain. She found pain relief by placing the clip on her hand, between her thumb and forefinger.
In the post, Elizabeth writes, 'This chip clip saved my life tonight. I had a migraine start almost twelve hours ago and about an hour ago it was at an unbearable limit. I had exhausted all of my drugs and tricks I usually use to ease my migraines to no avail.
'I googled fast relief for migraines and it pulled up something called Aculief. I glanced at the counter and saw this chip clip and decided it would do about the same thing. Within one minute I had some relief, and within twenty my pain was reduced by half!!'
Elizabeth's post has been shared 194 thousand times and there are several comments with one person saying, 'This is very interesting so glad u got the relief I was watching a program about 'spots on ur hands' pressure spots and where ur clip is placed was one of them good luck with this x'
Another person agreed with Elizabeth and shared her own handy tip saying, 'Yes I have used pegs and it really works.'
So it seems there are a few kitchen essentials that might be able to help.
And for some, it's just a matter of applying the pressure with their own hands.
One person said, 'I discovered this technique some years ago and do it for myself and others by just using my forefinger and thumb in a circular motion over the nerve. It really works for a headache, though sadly won't shift my migraine completely. Any relief is more than welcome tho x'
So even if you don't have a clip to hand, you could try using your own finger and thumb as a method of pain relief.
Migraine sufferers were grateful of Elizabeth's advice and shared how keen they were to try her tip. One person said, 'I'm getting the peg ready for the next migraine, lol, don't care who laughs at me' while another said, 'oh wow. I'll try anything!!'
Elizabeth added, 'I decided to order the real thing off Amazon. Just wanted to share this with everyone, as I know many of you suffer from migraines also.'
This is an ideal method for those who prefer not to take medication when suffering with headache pain.
Described as a 'wearable acupressure device for active lifestyles', the aculief 'provides pressure to the LI4 acupressure point', acting as natural pain relief.
Or if you fancy trying another tool, you can have a rummage in your kitchen drawers. The solution to relieving your migraine might be closer than you think!
Rachel Howatson is a digital writer who works across a range of publications. Whatever your passion, whether it's hillwalking, cooking, gardening, running, socialising or even sleeping, she'll likely have written about it.