The secret to a happy marriage could be spending five days a month apart
Time apart makes couples miss their loved ones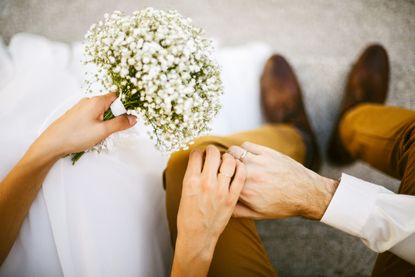 Most people want to know the secret to a happy, long-lasting marriage and new research has shone a light on just that.
A new study has found that spending five days (and nights) apart every month could be the key to a joyous marriage.
The research found that those who work away on a regular basis say they are happier in their marriage.
This is down to the fact that time apart makes couples miss their loved ones. It also make things more passionate when they are together.
The study found that five days is the optimum amount of time for this to happen, as contentment falls if the time period is any longer or shorter.
More than 2,000 people took part in the poll, carried out by Travelodge.
All in all, it found that four in ten who worked away were extremely happy in their relationships. This was compared to just three in ten couples who were together all the time.
The four in ten who claimed they were happier also said that separation allowed for them to have a bit of time for themselves.
It also had other advantages such as staying in a hotel, no arguments over the TV and enjoying a fry up for breakfast.
What's more, 74% of participants said that time apart helped improve things in the bedroom.
A fifth of working parents also admitted they enjoyed the peace and quiet that comes with having a break from looking after children.
Out of those who travelled regularly, 21% said it was a 'win win' situation - as their partner liked having the house to themselves.
Shakila Ahmed, a representative from Travelodge said, "Nowadays we can potentially work anywhere thanks to technology which is why business travel is becoming more essential in our working lives.
"It's good to see Britons are benefiting from taking regular business trips as it provides a break from the hustle and bustle of family life and provides some much needed me-time."
Lizzie Thomson is a regular contributor to woman&home, and also contributes to Metro.co.uk, Ideal Home, Culture Trip, and Evening Standard, covering all things lifestyle.