Join in with the world's biggest online yoga class to support the NHS this Easter weekend
#StretchForTheNHS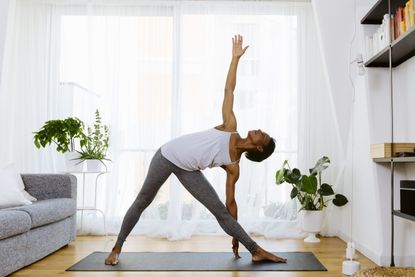 (Image credit: Getty)
This story is part of our Good News series – bringing you positive headlines every day to spread positivity during difficult times.
Hotpod Yoga are attempting something rather impressive this Easter weekend.
The yoga studio giant will be hosting what they hope will be the world's biggest ever online yoga class.
The live-streamed class will take place on Easter Monday at 10am, with anyone welcome to join.
The 45-minute class will be designed for all levels, including complete beginners to those more advanced in their yoga practice and viewers can join in via Instagram or YouTube.
Fingers are crossed for at least 125,000 people to join in with the digital wellness session, with each participant donating at least £1 each.
The money raised will be donated to the NHS to help fund the vital organisation in its fight against the coronavirus pandemic.
With all Hotpod Yoga studios having closed their doors in light of the health crisis, the company are hoping the initiative will bring people together to unite in aid of the frontline health workers putting themselves on the frontline for the sake of the country.
It is hoped that people will take a moment to tune in and connect with thousands of others to reflect, take a moment away from the challenges that they are facing and acknowledge the work being done across the country by the NHS.
Hotpod Co-founder Max Henderson said, "The NHS currently employs over 1.25 million people. That's a simply staggering amount of people working round the clock to keep us safe, so we started thinking - what could we achieve with even a tenth of that number?
"We want people to collectively take a moment, come together, move together and show their appreciation for a group of people that are working in unprecedented circumstances."
Will you be getting involved?