How to book a Covid-19 test – plus a guide to minimising your risk during essential appointments
Everything you need to know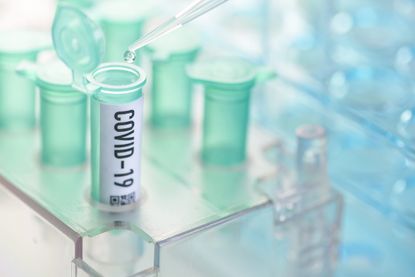 Want to book a Covid-19 test? You're not the only one. A Covid-19 test can help key workers know if they're safe to return to work. Plus, testing can help to identify how the virus has spread. This is a big reason why the UK government has set a target of 100,000 coronavirus tests per day.
Not sure if you can book a Covid-19 test and it's causing your anxiety to spiral? We asked doctor and surgeon Dr Mayoni, owner of The Clinic By Dr Mayoni (opens in new tab), to share her expert knowledge. Plus, she shares how to stay safe if you have an essential appointment to attend.
How can I book a Covid-19 test on the NHS?
Want to book a Covid-19 test for free on the NHS? Sadly, not everyone is currently eligible. 'At this moment in time, these tests are available to a selected group of the population,' says Dr Mayoni. You can book a Covid-19 test if you are…
A patient in hospital
An essential worker. This includes NHS and social care workers
Over the age of 65 years old with symptoms of Covid-19
A person with symptoms whose work can't be done from home (eg, emergency plumber or delivery driver)
Anyone with symptoms of Covid-19 and lives with any of the above
The Government has also rolled out a programme to test social care workers and residents in care homes (with or without symptoms) and NHS workers and patients without symptoms.
Meet the above criteria? 'You can book a Covid-19 test through the portal on the Government website (opens in new tab) and then select either a local test site for a drive-through appointment or home test kit,' says Dr Mayoni.
Do I have to be unwell to book a Covid-19 test?
'You don't necessarily have to have symptoms to be able to have the test,' says Dr Mayoni. 'The above guidance will tell you which category you fall into.'
Is there a Covid-19 test centre near me?
There are currently almost 50 regional test sites in the UK. 'Check the self-referral page (opens in new tab) on the Government website to see if there's one near you,' says Dr Mayoni. And don't worry if you can't drive – they are not all based in car parks.
'More mobile testing units are being made available (although these are more for essential workers at sites such as care home and prisons),' says Dr Mayoni. 'Or, you could ask someone from your household to take you or request a home kit.'
There are regional covid-19 test centres in the following locations:
Aberdeen
Belfast
Birmingham (Midland Metropolitan)
Bournemouth
Brighton
Bristol
Cardiff
Chessington
Coventry
Doncaster
Ebbsfleet
Edgbaston
Edinburgh
Exeter
Gateshead
Gatwick
Glasgow
Greenwich
Hull
Inverness
Ipswich
Leeds
Lee Valley
Lincoln
Liverpool
London
Londonderry
Manchester
Milton Keynes
NHS Nightingale London
Nottingham
Oxford
Penrith
Peterborough
Plymouth
Portadown
Portsmouth
Preston
Stansted
Twickenham
Wembley
Worcester
York
Can I pay for a Covid-19 test myself?
'Yes you can pay for a Covid-19 test privately,' says Dr Mayoni. 'At my clinic we offer the polymerise chain reaction (PCR) swab test for £200. This involves taking a throat swab sample. We also offer an antibody finger prick test for £100. Both tests are performed by yourself at home. You post it back to the clinic in the envelope supplied.'
Does a Covid-19 test hurt?
'No, not really,' says Dr Mayoni. 'It can be mildly uncomfortable to have a swab taken from your nose or mouth, but it doesn't hurt. The finger prick test is a sharp quick prick to the soft part of your finger. Any pain is short lived.'
Will the test show if I have Covid-19 or have had it previously?
'The PCR swab test only reveals if you currently have the infection,' says Dr Mayoni. 'A finger prick antibody test needs to be done 14 days after an active infection. It shows whether or not you have had Covid-19.'
If my test shows I have had Covid-19, am I now immune?
'No,' warns Dr Mayoni. 'We have yet to understand this virus fully. We need to ascertain if an antibody response does equate to any form of immunity to the virus (opens in new tab).'
I have a medical appointment – how can I reduce my risk of contracting Covid-19 when I am there?
'Please follow instructions from your practice first. They may have emailed/written to you with information prior to attending,' says Dr Mayoni. 'You may even have the option to do a virtual consultation.'
If you have to physically attend, Dr Mayoni says:
'Make sure you are well on the day of attending (no temperature or cough etc). And that your household have been well.'
'Not well? Inform your practice and re-schedule.'
'When you do attend, make sure you have washed/ used hand sanitiser on entering the building. Avoid touching your face (eyes, mouth and nose particularly) while you are waiting.'
'Try to maintain social distancing while you are waiting.'
'It is recommended to keep your hands clean if you are waiting in certain areas for more than 30 minutes.'
'Try to avoid touching too many surfaces if you can.'
'After your appointment, ensure you wash or sanitise your hands again prior to leaving and returning home.'
Faye M Smith is an award-winning journalist with over 15 years experience in the magazine industry. Her continued work in the area of natural health won her the coveted title of the Health Food Manufacturers' Association (HFMA) Journalist of the Year Award 2021. Currently Health Editor across several brands including woman&home, Woman and Woman's Own, Faye specialises in writing about mental health, the menopause, and sex and relationships.