5 Positive Body Image Lessons From Taryn Brumfitt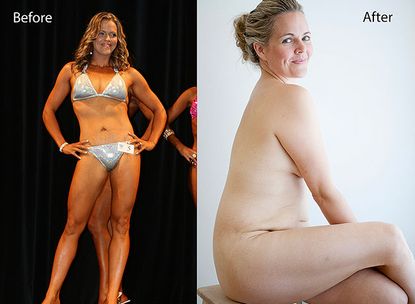 Positive body image is all about how you feel inside. Internet sensation Tayrn Brumfitt shares her wisdom...
Positive body image is all about how you feel inside...
Meet Taryn Brumfitt. The Australian mother of three became an overnight internet sensation when she posted this picture, representing her journey from body loather to body lover on Facebook last year - Ashton Kutcher, Ricki Lake and Zooey Deschanel all shared her post.
'You are fat, and you are ugly, and you are disgusting', these are the words that Taryn muttered to herself every time she looked in the mirror.
Taryn's quest for the perfect body started shortly after the birth of her first child. Suddenly she felt that her body wasn't up to scratch, and that she needed cosmetic surgery to feel confident again.
The day before she was set to go under the knife, Taryn had an 'epiphany'. Watching her daughter play, she thought, 'How am I going to teach her to love her body, if her mum can't do the same?' That afternoon, she called the surgeon's office and cancelled the operation.
But, those body confidence niggles weren't easy to shake. So, Taryn decided to 'do something crazy' - entering a body building competition, pushing her body to its limits in a quest to feel confident.
Fifteen weeks later, she stepped out on stage in a bikini. Did she feel more confident than ever? No. 'I did have the perfect body, or near enough', Taryn says. 'And you know what? Nothing changed. Nothing about the way I felt about my body.'
At that moment, she stopped with the negativity - and launched the Body Image Movement. Now an exponent on the value and power of positive body image, Taryn's new book, 'Embrace: My Journey From Body Loather to Body Lover' (opens in new tab) (£14.99; New Holland Publishers) is fast becoming a bestseller.
American chat show host, Ricki Lake writes in the forward to Taryn's book, 'As someone who has struggled with my body image over the years...it is inspiring to see someone like Taryn take a stand against the way society pressurises women to conform to a certain shape.'
Could Taryn Brumfitt's new-found wisdom help you to embrace every inch too?
Positive body image lesson 1: Learn to love what you see in the mirror
'I think learning to love yourself happens away from the mirror', Taryn says. 'You can't see beauty, it lies within. It has nothing to do with our appearance. Humility, kindness and compassion should be the currency of beauty.'
Positive body image lesson 2:Remember that the scales aren't everything
'There is nothing bad about wanting to be the best you can be, however I would recommend your focus remains on health and not your weight', Taryn says. 'Chasing a number on the scales doesn't define you, your health or your happiness.'
Positive body image lesson 3:Stop comparing yourself
'Skinnier, fatter, it doesn't matter what your shape or size', Taryn says. 'Your health is unique to you and is not necessarily determined by the amount of fat or lack of fat on your body.'
Positive body image lesson 4: Give your body what it needs
'For great health our bodies need water, good fresh 'living' food, rest, sunshine, fresh air and our bodies need to move' Taryn says. 'That's it - really bloody simple!'
Positive body image lesson 5: Respect your body for how hard it works
'My stomach is the place that housed my three babies, and it is stretched and therefore has stretch marks. Does it matter that my tummy looks white, lumpy, stretched, saggy? No', Taryn (pictured) says. 'What matters is what my body can do! And my body can do everything I want and need it to do! She has given me so much, I am in awe of her talent, resilience and abilities' Buy 'Embrace: My Journey From Body Loather to Body Lover' (opens in new tab) by Taryn Brumfitt (£14.99; New Holland Publishers)
Buy Taryn Brumfitt's book
Buy 'Embrace: My Journey From Body Loather to Body Lover' (opens in new tab) (£14.99; New Holland Publishers)