Kate Moss wore the most casual-chic look on the runway and we bet you can recreate it from your own wardrobe
Kate Moss rocked a runway look that can be easily replicated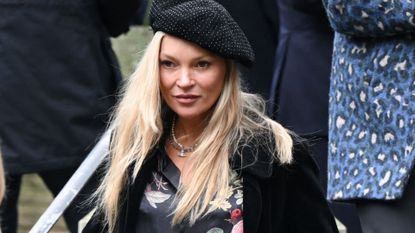 (Image credit: Getty Images)
Kate Moss' looks undoubtedly have sartorial staying power - and a recent one she sported on the Bottega Veneta runway is easily replicated from items you probably already own.
Kate Moss has long been a female figure people are constantly looking to for fashion inspiration, whether it's from her runway looks, or her more casual, off-duty looks. What's more, the multi-hyphenate icon is still rocking the runways at 49 years old, and continues to look fabulous as ever.
In September 2022, the model stepped out on the runway for the Bottega Veneta spring/ summer 2023 show in Milan in an outfit that screamed casual-chic, immediately filling us with envy - that is, until we realized we could probably recreate the look ourselves fairly easily.
The look consisted of a checked shirt, a white tank top, a pair of baggy jeans, and what appears to be a pair of black leather boots. When first looking at the outfit, it appears fairly casual (although, truly, Kate Moss makes everything look chic as can be) - but in reality, this Bottega look is crafted with fine leather, which is a common feature in Bottega pieces.
This plaid shirt calls back to some of Kate's more iconic looks of the '90s, when she was truly in the heyday of her modeling career. Luckily for us, this look could be easily recreated and customized to your liking - perfect for a date night, or even a casual day of errand-running.
Although Kate Moss didn't previously wear much Bottega (she has worked with the likes of Chanel, Burberry, Dior and other mainstay fashion houses as a young model), perhaps this could be the start of a new brand partnership for the model.
What Kate always manages to do really well is take a rather casual look and elevate it. With this look in particular, she chose a pair of simple, small hoop earrings to add a bit of elegance to this otherwise relaxed outfit. The pair of black boots also adds a hint of sophistication to the outfit, giving her legs some extra height (not that she needs it, though).
Odds are, you probably already have most of these things in your wardrobe. Seeing as shackets have been pretty trendy for about two years now, even if you don't already have one, you could go to pretty much any store and buy one that suits your style preferences. Add a simple white tank underneath (which you likely already have), as well as a baggy pair of jeans (again, you probably have these!) and your most favorite black boots, and voilá! You have what is (apparently) a runway-approved outfit ready at your disposal.
Madeline Merinuk is woman&home's US lifestyle news writer. She covers celebrity, entertainment, fashion, and beauty news but is also obsessed with internet trends - you can find her reciting trending TikTok sounds out loud at any given time.
After winning multiple student journalism awards for her investigative work, she graduated from Hofstra University in 2021 with a B.A. in Journalism. After graduating, she worked at today.com, the digital site for the Today Show, where she wrote pop culture news and interviewed big-name personalities like Emily Ratajkowski, Haley Lu Richardson, Emma Corrin, and more.
Her personal interests, in no particular order, are: cheese, Joni Mitchell, reading, hot yoga, traveling, having multiple chapsticks in every handbag at all times, and dancing to ABBA songs as if she were in the Mamma Mia movies.