Perfect eyebrows quiz: Find out the best shape and grooming techniques for your brows
Whether you've got sparse hairs, unruly arches, or patching, we've got an eyebrow styling solution for everyone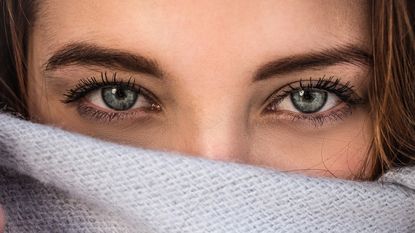 (Image credit: Getty)
Whether you've got sparse hairs, unruly arches, or patching, we've got an eyebrow styling solution for everyone.
If eyebrow waxing, eyebrow threading or microblading fill you with fear, you might want to know how to use the best eyebrow tweezers so that you can style your hairs at home.
But if you're searching the internet with the question 'Do eyebrows grow back?' Then you could need a helping hand from the best eyebrow pencils and products.
Or maybe it's both… or neither.
Whatever your conundrum. Simply take our quiz below and find out what eyebrow style suits you the most.
What eyebrow shape suits me?
Looking at your eyebrows wondering where to start? Well, it turns out that your face shape might have a sway on how you style them. Brow expert and founder of Suman Brows, Suman Jalaf, says, "Considering your face shape is essential when it comes to mapping out your brows."
Answer the questions below to find out what expert advice Suman has for you.
My face shape is:
Round
Long
Oval
Square
If you answered 1. Round
Suman advises you to "Elongate and slim your face by styling your brows with a sharp or high arch."
If you answered 2. Long
Suman says, "Use your products to extend your brow tail, as this will help counteract the length of your face. You'd also really suit a straight brow as it will make your face appear shorter."
If you answered 3. Oval
"Your face is already pretty balanced, says Suman, "but you can enhance this harmony and direct the outer third part of your brow towards the ear lobe."
If you answered 4. Square
"When styling your brows, you want to try and direct the outer third part of your brow towards the middle of your ear", says Suman. "This style will help soften your face and balance the squareness of your jaw."
The perfect brow for your eye shape
Yes, your eyes can also have a steer on how to shape your eyebrows. Pick which description sounds most like your peepers and follow Suman's expert tips below.
My eyes are wide set
"Try to bring the inner corners of your eyebrows so they're closer to your nose. This has the effect of drawing your features inwards.
"A soft brow will also work much better for you, so opt for a gel or pencil over a pomade."
My eyes are close set
"Don't make the mistake of over-tweezing the area between your eyes; this will throw off the symmetry of your face.
"Also try and extend your arch point out further, as this will make your eyes look wider apart."
My eyes are deep set
"Your goal is to offset any of the shadows seen around the whole eye area. Avoid going too dark with eyebrow shades as this will make your eyes appear deeper than they are.
"Try working with a slightly lighter colour and keep your brow shape more angular. If the brows are too round in shape, they can accentuate dark circles."
I have hooded lids
"Your ideal brow is thinner, as it opens up the eye area and makes it appear larger and wider.
"Try to avoid a large, heavy brow because it will create the illusion that the eye is being pulled down further."
My eyes are more mature
"The trick is not to drag the end of your eyebrow down; there's no need to assist gravity.
"Instead, slightly lift the tail of the eyebrow as you create the endpoint. This will create an illusion of a more youthful eye."
How to shape your brows like a pro
Suman Jalaf gives us her best tips for shaping and grooming your brows at home.
To find out where your brow should begin, align the flat edge of a straight make-up brush to the outside of your nose/inner corner of your eye.
Your true arch is found by taking your brush and laying it diagonally from your nostril to the outside edge of your iris.
Determine where your brow should end by using your brush to create a line from the outside corner of your nose diagonally to the outer corner of your eye.
The best eyebrow products for you
Not sure what to buy? Pick the description that suits you the most to find your perfect product.
I have empty spaces but want to create a natural finish
It may take a little more time to fill in with a pencil, but it's worth it if you want your eyebrows to look natural.
Try: Kevyn Aucoin The Precision Brow
This precision pencil, recommended by Suman, is superior at mimicking fine hairs. You can also use a combination of products to create a natural look. Direct pomade or shadow in the middle to the ends of your arches and pencil in at the beginning.
I want to cover up patches and enhance my colour
Pomades are perfect if you want to fill in spaces and create a stronger shade. They're also a little quicker to apply than pencils.
Try: Anastasia Beverly Hills DipBrow pomade
Place a small amount of the highly pigmented colour onto the lid of the pot and apply from there. Always use a thin angled brush, creating fine strokes as you go.
I want to fill in gaps but have no time to draw them on
Hybrid powder gel products are on the up and are a great way to cheat a fuller brow in seconds.
Try: Benefit Gimmie Brow+ volumising eyebrow gel
Ensure an even application of colour and backcomb your brows with the brush first. Then smooth them up and out. The soft and natural powdery shade fills in gaps but then sets and holds the style into place. No fuss required.
I want to encourage my hairs to grow
Apply a brow serum before bed to let it work as a treatment, says Cher Webb, bareMinerals make-up artist ambassador.
Try: bareMinerals Strength & Length serum-infused brow gel
A vegan formula that nourishes brows and can be used in the day or night. The serum conditions the hair follicles and strengthens the root, encouraging natural hair growth as well as holding your brows in place. Clever stuff!
I want my brows to look more uniform
You might not need a brow colour at all. Sometimes a little gel is all it takes to create perfect eyebrows.
Try: Glossier Boy Brow in clear
Brush up your brows to cover spaces and create a fluffier effect. You might find this is the only product you need.
Brow gels just won't hold my hairs in place
You could try brow lamination, which lasts for six to eight weeks, but there is one gel you might want to give a go first.
Try: HD Brows brow glue
"This particular gel is so long-lasting it manages to keep all hairs in order", says Suman Jalaf. "I don't like brow lamination, I think it's too harsh for the brow hair, I would use this instead, it's far better for your follicles."
I've overplucked my arches
Yes, you can hope and wait for your brows to grow back naturally, or you could choose another option – and no, it doesn't include going anywhere near a microblading technician.
Try: London Brow Doctor brow miracle mask
This mask repairs damage caused by chemicals and daily makeup application but also contains a hair growth serum to help your strands find their way back to their former glory.
Sign up to our free daily email for the latest royal and entertainment news, interesting opinion, expert advice on styling and beauty trends, and no-nonsense guides to the health and wellness questions you want answered.
All about beauty, Lydia House has been writing about creams and complexions for over a decade. Contributing to titles such as Women's Health, Grazia, Stylist and The Evening Standard, Lydia also uses her vast knowledge of the industry to consult leading health and beauty brands like Rituals, Tisserand and The Inkey List. Spending her working life obsessing over ingredients and formulas, Lydia believes that feeding your skin from within is just, if not more important, than the lotions you slather on. And even with a busy life and work schedule, she will always find the time to fit in a pampering session (or two).