How To Fill In Eyebrows So That You Look Younger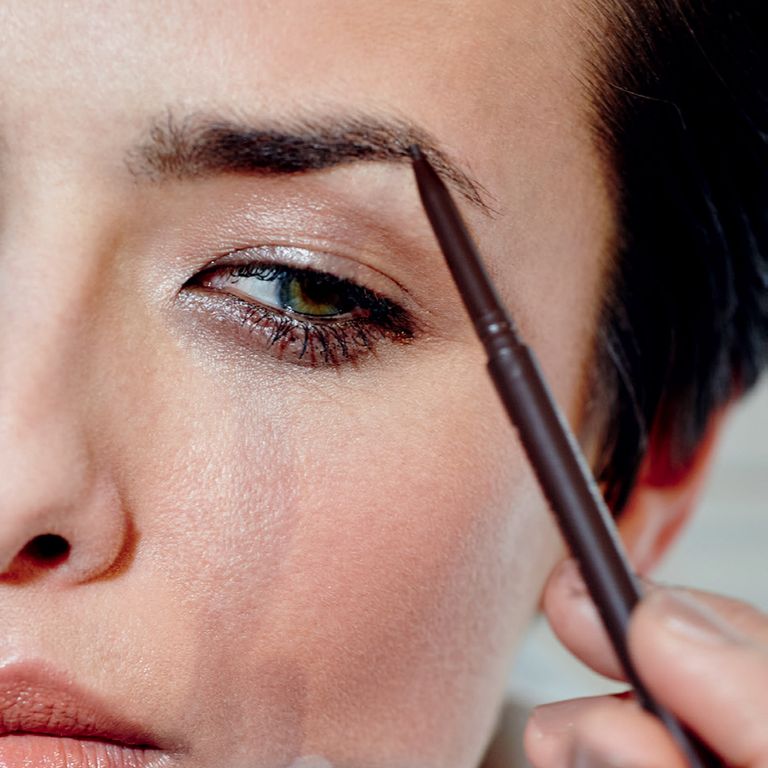 Saying eyebrows are 'in' is a bit like claiming the same of jeans or red lipstick. The reality is, from Audrey Hepburn and Liz Taylor right up to Cara Delevigne via Brooke Shields, we've always been obsessed with great brows and keen to find ways to emulate the shape and style of the day.
As a result, how to fill in eyebrows isn't exactly a new dilemma, but the answer to this perennial question is now different, because the current mood is for full, youthful, almost wild brows.
And something else has changed: the sheer volume of products and techniques out there that can help you perfectly frame your face. Products come in every texture imaginable from skinny twist-up pencils for filling in hair, powders to softly deepen your shade and felt-tip style markers for a strong shape and staying power.
So what do you need to know?
How to fill in eyebrows
First, make sure you have the right kit. You'll need:
a magnifying mirror


a brow comb


your product of choice
Chose the right shade go one shade darker than your natural colour, and unless you're a redhead avoid warm browns (strangely omnipresent, they always look orange in daylight).
Master this simple technique: brush hairs up in front of maginifying mirror to see where the gaps are in your natural shape. Avoid filling outside the line of your natural brow, or where it would be if it hadn't been over-plucked. "Start 2mm in from the beginning of the brow," says Eyebrow guru Shavata Singh. "Use light strokes as if you're painting rather than colouring in, then blend so it's as natural as possible."
Best brow products
To softly shade in gaps, deepen the overall colour and set in place:
Benefit practically own this area with a whopping 13 brow products including this very useful shading powder and setting wax duo Brow Zings, which comes with a little double-sided brush that extends to a genuinely easy to control size (so rare!)
BUY IT NOW at benefitcosmetics.com for £26.50
To draw in hairs on naturally fuller brows and create a strong shape:
YSL Couture Brow Marker has a clever angled nib so you can draw in fat or skinny hairs as you wish. The pigment looks soft but stays put come rain, shine or sweat.
BUY IT NOW at yslbeauty.co.uk for £21.50
To fill in skinny hairs on sparse brows and lightly exaggerate your shape:
Shavata Defining Pencil is a twist-up stick of creamy, blendable colour that always stays sharp, comes in life-like cool tones and is so skinny it's foolproof.
BUY IT NOW, at Shavata.co.uk for £15
To build up volume, set wayward hairs in place and add a touch of colour:
Charlotte Tilbury Legendary Brows is a buildable gel that benefits from the tiniest little brush we ever did see - brow hairs are individually bolstered and set in place without ever being overloaded.
BUY IT NOW at Charlottetilbury.com for £18.50
Finally, always remember the hackneyed but no less true tip: Your eyebrows should be sisters, not twins. Trying to make them match exactly usually results in one being overly drawn inand looking unnatural.