Beauty Pie: Everything you need to know about the cult brand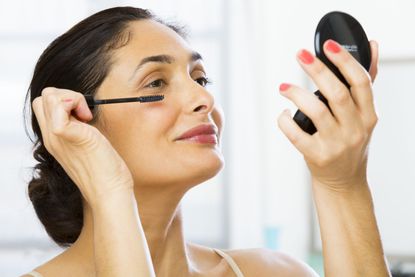 Chances are, you've already heard of Beauty Pie. What started as a quiet beauty revolution in 2016 has grown to cult status, changing the way we shop for beauty.
The big idea driving the brand is simple. Dreamed up by powerhouse entrepreneur Marcia Kilgore, Beauty Pie (opens in new tab) works to strip out the middlemen, working directly with the labs and factories to deliver high-quality skincare at high-street prices.
Having previously founded Bliss, Soap & Glory and Fitflop, Marcia is not only brimming with bundles of insider knowledge, but has forged long-standing relationships with forward-thinking labs in Italy, France, Switzerland, Japan and Korea.
Who can use Beauty Pie?
Accessible to everyone, not just beauty insiders and obsessives, Beauty Pie is online only – but you have to become a member to get the best prices.
How does it all work?
Membership works on a tier system, priced from £5 to £20 a month. Each tier then has its own 'spending limit' from £50 to £200. It's a little complicated but essentially, the more you pay per month, the more money you can spend on the website.
The only downside is that the spending limit applies to the 'typical price', not the 'members price'. The difference between these can be huge, varying by as much as £95. This means you might find yourself at the upper end of your spending limit sooner than you thought. But the good news is that if you don't spend all of your allowance one month, it just rolls over into the next.
How do Beauty Pie work out the 'typical prices'?
So how do they tot up their 'typical prices'? Beauty Pie believe that when you buy a high-end beauty product, the price tag is not 100% reflective of the ingredients inside. Instead, Marcia explains it's been calculated to cover 'middlemen, the celeb marketing, the retailer mark-ups'.
Because Beauty Pie don't spend money on middlemen, the low price reflects how much it costs to manufacture a product of this standard. By cutting down on overheads, they can sell brilliant, hard-working beauty buys at a much lower price.
What happens if I've used up all my spending limit on Beauty Pie?
If you can't wait until next month to replenish your empties or get your mitts on the next big thing, there are still ways to bump up your spending limit.
First up, PIEDAYS. These run for all members when there's a healthy amount of warehouse stock for one product, letting you shop that item without using up your spending limit. They're normally announced on social media and via email, so don't forget to check your inbox.
For anyone that's splashed on an annual membership (paid in full in advance) you will gain access to V.I.PIEDAYS. Sent to you via email, you can shop for all of your regular favourites without limits.
There's limitless shopping too. Something all members can take advantage of, it builds a membership contribution into the price of each product – letting you take advantage of 'limitless' spending at a slightly higher fee without blowing your monthly limit.
What should I try from Beauty Pie?
Japanfusion Pure Transforming Cleanser (opens in new tab), £5.87 for members
A dreamy way cleanse to wash away daily dirt and grime. Massaged onto dry skin, it feels like a gel at first, before melting into an oil and transforming into a milk when you add water. Skin feels squeaky clean with no uncomfortable tightness.
Brazilian Lime, Fig Leaves & Tea, (opens in new tab) £17.21 for members
One waft of this and you're sitting on a beach, cocktail in hand. The zingy mix of lemon, limes and orange keep it really fresh, with cedarwood and amber adding depth. Clean and confident, it's the perfect everyday scent.
Clean House Candle (opens in new tab), £14.27 for members
Turn your home into an oasis of calm, even when the reality is piles of washing and an overwhelming amount of dishes to deal with. Smelling just like freshly laundered sheets, the mix of lavender, freesia and magnolia is light and not too girly.
Flawless Foundation Blending Sponge Duo (opens in new tab), £4.86 for members
Not all beauty sponges are created equal, and these are a cut above the rest. Soft, bouncy and free from latex they blend foundation seamlessly – with no tell-tale lines or strokes. Use damp for a dewy finish or dry for matte.
Jess Beech is an experienced fashion and beauty editor, with more than eight years experience in the publishing industry. She has written for woman&home, GoodtoKnow, Now, Woman, Woman's Weekly, Woman's Own and Chat, and is a former Deputy Fashion & Beauty Editor at Future PLC. A beauty obsessive, Jess has tried everything from cryotherapy to chemical peels (minus the Samantha in Sex and The City-worthy redness) and interviewed experts including Jo Malone and Trinny Woodall.