Chickpea Recipes
says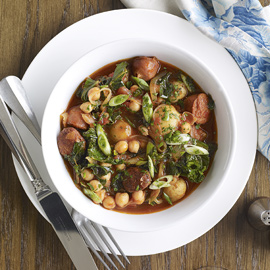 Chickpea recipes are super healthy and really filling – not just for making into houmous, you can also cook them in a curry, bulk out a salad with them or make burgers with them amongst many more recipe ideas!
Chickpeas are a legume that is very high in protein, which makes it a diet-friendly ingredient. You can either buy them tinned or dried, with the dried option taking a significantly longer time to prepare. Once cooked they can be enjoyed hot or cold, as you prefer.
Chickpeas aren't just for vegetarians, they're a great option for carnivores too as they make a great accompaniment to meat in Middle Eastern dishes, for example our spiced couscous and chickpea salad is great served alongside some slow-roast lamb.
If you want to be super healthy, then our chickpea, chorizo and kale stew is ideal as it contains around 350 calories per serving only as well as being really filling and delicious comfort food.
For a great vegetarian option, choose north Indian chickpea, lentil and squash curry. If you make up a batch on the weekend then you can easily carry on enjoying it for lunch the following day or even supper. This extra time makes it even more delicious if anything as the flavours have a longer period of time to come together.
You can also add chickpeas to a soup like in our Spanish chickpea soup with spinach and tomato. This is another recipe that's high in protein and super nutritious. At 280 calories per serving it's very diet-friendly so you know you can't go wrong by choosing it. It can also quite easily be made as a starter at a dinner party and both vegetarians and carnivores alike will love it.
Chickpea recipes are so diverse, with so many options ranging from houmous to chickpea soups, stews, burgers and salads that are great as a side dish or main meal, for both vegetarians and carnivores.
Delicious Chickpea recipes