With Meghan Markle and Prince Harry clearly closer than ever, engagement rumours between the couple have certainly stepped up a notch.

Most recently, Meghan spoke out about their relationship in an interview with Vanity Fair, revealing that they were very much in love.
The Suits actress then turned up to support royal boyfriend Harry at his Invictus Games in Toronto - which was their first official appearance together. The pair put on a loving display, only reaffirming how much they enjoy each other's company.
But this display of affection only encouraged more speculation that the pair are preparing to show their commitment to one another with marriage.

But unlike Harry's older brother William, Prince Harry's wedding wouldn't be quite so grand - well, at least in terms of royal expectations.

Given that Harry is sixth in line to the throne, while William is second, he and Meghan would likely be able to have a more low-key affair if they were to get married.
Unlike the Duke and Duchess' ceremony at Westminster Abbey, and the accompanying fanfare, it's thought that Harry's ceremony would be more informal, as it's probably unlikely that he'll ever be King.
And according to a source speaking to Us Weekly, that's exactly the way he would want it, too.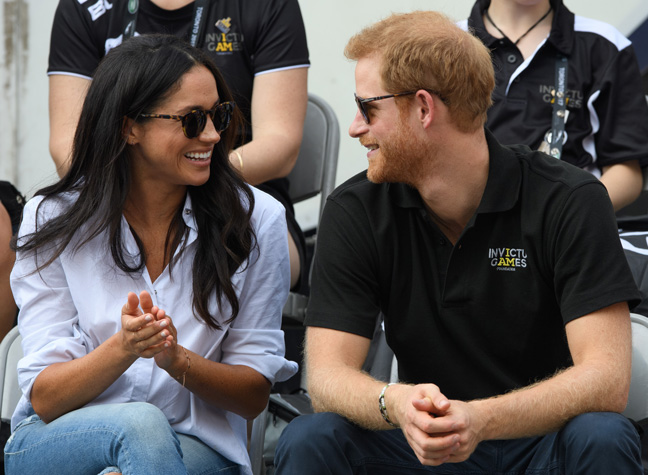 Prince Harry has famously spoken about craving a normal life. And it seems he'd want his and Meghan's big day to be as far from royal circumstance as possible.
According to the source, "Pomp and pageantry is the last thing he would want. I can see him wanting to get married at St George's Chapel at Windsor Castle.

"It would stop it from turning into a total media circus and give the day a sense of privacy that Harry so badly craves."

St George's Chapel is safely ensconsed within the walls of the royal residence of Windsor Castle, meaning that the pair would be safe from the prying eyes of the public and paparazzi on their big day, should they choose to get married there.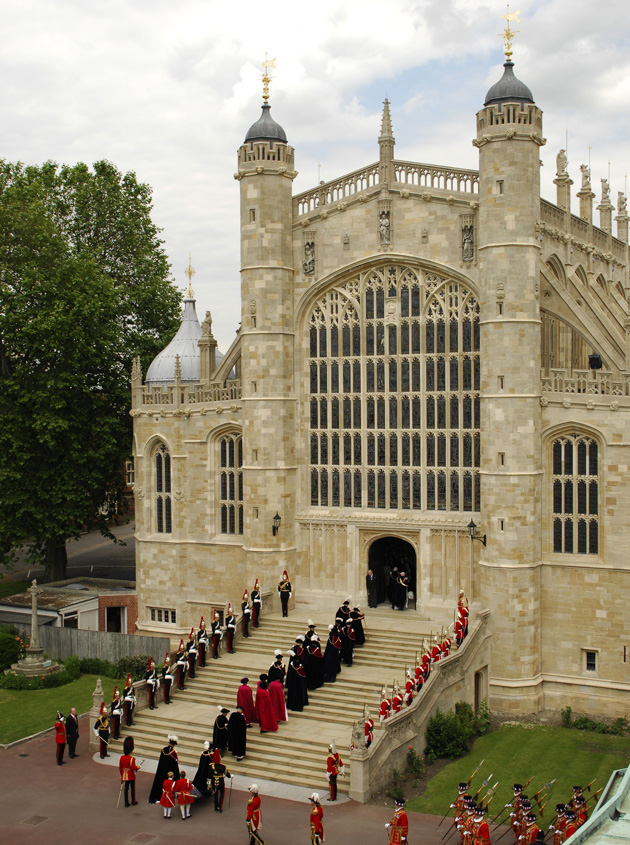 (St. George's chapel)
However, if the couple did want to get married at Westminster Abbey, they would certainly be able to. Concerns had be aired that due to Meghan's previous marriage, and subsequent divorce, the couple wouldn't be permitted to wed in the Abbey.
But a spokesperson for the Abbey confirmed to the Express, "The Abbey follows the General Synod Ruling of 2002. Since then it has been possible for divorced people to be married in the Church of England."

Although a wedding between Prince Harry and Meghan might not be an utterly formal affair, the event would of course be full of royal attendees, meaning that Harry's grandmother, the Queen would also be there.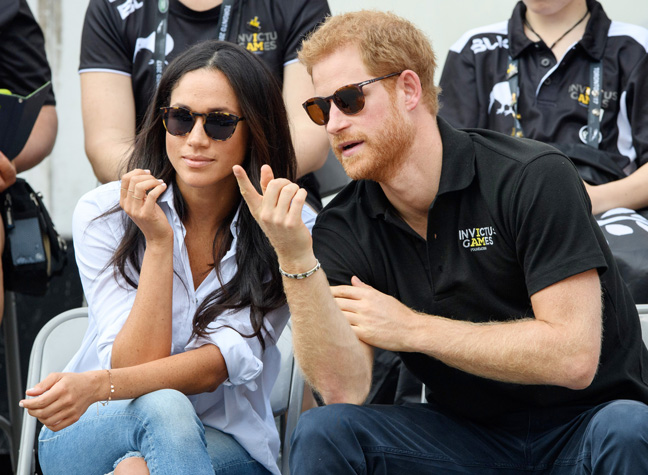 When asked by the publication if she'd attend, the source stated, "Of course. No question."

But what else would be involved in Prince Harry's wedding? Meghan Markle's wedding dress has been the subject of much speculation ever since rumours of their engagement started - despite the fact that no official engagement has actually been announced yet.
Meghan Markle wedding dress...
Australian magazine New Idea reports that Prince Harry may have called on a very famous friend to help design Meghan's dress. Reportedly, the royal is pushing for close family friend Victoria Beckham to have a hand in the actresses wedding dress!
Victoria and David both attended the Duke and Duchess' wedding, and have been spotted with the family on mutiple occassions.
A source reportedly stated, "He just feels it would mean a lot to have a close friend like Victoria involved in such an important part of the wedding.

"He is certainly trying to steer Meghan in that direction - he's incredibly excited at having Victoria design her gown."
In an interview with Glamour magazine, Meghan also hinted at who she might turn to to design the dress for her special day.

She spoke fondly of her love of romantic, whimsical wedding dresses - including those by designer Elie Saab.
She said, "I personally prefer wedding dresses that are whimsical or subtly romantic. Delphine Manivet and Christos Costarellos are faves of mine for their uniqueness and beauty. And I wall always be a fan of Elie Saab. J.Mendel is spectacular as well, especially for more structural designs."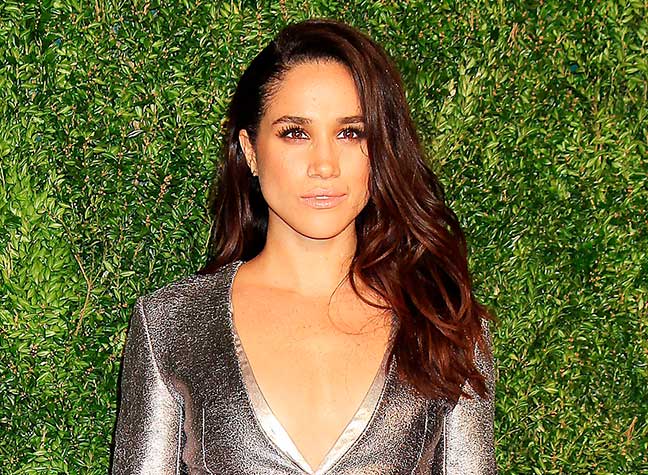 In the same interview, she also admitted that there are a lot of similarities between hers and her character Rachel in Suits' wardrobe - "A lot of my personal style is reflected. I like monochromatic and tonal dressing and I don't generally wear prints, and neither does Rachel now."
During the Suits season six finale, Rachel wore a gorgeous bejewelled strappy wedding dress with a long, pronounced skirt. So could this provide a hint of what Meghan may be dreaming of for her own wedding dress?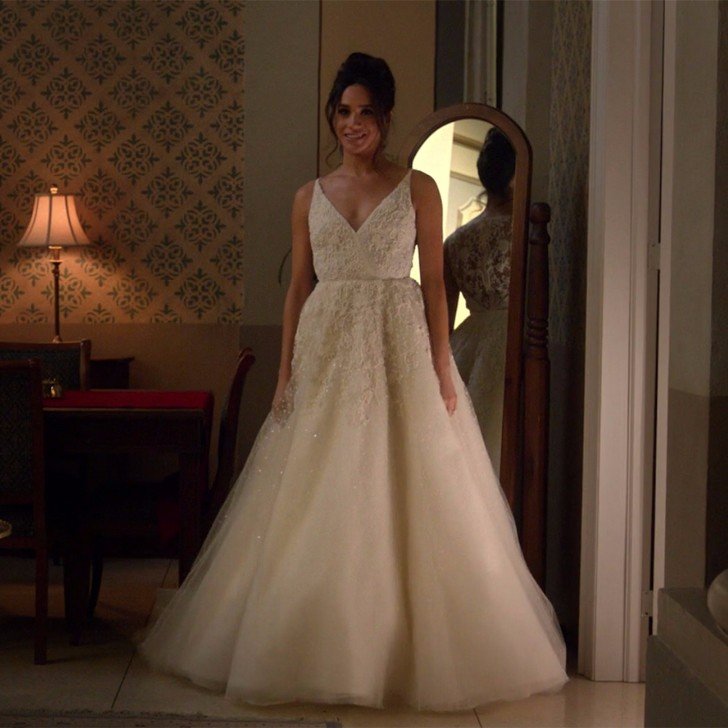 It's also been rumoured that the pair would hold their lavish wedding reception at Holyrood Palace, the Queen's official residence over in Scotland.
The 12th century palace houses a range of stunning apartments and huge sprawling gardens and ground - which would likely make for the perfect setting for any wedding day.
Continued below...
We can't wait to see what the pair do decide to do for their big day...