15 villas with va-va voom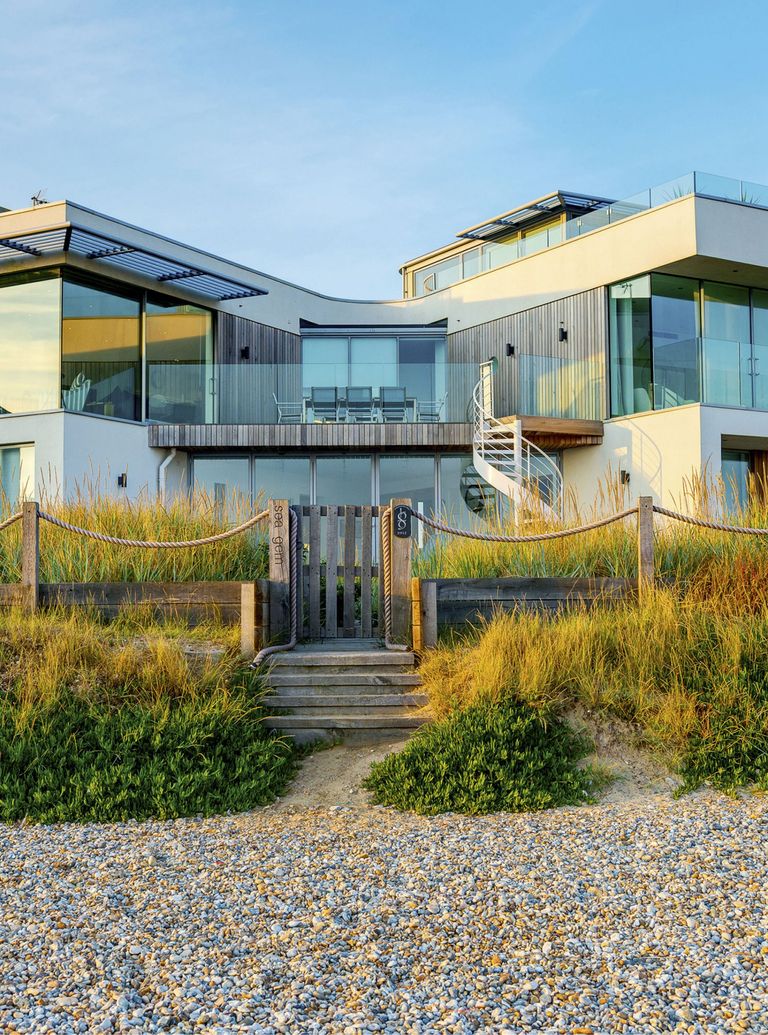 Looking for a villa? Expand your search further afield, and find fantastic settings, hi-spec interiors and luxurious extras...
Escape to the coast
This jaw-dropping, architect-designed home is stunning - and the view of the beach isn't bad either!
Full of modern glamour, it combines style and back-to-nature simplicity. Designed in a V-shape to provide views along the coastline as well as out to sea, it has impressive floor-to-ceiling windows. Natural light floods in and highlights the natural limestone and solid oak floors.
A south-facing decked terrace outside overlooks the beach - perfect for relaxing on with a gin and tonic. For the kids (or adults who haven?t grown up), there's a games room on the ground floor, with 46in flatscreen TV and Wii console. Bedrooms are decorated with a tasteful nautical theme - think bold stripes in contrasting shades of blue and white, and elegant greys.
Cook in the state-of-the-art bespoke kitchen (appliances include Dualit and Miele) - all open-plan, it's a great entertaining space as it opens on to the living and dining area, opening on to the terrace. Wake up to the sound of the sea, as the master bedroom on the first floor looks straight on to the beach.
Camber is one of the closest stretches of sand to London and the only dune system in East Sussex. Its sweeping landscape has featured as the location for several films and TV series, including The Monuments Men (starring George Clooney) and The Invisible Woman (starring Ralph Fiennes).
There are plenty of great food opportunities too - The Ship at Winchelsea Beach (shipwinchelseabeach.com (opens in new tab)) has a butcher's shop and food hall attached. The Gallivant Beach Bistro (thegallivant.co.uk (opens in new tab)) uses delicious locally sourced produce, and is a key part of Cool Camber. And make sure you visit nearby Rye - a walking tour with audio guide will help you discover the secrets of this picturesque historic town (ryeheritage.co.uk (opens in new tab)).
A week costs from £3,000 through Alastair Sawday's (sawdays.co.uk (opens in new tab)) or call 01797 224754 to book. Sleeps up to 8.
Best Villas in South Africa: Ellerman House
Stay in style in South Africa's capital One of Cape Town's finest boutique hotels, Ellerman House, is home to two villas; each one has three bedrooms, looks out onto stunning views of Bantry Bay, and is very private. Both villas are decorated to an unbeatably high standard, and benefit from some incredible facilities, including a wine gallery containing over 7,500 wines (many of which are, of course, South African...) and a spa (one first floor of Villa One). Both villas have an infinity pool, light-filled living areas with natural stone and wood finishes, and access to a private chef. If you can bear to leave, the compelling city of Cape Town has plenty to offer visitors, from catching a cable car up Table Mountain, to visiting a penguin colony or - if you're brave enough - diving with sharks! Nightly rates start from £350 on a B&B basis; book via www.ellerman.co.za (opens in new tab)
Best Villa in Bulgaria: Villa Gella
Lose yourself in the mountains... Villa Gella is a fabulous new, chic and contemporary six bedroomed villa, perched high up in the Rhodope Mountains in southern Bulgaria. Its stunning location means it's perfect for a summer visit, when you can enjoy hiking the mountain trails, go horse riding, or bike through forests; or in winter, when you can ski at the nearby Pamporovo resort, or take a husky ride through the trees. Whatever your preference, you will be relaxing afterwards in your gorgeous bedroom; each has its own en suite bathroom, fireplace and fabulous views of the mountains. The villa also features an indoor pool, large sitting room and outdoor terrace area, and is fully serviced with an in-villa manager and chef so you won't have to lift a finger...If you fancy going further afield, the ancient city of Plovdiv is 90 minutes away, and just 20 minutes from Pamporovo are ancient monasteries, churches and prehistoric caves to explore. 7 nights at Villa Gella costs from £600 per person on a half board basis, including an in villa chef and some wines. Price based on 12 people sharing. Villa Gella is easily accessible with Ryan Air flights from London Stansted to Plovdiv. For further information visit www.villagella.com (opens in new tab)
Best Villas in South Africa: Gondwana
Safari on your doorstep... Imagine waking up to the sight of giraffes or elephants, from your bedroom window. Well, the Gondwana bush villas, on South Africa's beautiful Garden Route, mean that you can. Situated on a stunning game reserve, these three and four bedroom villas are stylishly decorated and equipped with all mod cons, but the real draw is the animals. Get up early for the game drives where you can spot the Big 5 in their natural habitat (lions, cheetah, buffalo, elephant and rhinos); or go on nature walks, mountain biking or birdwatching. For the more adventurous, there is deep sea fishing or paragliding, or you can just relax on the beach. This is one holiday you'll never forget....Rates start from R1,550 (ca. £118) per person per night. Choose from a variety of package options including bed, breakfast and game drive, half board or full board. Children Under 6 stay FREE and child rates are available. Further information on www.gondwanagr.co.za (opens in new tab)
Best Villa in Jamaica: Fleming Villa
Channel your inner spy at Ian Fleming's former home The original Ian Fleming Villa, where the Bond creator wrote all of his novels, is located in Oracabessa Bay, Jamaica. The Fleming Villa - along with its satellite cottages, Pool House and Sweet , is all about privacy. It provides guests with unique features such as the private Fleming Beach (exclusive to Fleming Villa) and pool, and a state-of-the art media room. You'll also have access to the villa's own dedicated staff, which includes a butler, housekeeper and cook. The Fleming Villa sleeps up to ten people in five individual bedrooms and allows its guests to indulge in activities ranging from water sports to fishing trips and al fresco dining options. Prices start at £4,681 ($7,100) per night. For more information please visit www.theflemingvilla.com (opens in new tab)
Best Villas in South Africa: La Grange
Book yourself into luxury villa nestling amongst the vineyards The historic village of Franschhoek is reknowned for its historical winelands, and now youc can stay just a short stay away in one of four magnificent villas belonging to upmarket property company La Cle des Montagnes. Each is custom-designed in a different style, but w&h loves La Grange, which has a traditional, classic feel, with decor reminiscent of a Victorian farmhouse. Sleeping up to six guests, bedrooms feature deep-buttoned, rollback beds, while the walls and furnishings are comprised of solid woods and elegant textures; the warm palettes used reflecting the seasonal hues of the surrounding orchards and vineyards. There is an outdoor pool with a magnificent view over to the nearby mountains, and you will have access to a 24 hour concierge and butler. Franschhoek itself features 40 wine cellars, and a higher concentration of award winning restaurants than anywhere else in South Africa, so this will be a gourmet trip to remember! African Pride (01904 619 428/ www.african-pride.co.uk (opens in new tab)) offers a 5 night Cape Escape staying in a luxurious private villa at La Clé des Montagnes in Franschhoek, South Africa?s gourmet capital from £2,498 per person, including flights and car hire. This price is based on two people sharing, travelling in September 2015.
Best Villa in the British Virgin Isles: Baraka Point
Family fun for kids and adults alike... Drift off to the sound of the waves at one of five sumptuous villas situated on Virgin Gorda. We love Baraka Point, perfect for families, as it has five ocean view suites and four children's bedrooms. The villa boasts a vast al fresco dining area with a giant shade - made from a sail - which offers sanctuary from the midday sun. Beyond the infinity pool an emerald green lawn leads to a spectacular seaside deck sunken into boulders - it's the ultimate chill-out space by the sea. Budding rock stars can sing along to their hearts' content with the Baraka Point Karaoke Machine - safe in the knowledge that no one else will be disturbed! The staff of Baraka Point even run a complimentary 'Kids Club', so you don't have to worry about entertaining the little ones while you relax; they can do anything from guided snorkelling to tortoise racing and pirate treasure hunts. The villa sleeps up to 14 (max. 10 adults). Weekly rates start from £11,983, including transfers and a daily private chef service; visit www.barakapoint.com/the-estate (opens in new tab)
Best Villa in Bali: The Soori Estate
Live like an A lister in paradise Located on the beachfront along the southwest coast of Bali, Alila Villas Soori lies just 20 minutes from Tanah Lot Temple, one of Bali's most sacred and most visited temples, and over an hour from Ngurah Rai International Airport. It's already a firm favourite with celebrities such as chef Heston Blumenthal, because of its seclusion, stunning coastline and rice paddy setting. This is luxury of the highest order; set over 5,250 sqm on an untouched beachfront landscape, the ten-bedroom residence blends contemporary Asian architecture with modern technology throughout. The estate comes complete with its own private pool and outdoor entertaining space. Bali is home to amazing entertainment and the Soori Estate will arrange everything from fire-eaters, fire dancers and stilt walkers to DJ's on the lawn and firework displays on the beach. Guests can also enjoy private Yoga classes by their pool; golf; trekking and cycling; one-on-one cooking classes in the villa and mixology cocktail lessons on the lawn. Food wise, in addition to several dedicated chefs, menus are completely tailored and can include authentic dishes like the volcanic rock chicken, which is cooked slowly for 24 hours in a fire pit under the sand. Tables and chairs can also be carved out of the sand, creating a sunken entertainment space right on the beachfront. For those who can bear to leave, the main attraction is the stunning setting ? a remote corner of west coast Bali and UNESCO world heritage site - where village life continues as it has done for centuries. One-night private hire costs from £6,610 (sleeps up to 20 guests); book via www.alilahotels.com (opens in new tab)
Best Villa in Barbados: Bellevue Plantation House
Enjoy life in a traditional plantation house Be transported back in time with a stay at the gorgeous and historic Bellevue Plantation House in Barbados. Set within three acres of private grounds, containing a pond and a variety of indigenous tropical vegetation and mahogany trees, the House - built between 1735 and 1750 - comprises six guest rooms (four on the upper and two on the lower levels) plus a separate self-contained cottage with two more guest rooms (eight rooms altogether). There is also a spacious family room with wi-fi, a study, two dining rooms, patios and verandahs for informal dining and cocktails, and a large swimming pool and poolside entertaining area for BBQ evenings and informal meals. It's located ten minutes from the beach and local Holetown with its excellent shopping, dining options and lively nightlife, and guests of Bellevue Plantation House are invited to access the facilities and services of the island?s exclusive Apes Hill Golf Club, and separate private beach clubs Aquamarine Radisson and Port St Charles, located ten minutes away. You'll have access to a housekeeper, gardener and laundress, and a trained chef is available daily on an optional basis for an additional charge (£35). Extra staffing and specialist services including child minders, qualified beauticians and massage therapists, butler service, private car with driver/chauffeur etc. are also available upon request. There is wi-fi as well as ready cable access to the internet, and a DVD player, VCR and TV are all available. Rates start from $850 (approx £552) per night for 8 guests; sleeps up to 16. book via www.bellevuebarbados.com (opens in new tab)
Best Villa in Greece: Akrothea Villa
Indulge in some laid back luxury on the island of Meganissi Meganissi is a tiny island in the Aegean, with a population of less than 2,000, so this is where to come for a sense of peace and quiet. And you will feel a sense of seclusion and utter security at the beautiful five bedroomed Akrothea villa, in the village of Spartochori. Set in 10 acres of grounds, and boasting a gorgeous infinity pool, it houses a triple-sized open-concept living and dining area, and fully equipped kitchen. Access to the surrounding terraces is provided by three wide, floor-to-ceiling sliding glass doors that make the most of the amazing sea and coastal views. Bedrooms are ensuite, while the master suite boasts a panoramic terrace overlooking the pool and the sea. You can see over to the neighbouring island of Lefkada, a short boat trip away, there is an outdoor kitchen and dining area, with a barbecue to grill up a storm with delights from the local fish market, and you'll be cocooned in privacy. Villa Akrothea is available exclusively through The Thinking Traveller, 0207 377 8518, www.thethinkingtraveller.com/thinkionianislands/ (opens in new tab) and costs from £3,383 per week based on 6 people sharing 3 bedrooms or £3,963 based on 10 people sharing 5 bedrooms.
Best Villa in France: Domaine de Manville
Linger among the olive groves and lavender fields of Provence... Located on a former farming estate is the beautiful 5* hotel, Domaine de Manville, in Baux de Provence. However, if you fancy a little more privacy, it is also home to nine private villas; situated close to a stream, and surrounded by open fields, are a selection of three and four bedroom retreats which have all the services of the hotel on hand. The villas are ideal for a private getaway. Guests can settle on the terrace and call on the concierge as they wish, or ask the chef to create a gourmet supper. Set overlooking the golf course, three bedroom villas can sleep six. Each has a large living room and dining area and a fully equipped kitchen as well as a vast outdoor terrace with outdoor furniture. There is also a Nespresso coffee machine, 50 bottle wine fridge and barbecue. Villas are available to rent from ?750 (approx £545) per night based on a 3 night minimum stay in low season (until 31 March 2015); www.domainedemanville.fr (opens in new tab); + 33 (0)4 90 54 40 20
Best Villa In Thaliand: Baan Ling Noi
Live the high life in Koh SamuiBaan Ling Noi, which means 'Little Monkey House' in Thai, is a beautiful spot to hideaway in. Located on a lush hillside with spectacular views over the north coast of beautiful Koh Samui in the Gulf of Thailand, this spacious and luxurious four bedroom, open plan villa is fronted by a 14m x 6m infinity-edge swimming pool that overhangs beautifully landscaped gardens and the tropical jungle below. It's simply but elegantly furnished with contemporary Thai furniture and artefacts, has a large living room and fully equipped modern black granite kitchen. This leads out onto a lovely outdoor terrace. Décor throughout is tasteful and elegant, in dusky greys and petrol blues. All bedrooms are ensuite, while the Master Bedroom - located in a separate pavilion - has a rainforest shower and a big terrazo bathtub. You are only 10 minutes' drive from the nearest white sand beach, and the villa comes with two staff to look after your every need. To book, visit www.baan-ling-noi.com (opens in new tab); rates start at 850 euros (approximately £618) per week.
Best Villa in Italy: Trullo Rosmarino
Follow Dame Helen to Puglia Puglia, in the heel of Italy's boot shaped outline, has been tipped as one of 2015's hottest destinations (even w&h icon Dame Helen Mirren has a home there!). It's known for its distinctive trulli - traditional white washed huts with cute conical roofs - as well as the delicious (and still affordable) food and white Primitivo wine. Trullo Rosmarino is a beautiful example of how traditional trulli which dot the landscape, can be incorporated into modern homes. It's a rural idyll set in three acres of stunningly landscaped gardens - there's an area to have your morning coffee in with a pretty swing, a big lawn to sunbathe on, infinity pool area with sleek loungers and a walled courtyard and herb garden with a big dining table where you can enjoy al fresco meals. Two trullo have been turned into atmospheric bedrooms and a spa-like Hamman insie. The fire pit surrounded by Fat Boy cushions is a wonderful place for an after dinner drink under the twinkling Puglian stars. Keen cooks will love the sleek modern kitchen and delicious welcome pack of local wines, cheeses and fresh pasta. Tamara, the friendly local manager, can arrange an 'in house' cook - an absolute must and at around £25 each reasonable, too. Plus you get to choose from a menu before you even arrive! The countryside around the villa - known as the Valle d'Itria - is a wonderful to explore, don't miss the unique trullo town (and UNESCO World Heritage Site) of Alberobello and the 'white city' of Ostuni. But there's sea and long sandy beaches an easy drive away, too. On a day trip you can reach the Baroque town of Lecce or Gallipoli furher south. Trullo Rosmarino is available exclusively through The Thinking Traveller (www.thethinkingtraveller.com/thinkpuglia (opens in new tab) or tel 020 7377 8518) costs from £3,185 per week based on six people sharing 3 bedrooms, or £3,821 for 10 people sharing 5 bedrooms. You can fly to Brindisi or Bari with easyjet.com from £40.99 one way.
Best Villa in Greece: Villa Zeus Temple
Great for a girls getaway Set over two floors with a beautiful central atrium, this villa has the wow factor. It feels like you?re staying in your very own Greek temple ? yet it?s been recently (and very stylishly) refurbished so there are plenty of mod cons, too! The infinity pool overlooking Lourdas Bay is worthy of Aphrodite herself. With the Med sparkling in front of you and spectacular mountains behind, it?s the perfect place to relax and enjoy the panoramic views. Beautiful landscaped gardens give you complete seclusion and include an outdoor gym and yoga pavilion ? that?s if you can raise yourself from the sun lounger! Hire your own chef and make the most of the al fresco BBQ area including a traditional brick oven. Run by Unique Villas, who look after a portfolio of luxury properties on Kefalonia, the villa also comes with a personal concierge, Graham. He will pick you up from the airport, arrange car hire, give you a mobile phone to contact him on and sort out everything with a smile! Nothing is too much trouble, whether it?s massages around the pool, a Zumba class to work off all the feta cheese, and sightseeing or boat trips. Restaurant recommendations were also spot on ? Lorraine?s Magic Hill (lorrainesmagichilllourdas.com (opens in new tab)) a short walk away in Lourdas serves delicious organic dishes, Denis (deniskefalonia.gr (opens in new tab)) is a gourmet restaurant right on the beach at Trapezaki bay, and the freshest fish is found in Tassia (www.tassia.gr (opens in new tab)) perched on Fiskardo?s chic harbour in the North. Kefalonia is the setting for Captain Corelli?s Mandolin yet despite the success of Louis de Bernieres book and the 2001 film starring Nicolas Cage and Penelope Cruz, it?s still relatively unspoilt, tranquil and authentic. Don?t miss the clear turquoise water and singing boatmen in Melisani cave, the view of Myrtos beach and being serenaded by a modern day Mandolin player at your villa. Sleeps eight in 4 double bedrooms all with an en-suite. There?s 2 upstairs with their own balconies and 2 downstairs. All are a similar size so there?s less chance of arguing over who gets the best room! Villa Zeus is one of Unique?s four new luxury villas costing from £1,613 (?2,159) per villa per week during low season to £6,665 (?8,919) per villa per week during peak season. Unique Villas also offers classic villas from £525 (?699) per villa per week. For further information, or to book, visit www.uniquekefalonia.com (opens in new tab) or call 020 7183 5383. EasyJet (easyjet.co.uk (opens in new tab)) fly direct to Kefalonia from £36.99 one way. Norwegian (www.norwegian.com (opens in new tab)) launches a new route from Gatwick to Kefalonia this April.
Best Villa in St Kitts: Belle Mont Farm
Be at one with nature on the beautiful island of St Kitts New hotel, Belle Mont Farm, on a sloping hillside next to a rainforest, is also home to a selection of self-contained villas, ranging in size from three to four bedrooms. Designed by an award winning architect, they're built from local stone, and decorated in a classic, Caribbean colonial style, they're the epitome of island living. Each has a private infinity pool, and rooms have outdoor rainwater showers. You can choose to cook for yourselves, or invite one of the chefs to whip up a delicious meal using the local ingredients; most of the fruit and vegetables are grown on site at the property's farm. Each villa comes stocked with a selection of wines chosen especially by the hotel's sommelier. For entertainment, look no further than the vast grounds, home to an 18 hole golf course, and there are currently four spa cottages in which you can indulge in a relaxing treatment. Keen gardeners are positively encouraged to spend time on the farm, helping to pick the ingredients and learn more about planting. It's the most luxurious way to get back to nature...Rates start from $1700 (approx £1112) per night; visit www.bellemontfarm.com.
Best Villa in Portugal: Martinhal Beach Resort
Enjoy quality family time in the sunshine Set within a protected natural park near the historic fishing port of Sagres, on the beautiful Algarve coast, is one of Portugal?s finest luxury resorts. Martinhal is also home to a wide range of villas, where you can benefit from the privacy of your own space, but also take advantage of all the resort has to offer. The stylish Garden Houses are arranged around a central pool, where you?ll want to spend most of your time when you?re not at the nearby beach. Inside, they are elegantly furnished, using local materials such as wicker, cork and stone, and the rooms ? decorated by British interior designer Michael Sodeau ? feel light and airy. The views across the resort and the surrounding countryside are breath-taking. You have access to many of the resort?s delicious restaurants - w&h loved the fresh fish and seafood at the elegant O Terraco, accompanied by a beachfront view, and washed down with some fine Portoguese wine. There is plenty to keep yourself ? and the kids ? occupied! Try a range of watersports, from windsurfing to kayaking; try your hand at landing the catch of the day on a fishing trip; or keep fit with one of the many gym classes. You can also take a bike tour of the park to see more of its natural beauty. Sleeps up to 6. Book at Martinhal.com.