Princess Eugenie shared a previously unseen wedding photo showing sweet moment with Prince Andrew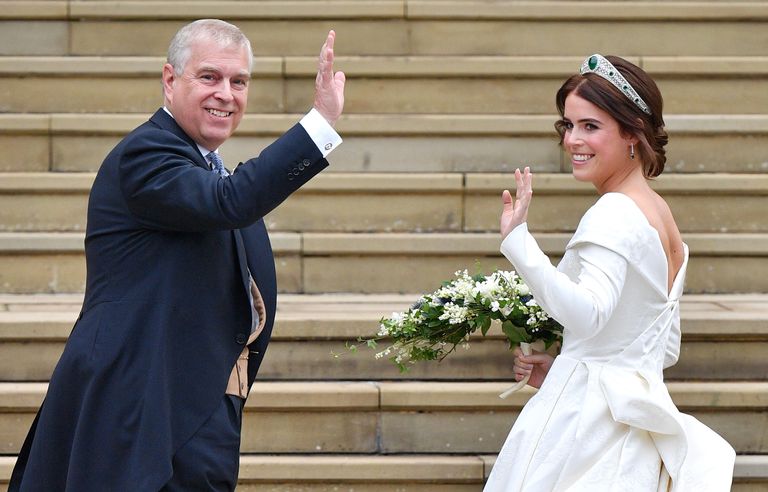 (Image credit: Getty Images)
On Father's Day, Princess Eugenie shared a previously unseen photo of her and Prince Andrew at her wedding.
The photo shows Prince Andrew smiling and embracing Princess Eugenie behind the scenes of her wedding to Jack Brooksbank last year. It was uploaded to Instagram, with a sweet caption that read, "Happy Father's Day to all fathers and of course to my Pups.
"Thank you for many years of happiness and for this special moment on 12th October 2018. @hrhthedukeofyork."
The special moment between Prince Andrew and Princes Eugenie was shared to 992k followers, with many royal fans taking to the comments to share their support.
One follower said, "The most beautiful bride of 2018. Happy Father's Day Prince Andrew!"
Another agreed, "This beautiful picture captures such a precious moment 💗."
Many fans also commented on Princess Eugenie's wedding dress, which she had specially designed to show off her scoliosis scar. The royal is a patron of Royal National Orthopaedic Hospital, where she had surgery on her spine at 12 years old.
"Thank you for raising awareness. I wish I had taken up the offer of surgery 36 years ago when I was a teenager. #wonkyback 💜," one follower commented.
"Thank you for raising awareness for those going through what you did. Until your wedding day I hadn't realised you'd had such a big op. Hats off for being so open about it," another agreed.
Princess Eugenie has previously spoken about why she chose the dress. Because of the importance of the RNOH to the Princess, she wanted to honour them with the design.
"[It's] a lovely way to honour the people who looked after me and a way of standing up for young people who also go through this," she said.
MORE: Prince William and Kate 'deeply saddened' over royal convoy crash that left woman seriously injured

"I think you can change the way beauty is, and you can show people your scars and I think it's really special to stand up for that."
The Princess has also commented on her experience with the hospital, saying "I'm living proof of the way in which the RNOH can change people's lives."