This video of Ed Sheeran celebrating 100 million Spotify followers is absolutely hilarious
To mark a pretty awesome Spotify-related accomplishment, Ed Sheeran enlisted the help of his unenthusiastic crew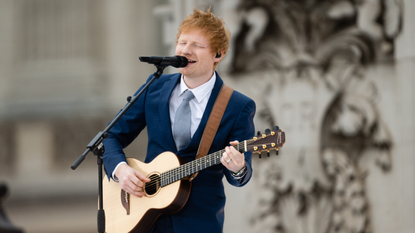 (Image credit: Samir Hussein / Contributor)
Congratulations are in order for Ed Sheeran, who has officially become the very first artist to reach 100 million followers on Spotify in the history of the music platform.
To mark the occasion, Ed, whose daughter's unique name was just revealed last week to the surprise of his fans, wore a T-shirt that read: "ASK ME ABOUT MY 100 MILLION SPOTIFY FOLLOWERS."
Ed's crew's hilarious reaction to his choice of wardrobe and his accomplishment was put on blast on the artist's own Instagram account, in a video posted while on tour.
The clip starts off with Ed explaining that Spotify actually sent him the T-shirt after he hit 100 million followers.
"So I'm going to walk around this stadium and ask people about my 100 million followers because they're all going to be so excited for me," the 31-year-old singer-songwriter says in the video.
Ed captioned his post, "Needless to say, everyone around me is pretty excited about it x @spotify." Spoiler alert: he was being completely sarcastic as the clip shows his crew to be anything but impressed by his feat.
---
The first person that Ed walks up to has absolutely no reaction to the musician's choice of wardrobe and simply stares at him, which is exactly what happens with another one of his crew members. Finally, someone else simply says, "whatever."
But the video ends with a shot of singer-songwriter Misie Peters, who is currently touring with Ed and is actually very excited about the happening.
"A hundred million Spotify followers! Do you have a hundred million?," she says excitedly on camera.
For what it's worth, we find Ed's new record to be astounding, as is the just-revealed Spotify ranking of other incredible artists, including Ariana Grande, who has over 80 million followers. Billie Eilish lands at number three with over 66 million fans, followed by Drake (over 65 million followers) and Justin Bieber (over 63 million followers).
As fans of Ed know, the talented artist happens to be a bit of a jokester and certainly has a sense of humor. Who can forget the time he teamed up with actor Courteney Cox to re-create the iconic routine that she performed with David Schwimmer on Friends?
At the time, Courteney and Ed shared a video on their respective Instagram accounts, where they are seen hilariously performing the same exact routine that fans of Friends still talk about today and probably have memorized.
Thanks for the laughs, Ed!
Anna Rahmanan is a New York-based writer and editor who covers culture, entertainment, food, fashion and travel news. Anna's words have appeared on Time Out New York, the Huffington Post, Fortune, Forbes, Us Weekly, Bon Appetit and Brooklyn Magazine, among other outlets.