The Cruise captain faces huge challenge as he tackles the windiest city in the world tonight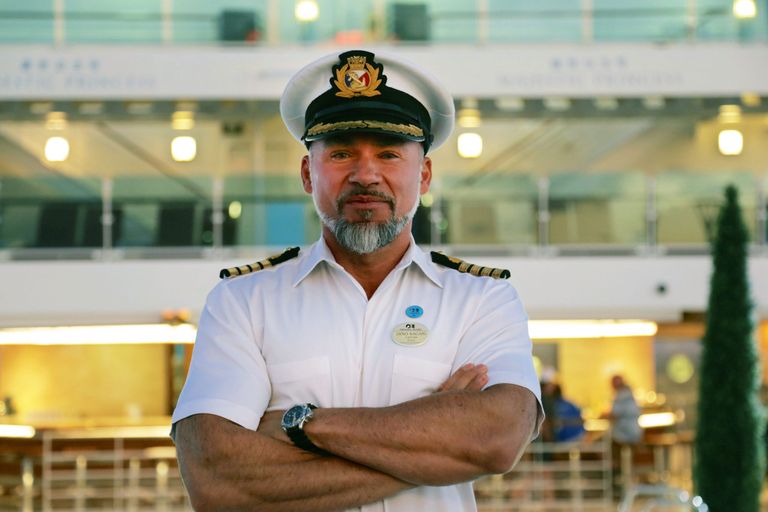 Captain Dino must hold his nerve in the ITV show tonight.
Steering the Majestic Princess - the biggest, newest, and most luxurious sheep in the fleet - on its maiden voyage is pretty challenging at the best of times, but this evening in ITV show The Cruise Captain Dino Sagani takes the vessel into one of the wildest places on the planet.
The charismatic Italian captain, his 1,500 strong crew and almost 5,000 passengers head tonight into 'Windy Wellington'- the capital of New Zealand and, yep, the windiest city in the world!
And, unfortunately for Captain Dino, Wellington is living up to its name as high winds whip ferociously off the mountains, making for a huge navigational challenge for the bridge team.
Dino must have his wits about him as he keeps The Majestic Princess, which is seen travelling from Shanghai to Sydney in the six-part series, on a steady course.
Meanwhile, also tonight in The Cruise Karen - Food & Beverage Manager - and Customer Service Director Ren must step up as Hotel General Manager Jasper goes on leave. But, the pair have their work cut out as they face one of the ship's busiest turnaround days in Auckland. Are they up to the challenge?
Among the Majestic's army of merry passengers Chris and Julie Edwards, who are staying in a cheaper interior room, get to see how the other half live after scooping an invite to the penthouse suite. Will they ever want to go back to their room after seeing it?!
Next week in the final episode of The Cruise, the ship will have a very special guest on board - critic Claudia. The critic from Arizona will be looking at the breakfast buffet - and she'll be taking her views to the very top!
Fittingly, the series will also leave one of the best views in the world until last as The Cruise comes to end in the world famous Sydney Harbour.
The Cruise continues tonight on ITV at 8.30pm