Caroline Dinenage: "I Want Girls To Know There Are No Boundaries For Their Talents"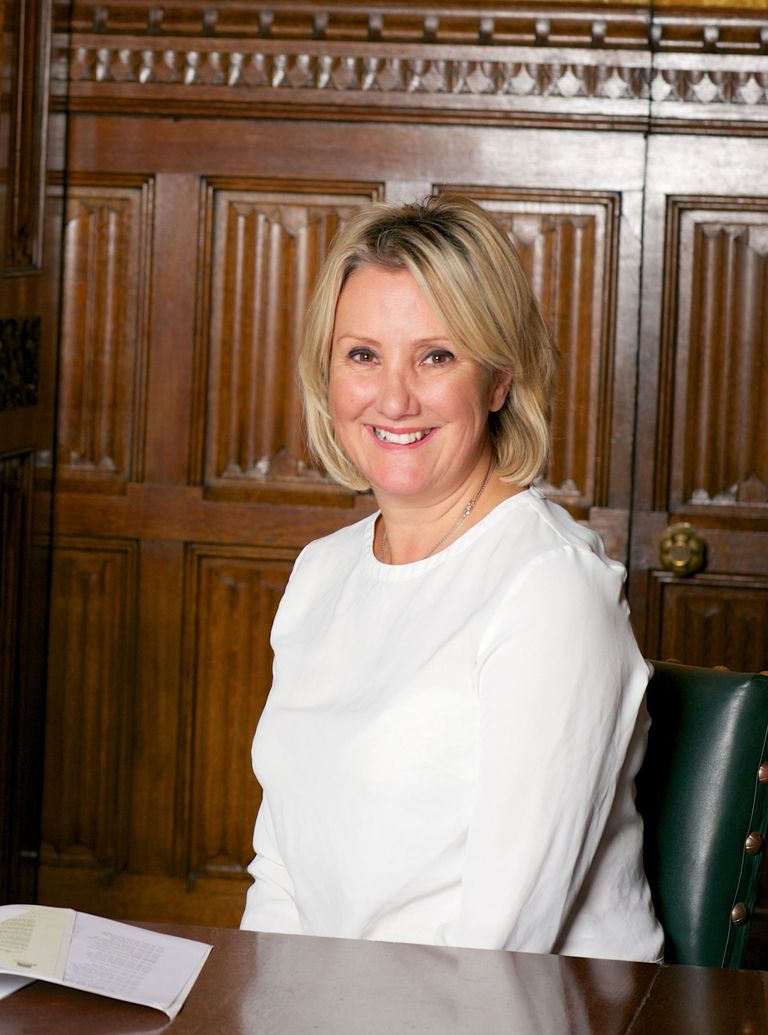 Caroline Dinenage is the Conservative MP for Gosport, Hampshire, where she lives with second husband, fellow MP Mark Lancaster. She has two sons, aged 14 and nine, from her first marriage. Her father is broadcaster Fred Dinenage.
Everything that has happened in my career has been unexpected. I didn't start off wanting to be an MP; I loved books and writing and wanted to be a journalist. Growing up, I wasn't aware that my dad's job as a TV presenter was unusual. I didn't have a "celebrity" childhood in any way. I was raised in Hambledon, a village in Hampshire, and have twin siblings ten years younger than me.
My mum is incredible and a really inspiring role model. She didn't have a strong academic background but she was hardworking. She began a business called Badgeman, which brought the idea of name badges from the US to the UK in the 70s. It started in my playroom, then grew to the garage and when I was about 17 she finally got a factory unit away from home.
I'd started my own business before I went to university and that was because of my mum. She had a bit of machinery that plots and cuts vinyl so I used it to make signs for vehicles and above shop windows.
My move into politics at the age of 25 wasn't planned. My mum had had pneumonia and was struggling to recover, and meanwhile Hambledon was flooded and it felt like no one was doing anything about it. I was still running my business and one day, I was moaning about the flooding to a client, a retired brigadier. I didn't know it, but he was also the chairman of the local Conservative Party. He said, "Why don't you do something instead of just complaining? We've got a vacancy for the local elections in May. Why don't you stand for the Hambledon seat?" - so I went blindly knocking on doors. I won - and became the youngest councillor in Winchester's 1,000-year history!
The Gosport seat is the one I'd always wanted - an area I know and love. I never expected it to come up but the incumbent had to stand down after the expenses scandal, so I applied for it and got it. I found the election and all the campaigning very bruising. Everyone assumes politicians are very thick-skinned. Actually, I'm sensitive and I take criticism personally.
My first day as an MP was overwhelming. Suddenly, you're at the top of this mountain and it's both exciting and terrifying.
Nothing can ever really prepare you for what it's like getting the call to go to No 10, and being asked by the Prime Minister, then David Cameron, to join his team. I was actually in the car wash when the PM's office rang - a bit embarrassing!
It was certainly a dream promotion for me. At this point I had been Parliamentary Private Secretary to Nicky Morgan (the Minister for Women & Equalities at the time) for a year. So I was already involved in the role and was emotionally invested in what we were working towards.
Being an MP is an unusual job and it does put a lot of pressure on you. In a funny way, it's helpful that my husband is an MP too, as he really understands the role. We have a lot of shared interests outside politics so it's amazing how little we do discuss work at home.
Career-wise, I'm proud of how far we've come in terms of equality. I think back to when my children were little and I was almost literally working to pay the childcare - an issue many mums have experienced. We've done things to ease that - introduced more flexible working, shared parental leave and the 15 hours' childcare, which later this year, we're extending to 30.
Tackling the gender pay gap is one of the most important parts of my job. Back in the 90s, the gap was around 30 per cent. Now it's down to around 18 per cent - though obviously that's still 18 per cent too high.
This is a big year for my department because we're introducing new laws to provide more. From April, employers with more than 250 staff will have to publish their gender pay gap figures and bonus pay gap figures. For the first time, they'll be held accountable. New employees can make informed decisions about career choice. I think it will make a big difference.
It's helpful that the Women & Equalities team sits within the Department for Education. From an early age, it's about getting rid of the notion that there are "girl jobs" and "boy jobs". There are just "jobs" and girls have a great aptitude for the STEM subjects (science, technology, engineering and mathematics), which lead to higher-paid jobs. I really want every girl to grow up knowing there are no boundaries to being able to maximise her talents.
My future hopes
I want to see the gender pay gap narrow to the point where we no longer talk about it and to have women right the way through the whole management pipeline at every level of business. There's so much evidence that more diverse boards actually perform better - and there has to be benefits to a company whose board reflects the customers it serves and employs. We also want women at every level achieving their goals, not just at board level.
Balance in my life
Where we live is so beautiful - on the peninsular surrounded by water so I'm out walking nearly every day. When it comes to staying fit, sometimes I force myself to run but to be honest, I don't like exercise unless it's disguised as a game! I used to play netball every Wednesday night before I became an MP so when I got elected I started a "back to netball" course for female MPs, which was fun while it ran. The rest of the family is more sporty though. Mark runs all the time, my youngest son is on the Gosport rugby team and football team, and my 14-year-old is really big into skateboarding.