House plants that will transform your living spaces and boost your mood
Spruce up your home or garden with these house plants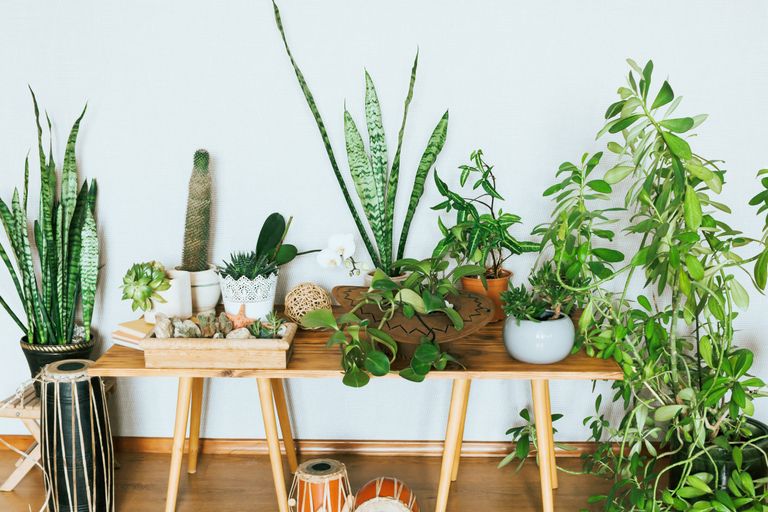 (Image credit: Getty Images)
Whether you're looking to spruce up your garden or your living room, there are plenty of sites where you can buy plants online and have them delivered straight to your front door.
Just like DIY stores and booksellers, sites where you can buy plants online are seeing a huge increase in interest recently. With more time on everyone's hands, it seems like a spot of gardening or home improvement is the new way to deal with frequent lockdowns.
But where should can you buy plants online? Some places have great ranges of un-killable houseplants while others offer beautiful blooms to brighten up your living space, so whatever your experience with being a plant parent, you're sure to find the right plant for you.
Where are the best places to buy plants online?
John Lewis
John Lewis have some gorgeous houseplants in their collection still available. This small selection of marble potted plants is a great way to refresh your collection, or start building a new one. Complete with stylish planters and with a succulent in the mix, it's a minimum effort collection with maximum reward.
For a bigger boost to your mood - and your health - try one like this rubber plant or this leafy fern. As well as purifying the air in your home, they're big, bright and green, giving you all the inspiration you need to transform your bedroom, living room or kitchen into a botanical haven.
John Lewis also have a great range of pots and planters still available to give any other houseplants a new home.
Buy now: John Lewis
Delivery: 14 days
Not on the High Street
Not on the High Street plants are the plant world's best kept secret! So affordable - and a huge range of styles. If you're looking for unique plants at reasonable prices, and all the accessories to go with them, then Not on the High Street is the place to go. This palm houseplant would make a great addition to any interior.
As well as beautiful house plants, Not on the High Street have a great selection of plant-themed decor for your home. We especially love this family tree houseplant print, which would make a great gift for any relative, or the above Pilea Peperomioides Chinese Money Plant Hanging Planter, which is a bargain at just £7.95.
Buy now: Not on the High Street
Delivery: Dependent on seller.
Argos
If you're looking to fit out your home (indoors or outdoors) with some high quality artificial plants, or give your real ones an update with some new planters, Argos has you covered.
Along with the much sort-after, smaller cascading houseplant, they've got larger potted plants like palms for the living room and cedar twists for the garden.
Buy now: Argos
Delivery: Fast track (order before and deliver by 11pm for £3.95), Click & Collect and Named Day all available.
Ideal World
Ideal World's selection of outdoor plants is perfect if you're looking to refresh your garden this summer. As one of the best places to buy plants online, they offer high-quality and affordable plants delivered safely to your front door.
This architectural banana plant collection is an easy and unique for any spare garden space and will offer shade when the weather gets even sunnier.
Buy now: Ideal World
Delivery:3 - 5 working days
Bloom & Wild
If you've got enough greenery in your home, you could always invest in some gorgeous, brightly coloured flowers to give your living room a vibrant uplift.
Flowers from their fantastic selection come in letterbox-sized packaging, so you can assemble the blooms yourself at home in whatever way you like.
Buy now: Bloom & Wild
Delivery: Next day delivery available
Bunches.co.uk
These delightful bunches of flowers come in either traditional bouquet form or in letterbox-sized packaging, similar to Bloom & Wild. With free UK Delivery and 10% of all profits going to charity, these flowers are the perfect way to liven up your home.
Or you could send them straight to a friend, with one of the sets from their gift collection.
Buy now: Bunches.co.uk
Delivery: Allow an additional 1-2 days for delivery
Cox & Cox
For those who struggle with all the watering and care needed to look after houseplants, there is another option. Faux houseplants can look just as great as real ones and often, you'll never be able to tell the difference. For example, one like this faux potted rubber plant looks pretty much the same as the real thing with its colour-rich leave and simple black pot.
With 20 per cent off right now for first time buyers at Cox & Cox, why not try them out?
Buy now: Cox & Cox
Delivery: Standard (5-10 days), Next Day and Named Day delivery are all available.
QVC UK
Whether you're looking to stock up on new plants or re-vamp your collection with new planters and accessories, QVC UK has got you covered.
For houseplants, they're offering a great range of flowers as well as traditional greenery like this set of three air purifying plants.
Buy now: QVC UK
Delivery: Up to 14 days
Waitrose
While you might struggle to get a slot for food delivery, Waitrose does still have availability for plant delivery. With quality guaranteed, you can find most of your favourite house plants in their reduced selection.
Their flowering lavender looks especially beautiful, if you're looking for an outdoor plant. For indoors, they've got a great range of orchids to choose from.
Buy now: Waitrose
Delivery: 1 month
Patch
One of the most popular plant delivery services in London, Patch can deliver houseplants to your door in one week. From small succulents to huge standing plants, they've got it all.
They have a great selection with advice available on how to care for your plants and the best one to choose, depending on the room you want to put it in.
Buy now: Patch
Delivery: 1 week
Beards & Daises
With plenty of plants to choose from, we particularly love Bears& Daises range of hanging plants and accompanying pots. This stunning hanging satin pathos plant is perfect if you're looking for something that requires minimum attention and a normal amount of light.
Beards & Daises also have a houseplant subscription option, so for just under £25 you can fill your home with new houseplants every month.
Buy now: Beards & Daises
Delivery: 5 working days
Floom
Working alongside local florists, Floom delivers handcrafted bouquets of flowers and gift hampers to your front door.
Order today and get free same-day delivery in London, Bristol, Edinburgh or Manchester.
Buy now: Floom
Delivery: Order by 1pm for same day delivery
Primrose.co.uk
Primrose have houseplants for every environment, in every size. Need a large houseplant, perfect for the light shade in your bedroom? Look no further, Primrose have got plenty for you to choose from.
This rubber plant for example, is perfect for beginners and one of the best plants for purifying the air in your home.
Buy now: Primrose.co.uk
Delivery: 5 - 7 working days
Brighten up your living spaces and improve the air quality in your home with a couple of houseplants from one of these fantastic delivery services.
Looking to buy outdoor plants online?
Plant Pack is the new initiative launched to rescue plants from British growers who would otherwise be unable to sell due to coronavirus closures. The service, only available in London zones 1-4 at the moment, is stopping thousands of plants from being scrapped by wholesalers.
This is a great chance to take your love of plants outdoors as all profits from the service are going to support the vital work being done by NHS Charities Together.
Buy now: Plant Pack
Delivery: Up to 6 days
Everybody knows that an afternoon toiling in the garden with all that sunshine and soil will do wonders for your mental health. But when we're working from home or just spending more time inside, having plants around us is really important.
It's been proven that just looking out of your window at some greenery can be good for you and houseplants have also been proven to offer a huge range of health benefits – like reduced anxiety and stress, as well as improved sleep quality.
So treat yourself to one of these houseplant deals this weekend!