8 of the best thin pillows to rest your head on in 2022
The best thin pillows will keep you well-supported so you wake up pain-free and refreshed every morning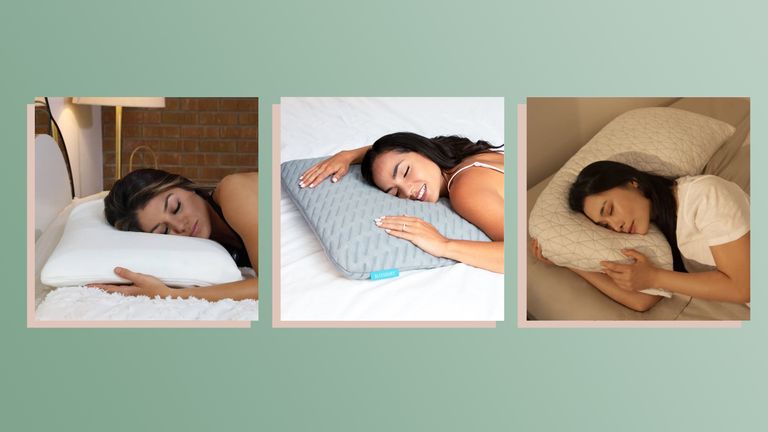 (Image credit: Future)
The best thin pillows promote proper spinal alignment without being propped up too far above the mattress — especially if you sleep on your front or back. But for fans of thin pillows, finding the right one can be difficult as there are typically far fewer choices due to most retailers favoring plumper pillows.
However, there's another option to consider: adjustable loft pillows. These pillows often come fully loaded with multiple layers or filling that you can remove to achieve your desired thinness. As manufacturers become wise to the fact that many sleepers like to have some control over how their pillow feels night after night, adjustable loft pillows are becoming much more commonplace — which is a boon for those who like thinner pillows and can't seem to find one that's a good fit.
Our list of the best thin pillows includes a mix of customizable pillows and naturally flat pillows. These are among the best pillows out there for various types of sleepers, and they span a range of price points so you're likely to find something within your desired budget.
The best thin pillows to buy in 2022
1. Co-op Home Goods Original Loft Pillow
Best thin pillow overall
Specifications
Filling: Cross cut memory foam
Size: Queen, King
RRP: $69.99 - $74.99
Reasons to buy
+
Free loft customization included
+
Comes with 100-night trial period
+
Easy to add/remove fill
Reasons to avoid
-
Need storage for extra fill
-
Has an obvious off-gassing smell
The Co-op Home Goods Original Loft Pillow is the best thin pillow you can get right now...despite the fact that it arrives overly-stuffed. So why does it top our list? For one, this is an adjustable pillow with crosscut memory foam fill that you can add or remove as you see fit. What's more, Co-op Home Goods offers expert loft customization at no extra charge so you'll know just how thick or thin you'll need your pillow to be for maximum comfort based on your sleep style and body type.
A downside to the Co-op Home Goods adjustable pillow is that you'll have to find a way to store excess fill, which includes any fill you remove from the pillow and the additional 1.5-lb. bag of crosscut memory foam that's included. However, it's good to have that extra fill on hand should your pillow become too flat and therefore not as supportive as you need it.
Co-op Home Goods includes a 100-night risk-free trial with purchase, so you can take the time you need to get used to the pillow. If you decide it's not right for you, you'll be able to return it for free and receive a full refund.
2. Pancake Pillow
The best customizable thin pillow
Specifications
Filling: Puff microfiber
Size: Queen, King
RRP: $69.99 - $79.99
Reasons to buy
+
Includes six stackable layers
+
Won't make a mess when you adjust
+
Very soft puff microfiber fill
Reasons to avoid
-
Might not be firm enough for some
-
Prone to retaining heat
The Pancake Pillow adjustable layer pillow strives to meet the needs of all sleepers. If you've yet to find your ideal height, this customizable solution may be perfect for you. Each of its six layers is removable, allowing you to experiment until you find your favorite stack of 'pancakes'. This flexibility makes it one of the best pillows for neck pain on the list too.
No matter how thin you choose to go, the puff gel microfibre filling guarantees your head will have a soft place to land. If you like your thin pillow to still be fluffy and comfortable, like the best hotel pillows, this is a great option.
Overall, the Pancake Pillow can take the stress out of buying online—they boast that it's impossible to accidentally buy the wrong size, as you can adjust the pillow to your preference. And unlike the Co-op Home Goods pillow above, there's a lot less of a mess involved as you only have to remove layers and not actual fill.
3. Bluewave Bedding Ultra Slim Gel Memory Foam Pillow
The best cooling thin pillow
Specifications
Filling: Gel memory foam
Sizes: Standard, King
RRP: $39.95 - $49.95
Reasons to buy
+
Cool and breathable
+
Holds its shape well over time
+
Comes in three loft options
Reasons to avoid
-
Foam may be too dense for some
-
No trial period included
Bluewave Bedding is a great company if you're after a flatter pillow, since they're well-aware that thin pillows can often be preferred for sleepers who don't want to sleep too high up in bed. Their memory foam gel pillow is available in three loft sizes — Slim, Super Slim, and Hyper Slim.
Their thinnest option, the Ultra Slim, comes in at just two-and-a-half inches tall, but still boasts a soothing gel filling and the rounded edges of traditional pillow shapes. Not only can this design accommodate your thin-pillow needs, but it's also said to help reduce snoring and back pain. Customers raved that this pillow is a great option for stomach sleepers and for those who sleep with their arms under their heads.
Bluewave has made sure to counteract the heating effects some memory foam can have by adding temperature-regulating gel particles into the material—making it one of the best cooling pillows on this list, too.
4. Nature's Guest Adjustable Cervical Orthopedic Pillow
The best supportive thin pillow
Specifications
Filling: Microfiber
Size: Standard, Queen
RRP: $54.99 - $59.99
Reasons to buy
+
Super supportive for a thin pillow
+
Customizable fill and dual-zipper design
+
Ideal for back or side sleepers
Reasons to avoid
-
Not for stomach sleepers
-
It's a rather heavy pillow
Orthopedic pillows are brilliant for reducing pain at night. The Nature's Guest Adjustable Cervical Orthopedic Pillow is among the best types of pillows for those who need more support when sleeping on their side or back. The deep contour of Nature's Guest's cervical pillow allows for a thin feel while still providing adequate back, shoulder, and neck support.
The Nature's Guest pillow is divided into three sections. The middle section is the back sleeping area, which gently cradles the neck and head. The sides are designed to help side sleepers alleviate any neck and shoulder pain. Stomach sleepers won't find much relief with this pillow, however.
As with the Pancake Pillow and the Co-op Home Goods pillow, you are put in control of your comfort here. The filling of this pillow can be tailored to your preferences in every section, allowing you to choose your ideal level of height, squish and support. The microfiber stuffing is also designed to promote healthy airflow and provide users with a more restful sleeping experience.
5. SUQ I OME Slim Sleeper Pillow
The best firm thin pillow
Specifications
Filling: Memory foam
Size: Standard
RRP: $32.99
Reasons to buy
+
Great firmness
+
Good neck support
+
Available in two loft options
Reasons to avoid
-
Might be too hard for some
-
Memory foam retains heat
This SUQ I OME Slim Sleeper Pillow is thin, at a maximum of 6cm in height on one of the curved edges, but has a dip in the middle to allow your head to lie flat while you sleep. A curved pillow can reduce pressure on the neck and shoulders, and prevent you from waking up with pain in these areas.
Handily, this pillow also has a removable inner cover for easy washing and is made of memory foam, which will help to shape the pillow to your body. However, this thin pillow option doesn't have cooling properties to counteract the heating effect memory foam can have, so it may not be the right pick for those who get warm in bed.
Customers who have bought the pillow have praised its firmness and support, with many explaining that they've felt the benefit all the way from their neck down through their spine.
6. Blissbury Stomach and Back Sleeping Pillow
The best thin pillow for stomach sleepers
Specifications
Filling: Memory foam with cooling gel
Size: Standard
RRP: $39.99
Reasons to buy
+
Handy for travelling
+
Helps to regulate body temperature
+
Bamboo pillow case wicks away moisture
Reasons to avoid
-
Could possibly be too flat
-
Not made for side sleeping
Blissbury works to guarantee that you'll have the perfect pillow no matter where you go. Their super-thin Stomach and Back Sleeping Pillow is also one of the best travel pillows, not just because of its size, but because it has a handy little carrying case too, and bends easily to fit into it.
This slim sleeper is just a couple of inches of gel and memory foam. The filling is equipped with small ventilation holes that help to regulate body temperature as you sleep. On top of that, its cover is made with bamboo and polyester. These natural materials help to reduce moisture and create a cool sleeping experience
However it's worth noting that this is one of the thinnest pillows on our list, so may not be the right pick for you if you're a side sleeper or need a little more loft.
7. Perfect Cloud Lavender Bliss Pillow
The best thin pillow for relaxation
Specifications
Filling: Memory foam
Size: Standard, Queen, King
RRP: $54.99 - $74.99
Reasons to buy
+
Smells like soothing lavender
+
Cloud-like softness
+
Available in three sizes
Reasons to avoid
-
Not for sleepers sensitive to scents
-
Lavender smell may not last long
The Lavender Bliss Memory Foam Pillow is more of a stratus cloud and is packed with specially-designed memory foam. It aims to eliminate tension in the shoulders, neck, and back.
That's not the only way this pillow aims to soothe, however. It is also lightly scented with lavender oil, which is known for its sleeping aid benefits. The subtle hint is not overwhelming and is also designed not to fade over time, to allow for the perfect descent into a peaceful sleep.
You can pick up this relaxation pillow in three sizes: standard, queen, or king. If you're sensitive to essential oils or potent scents in general, we advise you pass on the Lavender Bliss pillow.
8. Beckham Hotel Collection Bed Pillow 2-Pack
Best thin pillow for back sleepers
Specifications
Filling: Down alternative
Size: Queen, King
RRP: $41.99 - $64.99
Reasons to buy
+
Available in sets of two
+
Offers plush support for back sleepers
+
Hypoallergenic down alternative fill
Reasons to avoid
-
No clear warranty info provided
-
Not for sleepers who like a firmer feel
The Beckham Hotel Collection Bed Pillows are always at or near the top of Amazon's best-selling pillows. They're also among the most reasonably-priced — and considering that you get two of them, that equates to one of the lowest prices-per-pillow we can find.
These hotel-quality pillows are quite plush but not too lofty. Back sleepers tend to find them comfortable and supportive for their head and neck. However, side sleepers may find these pillows don't cradle their neck and shoulders well enough in this position, and stomach sleepers might want something a little less fluffy.
Anyone who suffer from allergies will appreciate the hypoallergenic down alternative fill of the Beckham Hotel Collection Bed Pillows. We do wish it came with a clear warranty, but if the hundreds-of-thousands of 5-star Amazon reviews are anything to go by, you'll be receiving fantastic value here.
What to consider when choosing between the best thin pillows
When choosing the best thin pillow, you should "acknowledge whether you're a back, stomach, or side sleeper, and assess your own physiology when determining the proper thickness," says Stephen Light, co-owner and chief marketing officer of Nolah Mattress.
Front and back sleepers are usually better suited for thin pillows than side sleepers — who actually benefit from thicker pillows since they'll need something that can comfortably fit between their ear and shoulder. If you tend to switch positions, consider an adjustable pillow so you can change things up when needed.
Filling material is another component to keep in mind when buying a thin pillow. Alex Savy, Certified Sleep Science Coach and the Founder of SleepingOcean, recommends memory foam for sleepers who like their pillow to cradle their head and neck, while latex and polyfiber offer more buoyancy. Hot sleepers, meanwhile, should seek cooling materials such as gel-infused foam or kapok.
If possible, look for a pillow that offers a trial period of at least 30 days. This will give you time to adjust to the pillow before determing whether or not it's right for you.
Why are thinner pillows better for your neck?
Plush, oversized pillows may be popular among manufacturers but they're not the best choice for most back or stomach sleepers.
"The goal for any pillow is to allow the spine to maintain a straight, horizontal line as much as possible...without putting a bend in the neck," says sleep therapist Risa Gabrielle. If the loft of the pillow is too high, it'll put your neck at an angle — leading to back and neck pain.
Savy adds that thin pillows may be better for the neck since "they are less likely to tilt the head and cause neck strain. Additionally, thinner pillows can fill in the neck's natural curve, offering decent support in that area."
How else are thin pillows beneficial for some sleepers?
Every sleeper needs a different sort of pillow. Side sleepers will need more support—perhaps even two pillows, but if you prefer to sleep on your front or back, a thin pillow can provide the correct alignment, which means your shoulders and your spin are in the same alignment as if you were stood upright with the correct posture.
Thin pillows are especially beneficial for front sleepers. Hayley Chaytor, a spokesperson at Silentnight, said, "Thin pillows are recommended for front sleepers as this sleep position requires very little support. They also have an advantage as they can be stacked to match the individual's exact height preference when it comes to their sleep."
Amy Hunt is an experienced digital journalist specialising in homes, interiors and hobbies. She began her career working as the features assistant at woman&home magazine, before moving over to the digital side of the brand where she eventually became the Lifestyle Editor up until January 2022. Amy won the Digital Journalist of the Year award at the AOP Awards in 2019 for her work on womanandhome.com.