Best trail running shoes for women— lightweight styles, waterproof buys and picks with extra padding
A pair of the best trail running shoes is a must-have if you're planning on running off-road, in more rugged terrain
Included in this guide:
1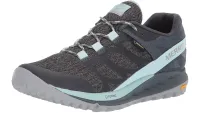 Merrell
Antora Gore-Tex trail running shoes
2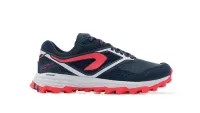 Evadict
XT7 trail running shoes for women
3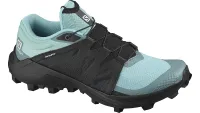 Salomon
Wildcross W
4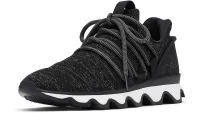 Sorel
women's Kinetic lace sneaker
5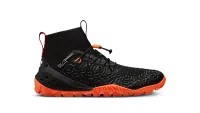 Vivobarefoot
ESC Tempest Womens
6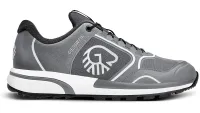 Giesswein
Wool Cross X
7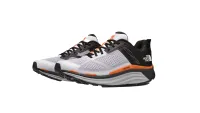 The
North Face Women's Vectiv Enduris
8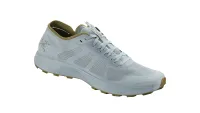 Arc'teryx
Norvan SL 2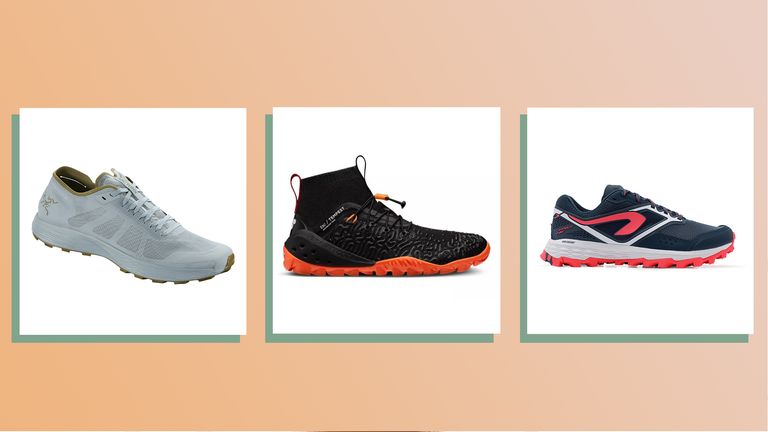 (Image credit: Future)
By Amy Hunt , Ciara McGinley , Aleesha Badkar
Having the best trail running shoes is imperative for the runners among us who prefer the path less traveled. They help you navigate unstable ground, rugged terrain and wet weather conditions.
If you're a seasoned runner it's likely you'll already have a pair of the best running shoes for women, but if you're planning on trying out unstable terrain, it's a good idea to invest in trail running shoes suitable for going off-road.
Designed specifically for hills, mountains, grassy areas, rocky areas and the woods, most trail running shoes have thicker soles underfoot, with more pronounced tread patterns to help you tackle rocks, branches or wet ground with ease. Running coach Hannah Walsh explained, "They are also generally stiffer and more durable than road running shoes, which allows for additional layers of protection when tackling rugged terrain".
We were very impressed with the Merrell Antora Gore-Tex shoes, which should appeal to both novice and experienced trail runners, and the Salomon Wildcross shoes, which felt very secure. For a more affordable pair, the Decathlon Evadict XT7 Trail Running Shoes left us feeling almost equally comfortable and stable but cost a fraction of the price of the other options.
How we tested and selected the best trail running shoes for women
When testing trail running shoes, we assessed them on style, comfort, functionality and stability. While a secure trail running shoe that feels good to run in was most important, a great-looking design was also on our checklist. To choose the best trail running shoes, we picked out models from popular brands and retailers like Decathlon, Merrell and Helly Hansen as well as smaller and more specialized brands like Sorel. We tested each pair of trail running shoes both running on a treadmill and on outdoor trails. We tackled a range of terrain, from grassy trails to rough terrain.
We weighed up the pros and cons of each trail running shoe and took the following into consideration:
How comfortable the shoe was
The amount of support provided
Breathability
How it worked on different terrains
The fit
The cushioning
The amount of grip
The best trail running shoes as chosen by our experts
1. Merrell Antora Gore-Tex trail running shoes
Best trail running shoes overall
Specifications
RRP: $140/£120
Colors: Four
Size: US 5-11/UK 2.5-8.5 (including half sizes)
Material: Gore-Tex, a breathable waterproof fabric
Weight: 510g (per pair)
Reasons to buy
+Incredibly comfortable+Very adaptable to different terrains+Lightweight+Supportive cushioning
Reasons to avoid
-Perhaps more support in the heel needed-Some trail runners may not like the 'barefoot' feeling of the shoe
Slipping on the Antora Gore-Tex shoes from Merrell feels akin to putting on a slipper. The trainer is incredibly soft, comfortable and lightweight, especially when compared with other shoes. The Antora is made with a Vibram outsole and a foam insole, so your foot is well protected. It feels almost as if you're running with a sock on – but with all the security and cushioning of a trail shoe. For those who enjoy the foot-to-ground barefoot feeling while running the trails, this could be the pick for you.
We found the Antora very adaptable to different terrain, too. We were just as confident running in the woods as we were on the grass, and even on the pavement. A little more support in the heel might have helped, but this is a very small concern and something that other runners may not even notice. There is little movement of your foot within the shoe, leaving you feeling protected and ready to jump between hills, pavements and grass. They also double up as great at-home workout shoes.
We reckon this is a fantastic trail shoe that will make either a beginner or a veteran off-road runner feel comfortable and ready to tackle their next workout.
2. Evadict XT7 trail running shoes for women
Best budget trail running shoes
Specifications
RRP: $82.92 (approx.)/£59.99
Colors: Two
Size: US 5-10/UK 3-8 (including some half sizes)
Material: Made with thick foam padding and rubber
Weight: 600g (per pair)
Reasons to buy
+Very affordable+The cushioned comfort is fantastic+Supportive+Good grip
Reasons to avoid
-Not as lightweight as other options-Some may not like the very snug fit
The Decathlon Evadict XT7 looks similar to an ordinary running shoe but with all of the features needed for a trail shoe. We found it fit true to size, with no need to size up. In fact, it's a very snug fit which some trail runners will love but others may not. The shoe features extra-thick foam, so your foot feels cushioned all over. The cushioning also meant that no lateral movement occurred as we ran, which is just what you need for uneven surfaces. Similarly, the sole has been created with a new type of rubber, providing 42% more grip.
We felt protected running, even among fallen branches, but felt the grip could have been better compared with other shoes. Having said that, these trainers are fantastic for the price tag. Not many trail shoes are this affordable and we found no huge compromise on quality.
3. Salomon Wildcross W
Best trail running shoes for hiking
Specifications
RRP: $130/£120
Colors: Three
Size: US 5-12/UK 3.5-10.5 (including half sizes)
Material: Made with a full rubber outsole
Weight: 580g (per pair)
Reasons to buy
+Very secure grip on trails+Lightweight and comfortable+Great for combining hiking and running+Supportive+Promotes stability
Reasons to avoid
-Not as stylish-Less cushioned than others
The Salomon Wildcross W trainers look like they mean business and are ideal for trail running and hiking. Featuring multi-dimensional lugs on the sole for stability, there's no doubt these trainers are some of the best trail running shoes on the market right now. The shoes are less cushioned than the other options, but we felt incredibly stable and supported running over all sorts of terrain, including rocks, branches and grass. The trainers had great grip, preventing us from slipping while we were running uphill and downhill off-road. Despite the feeling of security in the shoe, the Wildcross still felt very light, as though the trainers were moving with us rather than weighing us down.
These would be a great trail running shoe for fitness fans who like a bit more security in their trainer, with more support underfoot and around the foot thanks to the rubber outsole. The Wildcross trainers also come with a handy 'quick lace' that you don't need to tie up, instead simply pull it to tighten. While these shoes are more expensive than the others, we think the trainers are a fantastic option for those who are serious about trail running and hiking on all sorts of terrain.
4. Sorel women's Kinetic lace sneaker
Best trail running shoes for style and comfort
Specifications
RRP: $130/£125
Colors: 11
Sizes: US 5-12/UK 3-10 (including half sizes)
Material: Molded rubber sole and a textile upper
Weight: 566g (per pair)
Reasons to buy
+The most stylish trainer overall+Very comfortable+Supportive+Good grip
Reasons to avoid
-Difficult to clean-Not as sturdy on rugged terrain
The Kinetic Trainer from Sorel isn't specifically a trail running shoe because the brand doesn't categorize its shoes. Instead, the brand focuses on the versatility of its trainers. The Sorel shoe is the most stylish of the selection we tested, with a slick, minimalist design and neutral color. It's comfortable to wear too, our feet immediately felt soft and cushioned.
But, is it supportive on rougher surfaces? Most definitely. The high, rigged sole makes for great grip while running and kept us upright even on a slippy muddy hill. It has a strong immovable heel, so your foot feels tightly gripped to the shoe, while still allowing for wiggle room in the toes. The wide-crossed laces also help secure your foot in the trainer, so there's no shifting around as you move. However, the soft fabric on top might not be sturdy enough for some trail runners on rough terrain.
We tested the Kinetic trainer in our regular size and felt it was a little too cozy with a sock on, so it might be worth sizing up when trying these running shoes.
5. Vivobarefoot ESC Tempest Womens
Best waterproof trail running shoes
Specifications
RRP: $214.40/£160
Colors: Three
Size: US 5-11.5/UK 3-9 (including some half sizes)
Material: Rubber outsole and recycled-plastic ankle sock
Weight: N/A
Reasons to buy
+Great flexibility between terrains+Good for combining running and swimming+Waterproof+Good grip
Reasons to avoid
-Tight-fitting-Not for those who like a thicker sole
When it comes to waterproof trail running shoes, the Vivobarefoot ESC Tempest is a brilliant option. Not only does it feel like a second skin, but as the brand states, the shoe has been "inspired by aquatic organisms". The shoe features a very thin shoe, but with a solid tread pattern underfoot for stability. In fact, the sole has been developed in collaboration with Michelin, so it's no surprise that it keeps you firmly anchored to the ground! It's a tight fit and we struggled to get the shoe on in our regular size, so it's a good idea to size up. Once on, the flexibility as you run is fantastic and the supportive sock against the ankle makes for a comfortable fit.
Vivobarefoot also advises the shoe would be ideal for people who want to combine their trail run with a swim. The brand says the material will stay comfortable in the water, while the midsole will provide additional floatation, so you won't feel like the shoe is dragging you down in the open water.
Of course, if you're exploring wet and uneven terrain on a long walk you might be better served with a pair of the best waterproof hiking boots, but if you're looking to stay dry on a run then these clever running shoes are a must-have. A trainer for the adventurous!
6. Giesswein Wool Cross X
Best trail running shoes for beginners
Specifications
RRP: $159.95/£149.95
Colors: Eight
Size: US 5-11/UK 3-9
Material: Made with 100% merino wool lining
Weight: 566g (per pair)
Reasons to buy
+Comfortable with natural wool lining+Ideal for beginners+Moisture-wicking+Temperature-regulating+Good grip
Reasons to avoid
-There was slight rubbing on the ankle-Wool could be too hot in summer
If you're thinking about how to start running on uneven terrain, investing in these trail running shoes is a good first step. Giesswein states that the Wool Cross X is the "world's first high-performance sports shoe with a 100% merino wool lining". The wool lining, which extends to the edge of the shoe and around the ankle, makes it very easy to put the shoe on and it feels comfortable initially, too. However, we found a little bit of rubbing on the ankle, which was unfortunate considering Giesswein advises customers the shoe can be worn barefoot. We suspect this may have been because the shoe was a little big, therefore it's best to try on a range of sizes in the Wool X, as your regular size might not be the right fit. The wool has been incorporated into the trainer for a variety of reasons. First, it's purported that merino wool neutralizes odors, so no smelly shoes after a sweaty run in the mud – and we can confirm that, so far, it appears to be true.
The wool also works to wick moisture away from the foot, so running through your local green space in the rain should be no problem. Before trying, we worried that the wool might lead to overheating, but apparently, the wool works to regulate temperature, keeping your feet warm in winter and cooling them down in summer. We tested the trainers on a cool day, and our feet felt neither too warm nor too cold, so it appears the technology works! The micro-grip sole also kept us very stable. The treads on the sole are smaller than on some other shoes, but it didn't make it any less useful on trails.
Overall, the Giesswein Wool X is a comfortable shoe, with a few initial rubbing issues, but works brilliantly off-road and is a great option for beginners.
7. The North Face Women's Vectiv Enduris
Best lightweight trail running shoes
Specifications
RRP: $139/£125
Colors: Three
Size: US 5-11/UK 3-9
Material: Breathable air-mesh upper with Surface Control rubber outsole
Weight: 556g (per pair)
Reasons to buy
+Super comfortable+Breathable+Supportive all over+Lightweight
Reasons to avoid
-Expensive
The North Face Women's Vectiv Enduris trail running shoes are by far the most comfortable and lightweight pair we've tested yet. Thanks to a padded heel cup, collar and tongue, and OrthoLite foam footbeds, cushioning, shock absorption and fit are unmatched. You can run freely without worrying any part of the shoe will rub uncomfortably as you move. At just 556g per pair with breathable air-mesh uppers, they're ideal for long trail runs to keep you light on your feet. They supported us to no end as we tackled rough trails, partly thanks to the 3.5mm lugs and carve-outs on the rubber sole. We felt confident, comfortable and light running in these shoes across a mix of terrain. Depending on your foot shape, the padded heel cup might not be favored by some and be difficult to get on. Plus, the expensive price tag could be a turn-off, especially if you're new to trail running and not quite ready to invest. But, we think they're a worthy investment for experienced trail runners who need a lightweight and comfortable shoe to take them on many trails to come.
8. Arc'teryx Norvan SL 2
Best trail running shoe for travelling
Specifications
RRP: $160/£130
Colors: Two
Size: US 5-10/UK 3.5-8.5
Material: TPU mesh
Weight: 290g (per pair)
Reasons to buy
+Super lightweight+Easy to pack+Great grip+Sturdy and supportive base+Breathable
Reasons to avoid
-Slight rubbing on small toes and ankles-Tight fit - need to go at least one size up
If you're heading on a trip and looking for a reliable pair of kicks to take along for your outdoor walks and exploring, then this one fits the bill. First and foremost, the Norvan SL 2 sports a super sturdy base that is almost akin to a pair of the best walking boots with a grip that will keep you supported on more difficult terrains, while the dense cushioning offers a supportive bounce that almost propels you forward while running. Possibly the most striking thing that jumps out about this shoe is the weight. At less than 300g for the pair, the super lightweight aspect makes them feel almost weightless not only while you're wearing them but even in the hands—so if you're looking to save weight in your suitcase when you head off on holiday, you're set with this one. The flexible soft mesh upper also allows you to fold down the shoe so that you can save space and squeeze these into even the tiniest spare space in your luggage.
One thing to note with this one though is the sizing of this shoe. We'd recommend going at least a size up on your usual shoe size—possibly even one and a half sizes up—as they are quite tight-fitting and come up relatively small even before feet have swelled from exercise. They are also quite narrow fitting, but the pliable mesh upper does mean that even those with wider feet can wear them without being plagued with the dreaded arch cramps. However, if you do have particularly wide feet you may find yourself with slightly less support from the base as it is quite narrow. And while the mesh is very flexible, we wouldn't say that it's soft or particularly blister-proof. While our tester didn't experience any blistering during testing, the shoe was prone to rubbing especially on the small toe and ankle areas. That said, this could be resolved by opting for a bigger size. All in all, we love the support and grip offered by this shoe as well as the convenience it offers for travelling and the issues we experience with it were minor—so size up and you'll be good to go.
How to choose the best trail running shoes for you
The best way to assess which trail running shoes are right for you is to try on as many as possible from the best running shoes brands. Like lots of things, personal preference is a key factor when picking the right trail running shoes, but some features to pay particular attention to are:
Sole thickness: Some might prefer a really thick sole for comfort, while other runners might want a thinner sole, connecting them more to the ground.
Support: It's vital that trail running shoes protect you from potentially difficult terrain, so they should offer stability on unstable surfaces.
Grip: Running expert Hannah Walsh also says you may want to choose your shoe depending on the type of terrain you are planning to run on. She explains, "This will usually determine how aggressive the grip needs to be on the outsole and how much additional protection you need."
Cushioning: "You should also consider what sort of distance you are planning to run," advises Hannah. "Generally, the longer you're out on the trails, the more comfortable you will want the shoe to be. If you're running longer distances or are a heavier runner, you might want comfort over speed and opt for shoes with more cushioning."
Sizing: It's helpful to opt for a shoe that offers half sizes, as it's always helpful to size up when buying any running shoe. This is because your feet tend to swell a little when you exercise, due to increased blood flow, so it's normally a good idea to go up a size or a size and a half in trail running shoes.
It's also worth thinking about whether you would benefit from a waterproof feature or not.
"For some trail running, you don't want a waterproof shoe," reveals Hannah. "Waterproof membranes do a great job of preventing your feet from getting wet while allowing them to breathe, keeping you dry and comfortable for longer.
"However, if you do happen to encounter water that goes above the ankle line, a waterproof membrane will only end up collecting water inside of the shoe and weighing you down." If you're planning to run through water, a waterproof shoe may not be the best idea. However, if you only plan to run on dry land, such as through the woods or on hills, waterproof could be very helpful in allowing your feet to breathe and keeping them dry should you encounter any puddles!