Top Holiday Houses To Rent In The UK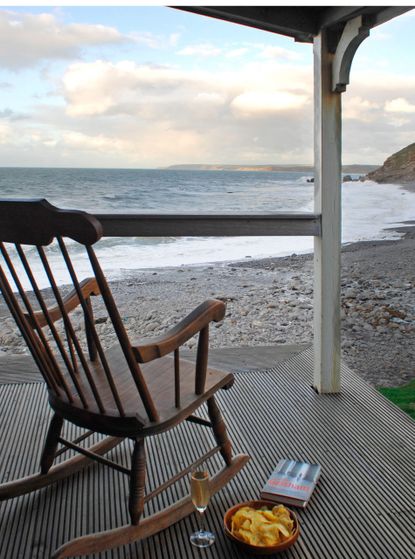 (Image credit: Unique Home Stays)
Try somewhere different by booking one of these beautiful houses for the ultimate staycation...
Fancy doing something different this year? Renting a holiday home that sleeps the whole family in an area of the UK that you've never visited before is a great idea. Not only will you be able to bring everyone together for a really wonderful break - and venture out for long walks somewhere new via the local pub - but most holiday homes come perfectly kitted out for your whole stay. From snug log cabins to elegant stately homes, our roundup of holiday houses to rent will provide the perfect space for a memorable stay...
Photograph of The Beach Hut (opens in new tab), book through Unique Home Stays (opens in new tab)
The Beach Hut, North Cornwall
Sleeps 2 If you're planning a break as a couple this year, then why not escape to the seaside? The Beach Hut (opens in new tab) on the North Cornwall coast is a romantic hideaway packed with plenty of character. Stripped floorboards, white walls and simple furnishings make it the ultimate in laid-back seaside chic. Tuck in to dinner overlooking the sandy shore with just the crashing waves for company. You'll be in good company - Kate Winslet, Demi Moore and Caroline Quentin have all spent time here! Book through Unique Home Stays (opens in new tab).
Holloway House, The Peak District
Sleeps 10 Hark back to the Victorian days with a stay in the gorgeous Holloway House in the Peak District. Use it as an excuse to get the whole family together as you take in the breathtaking countryside. The place itself boasts original tiled flooring, an open coal fire and a stunning conservatory which give a real sense of its history and character. It is idyllically placed at the edge of the village of Holloway on the fringe of the National Park. You won't want to stay in doors here with the mass of available walks right on the doorstep. Book here. (opens in new tab)
Mosaic Cabin, Herefordshire
Sleeps 2 Made with local timber and topped with solar panels, this cabin is the perfect eco-friendly retreat for an artsy couple. This creative, open plan home is located in the middle of an peaceful orchard and there's even a piano for a good old family sing-song. Book through Canopy and Stars (opens in new tab).
Foxhill Manor, Cotswolds
Sleeps 16 If you want to splash out on a gorgeous country house in the Cotswolds, look no further than Foxhill Manor. With 8 luxury bedrooms kitted out with kingsize beds, the manor even comes with an optional butler and chef to whip up locally sourced meals. Book through kateandtoms.com (opens in new tab).
Grand Hampton on Summer Lake, Cotswolds
Sleeps 10 Enjoy a New England-style clapboard lodge on the lake. Take a long country walk through the Cotswolds and enjoy a gin&tonic at one of the numerous classic country pubs. Book through Watermark Cotswolds (opens in new tab).
The Marine Villa, Isle of Wight
Sleeps 16 Throw a Gatsby-style do at this grand Art Deco villa set on a cliff-top overlooking Sandown Bay on the Isle of Wight. Guests will be greated by a magnificent staircase and can dine in an oak-panelled dining room that seats 24. The home built in 1929, has large glass windows topped with stained glass detail framing the beautiful vistas. The upstairs sun room is equipped with sliding picture windows to enjoy the breathtaking sunrises by day and bay illuminations by night. Book at Home Away (opens in new tab).
The Dipping Shed, Shropshire
Sleeps 4 Walcot Hall's sheep have gone elsewhere to take their bath, leaving behind this hidden gem. Now an exquisite elevated hunting lodge which is surrounded by breathtaking scenery, the rough exterior of the Dipping Shed (opens in new tab) is all that remains of the building's past life. Inside, the tall beamed ceiling and dark wood furniture make for a cosy bolthole that's still big enough for everyone to enjoy their own space. Great for a break with friends or grown-up children.. Book through Canope and Stars (opens in new tab).
The Chapel at Walcot Hall, Shropshire
Sleeps 4 How about somewhere magical? A few years ago this old, wooden chapel in the grounds of Shropshire's Walcot Hall (opens in new tab) was almost derelict. Tucked away behind the trees - and accessed only on foot via a muddy track - it had few visitors, until a group of local craftsmen embarked on a full restoration project. Book through Canopy & Stars (opens in new tab).
Hobbit House, Cornwall
Sleeps 5 As green as it gets. Hobbit House (opens in new tab) is a beautiful wooden roundhouse set in a remote three-and-a-half acre Westcountry orchard . Both the interior and exterior are all-natural and the attention to detail mesmerising - there's a living turf roof which not only insulates but also provides the perfect perch for stargazing, a wool-burning stove, luxurious sheepskin carpets, a firepit to gather around with mulled wine and glass windows made from gin bottles which will catch the first glimpse of that magical Christmas Day sunrise. Should you wish to venture out the beach is a short stroll away. Book through Canopy and Stars (opens in new tab).
Horsington Grange, Somerset
Sleeps up to 17 Indulge in your very own Downton-inspired adventure at one of Somerset's finest period country homes, Horsington Grange (opens in new tab). Once a rectory, Horsington has been lovingly transformed with 10 individually-designed, luxurious bedrooms, floor-to-ceiling sash windows, tranquil gardens and a fully renovated Dovecote which can sleep 4 people. There's plenty of modern touches too, including an outdoor, heated swimming pool, sauna and hot tub. Book through Unique Home Stays (opens in new tab).
The Towers, Conwy, Wales
Sleeps 20 A holiday home with real wow-factor. The Towers was built in the late nineteenth century for Conwy's then harbour master - and it's not just the sea views that will take your breath away! This gothic-style chateau is vast, comprising ten bedrooms spread over 5000 square feet, a hand-decorated domed cinema room, lantern-lit viewing tower and games room. Outside there's manicured lawns, a three-tier fountain, ornamental pond and a 9-hole golf green. Book through English Country Cottages. (opens in new tab)