Why is Keir Starmer a Sir - and when was the Labour leader knighted?
It was several years before he became leader of the Labour Party.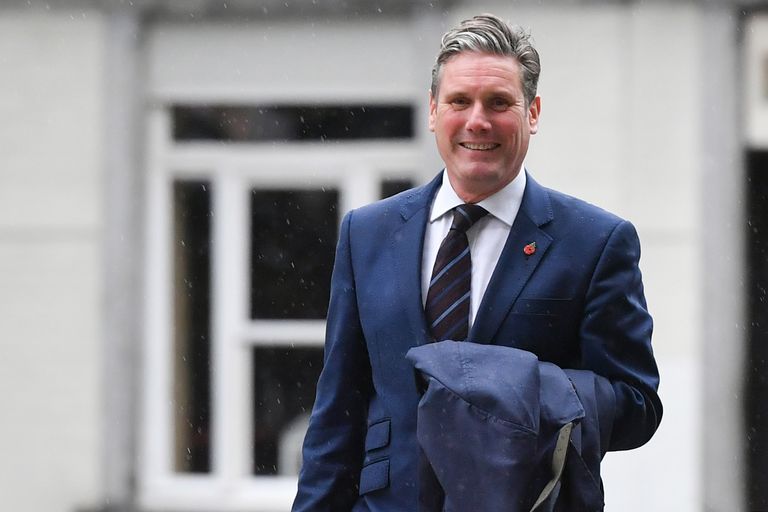 (Image credit: AFP via Getty Images)
From his work as a human rights lawyer to potentially being the inspiration for Bridget Jones' Mark Darcy, we all have a lot of questions about Keir Starmer. But first of all, why is Keir Starmer a Sir?
While it's not unusual for MPs to be given titles by the Queen for their service, the reason why Keir Starmer is a Sir is unrelated to his political career.
Sir Keir Starmer was elected as leader of the Labour party on April 4 2020, following a successful campaign after the general election earlier in the year. In recent months, he has taken on PM Boris Johnson in Prime Minister's Question Time over his handling of the coronavirus outbreak and pressured him to make better plans for lifting the lockdown.
Recently, he appeared on Good Morning Britain and was questioned by Susanna Reid about whether he thought opening the pubs so soon was a "good idea", especially as the government is still trying to enforce social distancing. To this, the Labour leader replied that we have been going through a health and economic crisis and that he was worried "we are going to see unemployment, the likes of which we haven't seen for a generation. My concern about what the government is doing is not that they want to ease restrictions. It's that they haven't done the groundwork on test, trace and isolate,".
He also argued that a leader must "take responsibility", criticising Boris Johnson as he said, "that's where this prime minister really struggles".
Sir Keir Starmer said of his own leadership style at his campaign launch in January, "There are different ways to inspire people. You can inspire people so they want to sit at your feet listening to your next word. That is not me.
"Or you can inspire people by building a team of people who want to come with you on a journey and change their party and their country. That is what I am building in my campaign."
And this ambition to change lives for the better is the reason why Sir Keir Starmer was knighted several years ago.
Why is Keir Starmer a Sir?
In 1986, Keir Starmer became a barrister and began focusing on violations of human rights around the world.
He was involved in legal battles to get rid of the death penalty in Africa and the Caribbean. He also served as a human rights adviser to the Northern Ireland Policing Board, as well as on the Association of Chief Police Officers.
From 2002 to 2008, Keir Starmer was also a member of the Foreign Office Death Penalty Advisory Panel.
Alongside these prominent human rights cases however, Sir Keir was part of the legal team in a case nicknamed the "McLibel case". He was assisting two activists in their case over a factsheet they had written about fast-food mega giant, McDonald's.
In 2008, Sir Keir was named as the new head of the Crown Prosecution Service (CPS) and given the title of Director of Public Prosecutions. The work he was involved with during this time is why Keir Starmer is a Sir. He personally dealt with a number of high profile cases, including the conviction of two men in 2012 for the racially motivated murder of 18-year-old Stephen Lawrence.
When was Sir Keir Starmer knighted?
For services to law and criminal justice, Keir Starmer was awarded his knighthood in 2014.
However, he notably prefers not to use his title. During his campaign for Labour leadership, some argued that the title (which is given by the Queen) would not go down well among Labour supporters. Yet this appears not to be the reason why.
Only a year after being given the title in 2015, he told the Hampstead & Highgate Express, "I've never liked titles", and reportedly also refused to be referred to as "Director" during his time in the Crown Prosecution Service.
And what about that rumour about being the inspiration for Bridget Jones' Mark Darcy?
When Sir Keir Starmer was elected as labour leader, the long-standing rumour among literary circles that author Helen Fielding had used the human rights lawyer as inspiration for Bridget Jones' handsome, but stoic, love interest came to light again.
When pressed on the issue by ITV in January, Sir Keir said, "Everybody asks me this question when they should be asking her [the author] because she knows the answer and I don't.
"It's a rumour that's been doing the rounds for years, but I honestly don't know."
In the books, Mark Darcy is also human rights lawyer, both real and fiction men attended Oxford University and lived in Leeds, and Keir Starmer was making a name for himself around the same time that Helen Fielding was writing the columns, which would later become the Bridget Jones books. Although Mark Darcy wasn't never knighted, he does seem to have a lot in common with the new Labour party leader...
Sadly for the gossip in us, Helen Fielding has since addressed the rumours, calling them untrue.
Speaking on Desert Island Discs, the author said, "I had several different boyfriends, all very gorgeous.
"It's amazing the number of people that lay claim to be Daniel [Hugh Grant's character] or Mark, including Keir Starmer."