What is an LGBTQ+ ally and how to be one
Being an LGBTQ+ ally isn't a passive role, so here's how you actively practice allyship for the LGBTQ+ community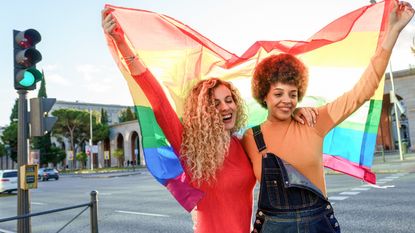 (Image credit: Estudio13G/Getty Images)
Being an LGBTQ+ ally in your daily life is an invaluable source of support for members of the LGBTQ+ community. Although it's a phrase used regularly when speaking about equality—defining what an ally actually is, isn't so simple.
Straight allies are some of the most important sources of support for members of the LGBTQ+ community throughout their lives. They can be a form of mental health first aid—from the daily trauma of being a queer youth in a heteronormative world, to being the only non-straight person in a working environment.
Although many brilliant strides towards equality have been made up until this point, the stark reality is that the fight is far from over. There are still 69 countries that criminalize consensual same-sex activity, according to ILGA World—the International Lesbian, Gay, Bisexual, Trans and Intersex Association.
The sad fact is that in those 69 countries and in unsafe environments all over the world, being an ally can also put you at risk and might affect how outward you can be with your allyship.
---
What is an LGBTQ+ ally?
A straight ally can range from someone who's supportive and accepts members of the LGBTQ+ community, to someone who actively fights against homophobia, biphobia, and transphobia in their daily lives.
PFLAG is the first and largest US organization for lesbian, gay, bisexual, transgender, and queer (LGBTQ+) people, their parents and families, and allies.
Straight for Equality (opens in new tab) is their national outreach and education program that aims to empower new allies—who don't necessarily have a family or friendship connection to the LGBTQ+ community.
In their Guide to Being a Straight Ally, they discuss the 'path' to being an ally and the 'ally spectrum,' explaining that it's impossible to rigidly define precisely what it means.
They say,"Rather than developing a stiff set of requirements for someone to be an ally, we thought about the qualities people—regardless of where they are on their ally journey—possess."
"The process of going from, "not my issue," to, "someone take me to my legislator to fix some laws!" rarely happens overnight. It usually entails a process of learning more, becoming comfortable enough to talk about the issue openly, knowing how to take on pushback, and eventually being able to help others in their ally journeys."
Here are four characteristics they attach to the term.
1. Allies want to learn
Allies are people who recognize they don't know all that can be known on LGBTQ+ issues or about all the experiences of people who are LGBTQ+, but they want to understand more.
2. Allies address their barriers
They may have to grapple with some roadblocks to being openly and actively supportive of people who are LGBTQ+, and they're willing to take on the challenge.
3. Allies are people who know that support comes in many forms
It can mean something super-public. But it can also mean expressing support in more personal ways through the language we use, conversations we choose to have, and signals that we send. True allies know that all aspects of allyship are important, effective, and should be valued equally.
4. Allies are diverse
Allies are people who know that there's no one way to be an ally, and that everyone gets to adopt the term in a different way…and that's ok.
How to be an LGBTQ+ ally
Learn about LGBTQ+ history and the fight for equality
Listen to members of the community
Stand up against inequality
Respect safe spaces
Be aware of language
Parents—provide inclusive reading material
Support LGBTQ+ owned businesses
We are all learning—don't be upset if you're called out
Don't do it for the glory
1. Learn about LGBTQ+ history and the fight for equality
Although much of LGBTQ+ history has sadly been erased, there are plenty of reading materials, podcasts, documentaries, movies, TV shows, etc to fill up on the community's rich and diverse history.
Perhaps a good start is to learn about Pride, celebrated all over the world, and the fact that many people aren't aware of its origins—nor that Pride is actually a protest.
The first-ever Pride event was the Christopher Street Liberation March, which was held a year after the historic 1969 Stonewall Uprising in New York City. The uprising, also known as the Stonewall riots, were a series of community-led rebellions against the widespread and consistent harassment against the LGBTQ+ community by the police.
That uprising and the liberation march that followed led to many more protests, campaigns, and liberations in support of the LGBTQ+ community.
2. Listen to members of the community, learn from what they're saying
Although it's a fairly basic tip, it can be difficult for straight allies to understand the daily microaggressions, harassment, struggles, and emotional labor suffered by the LGBTQ+ community.
It's not their responsibility to educate you on all or any of the above so if they take the time to explain something, zip it and listen!
Just by listening, you're being supportive and by learning lessons from what you're told, you're able to teach other straight people to be better allies. This is an invaluable way to help and takes some of the responsibility to educate and explain away from LGBTQ+ people.
3. Stand up against inequality
Call it out. Say something when someone says a slur, when you see a person being treated differently, unfairly, being oppressed or the victim of a hate crime.
4. Respect safe spaces
Although your first thoughts when you hear 'gay bar' might be dancing, drag queens, and rainbows—it's vital to remember that the whole world is a heterosexual safe space.
Gay venues, bars, and safe spaces are sadly becoming few and far between and post-pandemic—countless small businesses have closed down.
LGBTQ+ safe spaces are essential hubs for communities, places where the community can truly express and be themselves and should be respected as such.
5. Be aware of language
It goes without saying that offensive slurs aren't okay, but there are so many gender assumptions made in day-to-day language. Think of using gender-neutral terms like 'partner', rather than assuming someone's sexuality.
Respecting people's pronouns is also incredibly important. It's understandable that people can slip up but the most important thing is that you're trying. If you make a mistake, apologize quickly and move on. It's your intentions and reactions that matter more than a mistake.
6. Parents—provide inclusive reading materials
There's a chance your child might be a member of the LGBTQ+ community but even if they're not, you're raising another ally! Images and stories of queer families and queer experiences normalize the diversity of human relationships and promote equality.
7. Support LGBTQ+ owned businesses
Unfortunately, many large corporations seek to profit from queer culture, most evidently during Pride season when rainbows are being sold a dime a dozen.
Why not buy your inclusive Pride decorations, your learning materials, your books, your coffee etc from an LGBTQ+ owned business?
8. We are all learning—don't be upset if you're called out
Everyone is learning every day how to be a better person, so don't take offense if someone points out a way in which you're inadvertently causing offense.
Despite all of your hard work, being an ally will always mean that your experience and understanding is secondary to the LGBTQ+ people you support.
9. Don't do it for the glory
Don't expect a medal for your allyship nor brag about your actions. Being an ally, in essence, isn't about who you are—but about standing up for those you support.
Trust that you're appreciated by the people you support more than you'll ever know.
If you'd like to learn more about supporting members of the LGBTQ+ community, check out PFLAG (opens in new tab) in the US and Stonewall (opens in new tab) in the UK.
Aoife is Junior News Editor at woman&home.
She's an Irish journalist and writer with a background in creative writing, comedy, and TV production.
Formerly Aoife was a contributing writer at Bustle and her words can be found in the Metro, Huffpost, Delicious, Imperica, EVOKE and her poetry features in the Queer Life, Queer Love anthology.
Outside of work you might bump into her at a garden center, charity shop, hot yoga studio, lifting heavy weights, or (most likely) supping/eating some sort of delicious drink/meal.