'We Made The First Series Of Bake Off Up As We Went Along'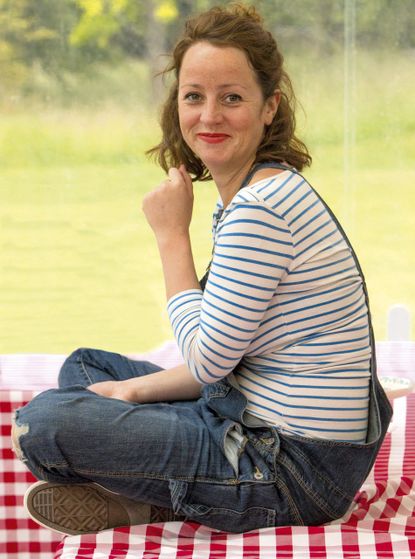 woman&home newsletter
Sign up to our free daily email for the latest royal and entertainment news, interesting opinion, expert advice on styling and beauty trends, and no-nonsense guides to the health and wellness questions you want answered.
Thank you for signing up to . You will receive a verification email shortly.
There was a problem. Please refresh the page and try again.
Food stylist Faenia Moore, 33, lives in Bristol and is the Bake Off Home Economist.
'I've been with Bake Off right from the start and it's my job to source all the equipment and ingredients. I'm always on the floor during filming and work very closely with Chloe, the Food Producer; I try to be a calming influence if someone's flipping out because their ganache has split for the 29th time.
With 12 contestants at the start making 24 recipes, it's easy to forget things. One morning I sat bolt upright at 4am saying 'pomegranate molasses!' which I'd forgotten. Luckily, my assistant just happened to have some in her cupboard.
There is a definite 'Bake Off effect' where there's a sudden demand for ingredients that have featured on the shows. Waitrose stock pomegranate molasses now and also slivered pistachios, which were very big one year. This year, I predict you'll all be looking for mango puree.
I didn't actually meet Mary until the final episode of the first series. Unfortunately, I had a cigarette hanging out of my mouth and was swearing because I was really stressed out about something. I was so embarrassed! But Mary just smiled and said: 'I think you've done a very good job under the circumstances'. She is pretty tough but she is very kind and fair, with an excellent sense of humour.
For the first series we filmed each episode in a different part of the UK, which involved packing up the entire tent into an arctic lorry after every show, which was beyond stressful. From series two we stayed in one place for the whole series, which is a huge relief.
For the first series there was a lot of 'let's just do it this way' and making it up as we went along. In Cornwall, I had to throw myself on the mercy of the people in the town, asking if anyone a 12-inch spring form tin.
As soon as we finish the main show I'm recipe testing for Junior Bake Off and then filming that, then doing the same for Celebrity Bake Off. Then we'll start casting for series seven in December, meeting the people who have been whittled down from about a zillion hopefuls. They each bring a sweet and a savoury bake for us to taste - about 40 each day; it's like being at a repetitive dinner drinks party without the alcohol. We always taste before we meet the baker though, so our judgment is based only on taste. The skills we see are really impressive. Unfortunately, though, I can't eat quiche any more - Bake Off has really killed that for me.
During an average week of filming I have two days in the office processing all the recipes, then a prep day on site, measuring ingredients and also setting up for the 'perfect perfect' for Mary and Paul to make. That's followed by two 16-hour days of filming, which are just non stop.
We all stay at the same hotel for three months and so we're really close as a team. At the end of the day I usually inhale a glass of wine, then conk out or just have a bath and watch a movie and decompress. But I always bring my portable badminton net and try to fit a game in whenever I can to exercise any cake off.' Bake off high: You'd think after six years I'd be jaded but I absolutely love Bake Off - it's the best job I've ever done. My mum loves the show and she's very proud of me, which is lovely. Last year we watched the final together, with my seven year old niece and I cried when Nancy won, even though I'd been there when it happened.
Bake off disaster: The soufflé challenge when the soufflé dishes hadn't arrived. We had to send three runners out to the nearby hotels to ask if they had 42 ramekins the same size.
Bake off 2015: This year people are really upping their game. My favourite challenge involves a biscuit box where the artistic merit is pretty high. There's also a brilliant bread challenge that results in something most unusual - that's all I will say!
Jane Kemp is the Features Director for Woman & Home, Woman's Weekly, Woman and Woman's Own. She's worked in journalism for many years, mostly in Women's consumer magazines, and enjoyed a long stint at Practical Parenting while her own four children were little. These days, her interests are more focussed on gardens and books, and she has taken great pleasure in seeing the expansion of books coverage in all the titles, as well as big-name authors writing exclusive fiction for Woman & Home and Woman's Weekly.